Why Ahmed Patel is losing his most guarded possession: anonymity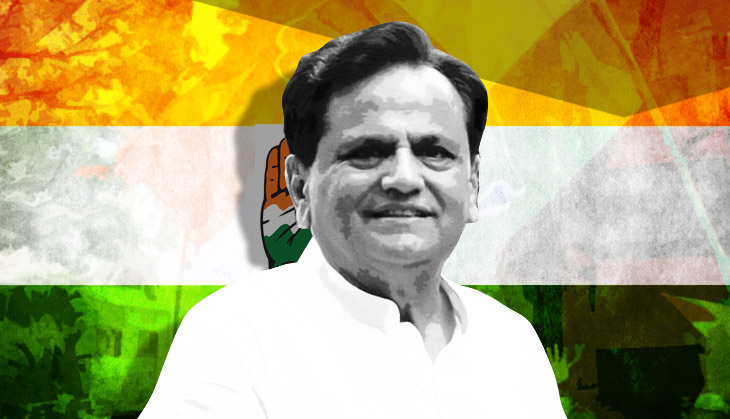 In the eye of the storm
A handwritten note by 2 middlemen in the AgustaWestland deal mentions one "AP"
Many say this is Sonia Gandhi\'s political secretary Ahmed Patel
Patel is the Congress\' main fundraiser and a backroom operator par excellence
More in the story
The rise of Ahmed Patel
Why he is Sonia Gandhi\'s eyes and ears
Why Rahul Gandhi\'s rise bodes ill for Patel
The Milan Court of Appeals on 8 April convicted three officials of Finmeccanica and AgustaWestland over charges of bribery and money laundering in the VVIP helicopter deal. The court order created a furore in the Indian Parliament since it mentioned names of senior Congress leaders, giving BJP reasons to corner the opposition on charges of corruption in the Rs 3,600 crore helicopter deal.
Read: Congress in crisis: Grand Old Party, same old problems
The court order does not suggest any wrong doing on part of the Congress leadership, but a handwritten note by two middlemen - Christian Michel and Guido Haschke - which is part of the order claims allotting €15-16 million of bribes to a certain AP representing the political class. Many believe the initials refer to Congress President's powerful secretary Ahmed Patel.
"If I am guilty, let them hang me," was Patel's response. His statement came as a surprise considering that Patel rarely makes such comments in public. Known for shunning TV appearances, Patel prefers to avoid the public gaze and works behind the scenes. In fact, last time Patel made such statement was in 2008 after he was named as the brains behind the 2008 cash for vote scam. Denying any wrongdoing, he had then said, "I am ready to quit public life and face punishment if someone can prove that I bribed the MPs."
The operator
Popularly known as Ahmed Bhai in political circles, he is Congress party's leading negotiator who swings into action in times of crisis and shares his mind only with the Congress President Sonia Gandhi. 'Master strategist',' spin doctor', 'fundraiser' and 'firefighter' are just a few of the epithets showered on Patel by his friends and foes. Particularly his role as a fund raiser has time and again put him in the spotlight, but he has managed to emerge unscathed.
Senior journalist Aditi Phadnis in her book, Political Profiles of Cabals and Kings, writes that he can raise Rs 30 crore in 30 minutes and that reporters have been witness to sacks full of currency notes going through his office to manage elections. Since many industrialists come from Ahmed Bhai's home state, Gujarat is a goldmine for the party's funds. Cordial relations with these business houses have added to his profile.
Even his critics' shower praises on him for his loyalty and discreetness. Party leaders across the political spectrum speak highly of Ahmed Bhai and his role as a backroom operator who works in complete anonymity.
Even the media, except for the handful of journalists close to him, find it hard to have access to man who runs one of the most powerful offices in the country. Despite his aversion to media, Ahmed Patel is friends with the top editors to ensure that the Congress President gets no bad press. A man of few words, his word is considered to be that of 'Madam' herself.
"If you look at other backroom players, they could never emulate the success of Ahmed Bhai because power got into their heads. He keeps a cool head and his mouth shut," says a senior SP leader. But his clout has been witnessing a downward curve ever since Sonia Gandhi handed the decision making to Rahul Gandhi who is not particularly fond of Patel.
Rahul Gandhi's disapproval
Ever since the Gandhi scion assumed greater responsibility, Patel has been confined to the margins of party politics. Since his elevation as the party vice president, Rahul and his team began to assert themselves in party affairs while Patel was left out from all decision making process. Selection of candidates and organisational reshuffles, which was considered Patel's fiefdom, now have Rahul written all over them.
"He wasn't hardly being consulted by Rahul or his team. They had new strategists. Whenever I would go meet him (Patel) for some stories, he would repeatedly say ab mere haath main kuch nahin hai (there's nothing in my hands)," informed a senior editor and a personal friend of Patel.
Also read- Cong crisis: Uttarakhand & Arunachal are symptoms. Rot begins at the top
Leaders close to Rahul have on multiple occasions blamed the senior leadership, especially Patel, for the Congress's ills, which led to him being further marginalised. Even Sonia Gandhi has asked the senior party leadership to sort out issues and keep her out of it.
However, repeated failures of Rahul Gandhi's team have often forced the party to turn to Patel and other senior leaders for help. Whether it was managing dissent within the party ranks in Uttarakhand, Manipur, Himachal Pradesh and other states, Patel is said to have played a crucial role in crushing rebellions.
Even when Sonia and Rahul were asked to appear before the court in December 2015 on the National Herald case, Patel turned it into a show of strength ensuring leaders and workers from across the country congregated at the AICC headquarters. Such is his clout that attempts by Team Rahul to sideline him have yielded no results and he still remains the party's go-to man in emergency situations.
Respected for his managerial skills and devotion to Sonia Gandhi, Patel's long haul in Congress has seen highest of highs and the lowest of lows. And even in the worst of times, he has been able to make comebacks earning respect of not only his friends but also foes.
The journey
Born in Piraman village in Bharuch district, on 21 August, 1949, to Mohammed Ishakji Patel and Hawaben Mohammedbhai Patel, Ahmed Patel was fondly called 'Babu Bhai'. An avid cricketer, he was known for his abilities to bat and bowl. But his specialty was the googly which he later used to stump politicians.
A Congress sympathiser and the local leader of a traders' cooperative, his father helped him gain access to the power corridors of Gujarat. Member of the Gujarat Youth Congress and the minority tag helped Patel kick-start his career. Only 28, he became the youngest president of the Gujarat Pradesh Youth Congress. Out of all the other Muslim leaders in the Congress, Patel came closest to Rajiv and it was his personal integrity that impressed the Gandhi household the most.
Read more: How Prashant Kishor plans to deliver UP for Congress in 2019
Having been associated with Sonia Gandhi for close to two decades, Patel has been a troubleshooter who has successfully rescued the Congress party from embarrassing situations in the past on innumerable occasions. He is one of the very few Congressmen who has worked closely with Indira Gandhi, Rajiv Gandhi and Sonia Gandhi. He is not a great orator or a crowd puller, but he is a party man who knows the organisation way better than the next generation of Congress leaders. Soft spoken and humble, he knows what it takes to run the party and keep everyone in good humour.
Having been Sonia Gandhi's only connect with party leaders and workers, Patel is an epitomises the backroom for not just people in his own party but in the entire polity. For them, he is an institution in backroom politics, someone even they can learn from.
His proximity to Sonia Gandhi has also earned him lot of critics who have repeatedly raised doubts on his role as a political strategist. They repeatedly point at his failure to revive the Congress in home state of Gujarat which has become a fiefdom of the BJP. Some of them even blame him for having a tacit alliance with Narendra Modi when the latter was Gujarat chief minister. His detractors call him a mediocre politician with no mass base and that his ability to generate funds has kept him relevant in the Congress.
Moreover, he decides who meets the Congress President which his detractors claim has hurt party interests deeply. The Congress workers also blame him for keeping Sonia Gandhi in the dark about the ground realities.
He critics also accuse of not being able to nurture new faces from the minority community into the party. Being a Muslim and that too in such a dominant position, many of his brethren expected him to woo this crucial section of the society into the party fold. But, Patel has been too occupied with the backroom operations at 10, Janpath that he failed to nurture any such leadership.
While Patel has been largely successful in assisting Congress President in running the party, he has faced criticism from the Muslim community in his home state for not doing enough for them in the post-2002 riots phase in Gujarat. They say that when Muslims of Gujarat looked up to Ahmed Bhai for support post-riots, he maintained a distance and a strange, stoic silence over the issue. Besides, despite Sonia Gandhi's strong secular credentials and Rahul Gandhi's stated position against communal politics, Patel's position apparently has had a subdued position on Gujarat.
Even though he was virtually number two in the Congress ever since Sonia Gandhi took over as president, his rise did not lead to the growth of Muslim leaders in the Congress.
His rise has been a sign of his loyalty. Patel has justified the powers bestowed upon him by keeping the Congress out of troubled waters and shielding the Congress president even if it meant taking some of the blame.
Edited by Aditya Menon
More in Catch:
Friday essay: the ugly history of cosmetic surgery
Headless Women of Hollywood: movie posters tell an incredible tale of sexism
Red scare: two more Chinese dissents say India revoked their visas
10 things that make Subramanian Swamy the unguided missile that he is