Why 2G verdict is a huge boost to Congress & DMK. BJP cornered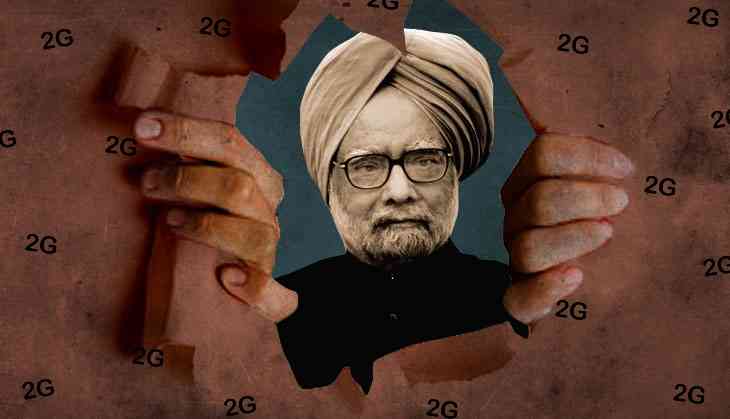 In a dramatic development, a Special CBI Court in New Delhi acquitted all 18 accused, including former Union Telecom minister A Raja and DMK leader Kanimozhi, in the 2008 2G Spectrum allocation scam case. While passing the court's verdict, the special court judge pointed that no evidence was found against the accused and lambasted the prosecution for failing to prove the charges.
Soon after the court announced its verdict, a war of words broke out between the UPA and the NDA immediately with Congress leaders claiming how the verdict vindicated former Prime Minister Manmohan Singh and UPA's claim that there was no loss in the allocation of spectrum and licenses to multiple telecom companies.
Senior Congress leader Kapil Sibal, who as a telecom minister in the UPA government had courted controversy for claiming that there was zero loss to the exchequer in the allocation of licenses, said, "Manmohan Singh and UPA government stand vindicated today."
When asked whether the former prime minister felt vindicated after the verdict, Singh said, "I do not want to boast anything. The court's judgment has to be respected. I am glad that the court has pronounced unambiguously. All the massive propaganda which was being done against the UPA was without any foundation. The judgment speaks for itself."
Further, seeking apology from former CAG Vinod Rai, who in his telecom audit report had pegged the presumptive loss to the exchequer at Rs 1.76 lakh crore, Sibal said, "Today, I have been proved right. There was no loss or any corruption. If there is any scam, it is one of lies of the Opposition and Vinod Rai. Vinod Rai should apologise to the nation."
Sibal also sought a clarification from the Prime Minister in the Parliament and said, "This government was formed on the basis that UPA was embroiled in 2G and other scams, but now it has been proved that it was just a scam of lies by the Opposition."
Former finance minister P Chidambaram said that the allegation of a major scam involving the highest levels of government was never true which he pointed was established today. Congress' Shashi Tharoor echoed similar sentiments and said, "Clearly the Court found that innocent people have been wronged. Justice has worked as it is supposed to work in our country."
Meanwhile, soon after the verdict was announced, DMK cadres began celebrating outside the court premises and DMK headquarters in Chennai. Kanimozhi, who was one of the accused and had spent six months in jail, came out of the court and claimed that justice had been delivered considering there is no evidence against her. The DMK leader was quoted by ANI saying, "We are very happy that justice has prevailed. It is a big day for the DMK family. It is an answer to all the blames and the problems we faced."
Former telecom minister Raja, who was the prime accused in the case, walked out of the court but did not offer to make any comments. Raja said that he will only comment after reading the judgment. Meanwhile, MK Stalin, working president of the DMK, expressed joy at the judgment and was quoted by ANI as saying, "The acquittal of all the accused by the special court has brought happiness to us. The verdict further proves that there was no wrong done. All this has been proved."
He further added, "Justice has won, this is what M Karunanidhi had also said, opposition and media had put in all efforts to malign us in this case, all has been proved wrong."
Reacting to Congress and DMK's claims of how the verdict vindicates their stand of zero loss in allocating the spectrum, Union finance minister Arun Jaitley, said, "Some parties are treating this verdict as a badge of honour. In 2007-08, spectrum was not given by auction, but on the basis of price discovery which was based on 2001 prices. Even within the policy implementation, there was huge element of arbitration."
He went on to add how the UPA policy on spectrum allocation was designed to promote corruption and implemented in an unfair manner, causing loss of revenue to the government. Warning the Congress that the verdict should not be considered as some of certificate of clean chit, Jaitley added, "Auctioning was getting much higher price. I am sure investigating agencies and prosecuting agencies will look into it and decide what to do further in the matter"
Further, BJP MP Subramanian Swamy, who was instrumental in getting the CBI to probe the spectrum allocation after he became a petitioner in a PIL filed by Centre for Public Interest Litigation or CPIL in 2012, stressed that the Union government must prove its bonafides by filing an immediate appeal in High Court.
This is not a setback at all, its an aberration as the law officers were not serious on fighting against corruption. So I hope the PM takes lesson from this.We must now fight corruption on war footing: Subramanian Swamy pic.twitter.com/zNDTSpE70z

— ANI (@ANI) December 21, 2017
Judge says earlier there was a lot of enthusiasm, but later it became worse and worse. Judge also said counsels were lackadaisical. This is a big condemnation of the Govt's controlling of the case: Subramanian Swamy #2GScamVerdict

— ANI (@ANI) December 21, 2017
Meanwhile, sources claimed that Congress president Rahul Gandhi and the former prime minister called Kanizmohi soon after the verdict was announced. Kanimozhi is said to have told Singh that she would seek an appointment and meet her while Singh asked her to congratulate her brother Stalin too.
Congress leaders Ghulam Nabi Azad and Anand Sharma met Kanimozhi at her residence in Delhi after her acquittal #2GScamVerdict pic.twitter.com/nvGY5Wfrlb

— ANI (@ANI) December 21, 2017
Earlier in 2012, the Supreme Court had cancelled 122 licences given by Raja to several telecom operators while claiming the lack of transparency in the entire bidding process of sale of spectrum for mobile phone networks. Prior to that, a major controversy broke out in 2010 after CAG in it report claimed that in 2007-08, 2G licences were given by the UPA government to telecom operators at throwaway prices.
The verdict has come as a shot in the arm for the Congress that has been creating ruckus in the Parliament over Prime Minister Narendra Modi's remarks against Singh over Pakistan's alleged involvement in the Gujarat elections. The Grand Old Party is expected to up the ante in the Parliament with this verdict and is likely to seek an explanation from Modi.
Congress' chief spokesperson Randeep Singh Surjewala claimed that BJP used Rai to prepare a fabricated report and that Modi can no longer evade any questions. "He will have to answer to the Parliament and the nation," he said. This aggressive posturing by the Congress suggests that the ongoing session of Parliament heading towards a complete washout.
Meanwhile, the verdict is expected to have a major bearing on the politics in Tamil Nadu where DMK is looking forward to dethrone the AIADMK which had become a divided house after the death of former chief minister J Jayalalithaa. The verdict is also expected to provide a major boost to the Congress and its allies in the run up to 2019 Lok Sabha elections. In fact, after the verdict, DMK leaders confirmed that the party will not have any sort of alliance or understanding with BJP.