Which Gandhi has the most power? Surprise, surprise... it's Priyanka!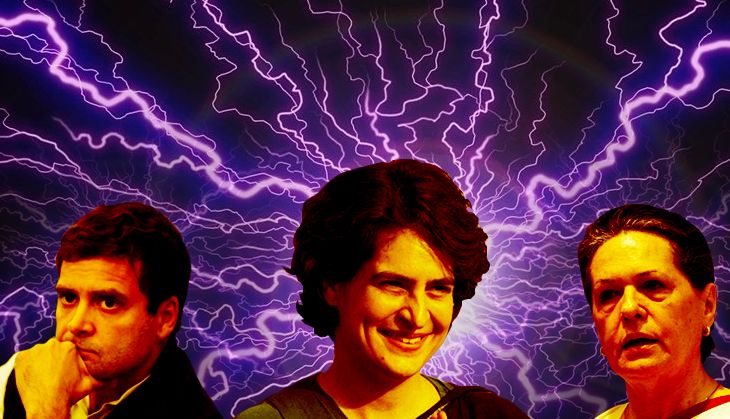 Who is the most powerful member of the most powerful political family in the country? Well, purely in terms of the power bills for their homes, the answer is... Priyanka Gandhi!
The facts made available to RTI activist Dev Ashish Bhattacharya by the New Delhi Municipal Council (NDMC) state that Priyanka's house - 35, Lodhi Estate - consumed more electricity than mother Sonia's and brother Rahul's houses put together.
The information points out that there are no separate electricity meters for the Special Protection Group (SPG) at Sonia's 10 Janpath home and Rahul's 12 Tughlak Lane premises. However, Priyanka's house does have separate electric as well as water metres installed for the elite security agency.
Number crunching
Electricity bills paid for 10 Janpath between April 2013 and December 2015: Rs 12,72,018.00
Electricity bills paid for 12 Tughlak Lane between April 2013 and December 2015: Rs 4,14,468.42
Total payments made for Sonia and Rahul's premises: Rs 16,86,486.42
Electricity bills paid for 35 Lodhi Estate by SPG between February 2013 and January 2016: Rs 24,25,120
Electricity bills paid for 35 Lodhi Estate by Priyanka Gandhi (and family) between September 2012 and December 2015: Rs 7,08,098
Total payments made for 35 Lodhi Estate between September 2012 and January 2016: more than Rs 31,53,218 (information for SPG payments between September 2012 and January 2013 not available)
Seeking a probe
Based on this information, Bhattacharya has approached the Prime Minister's Office, seeking a probe into such high consumption at Priyanka's house in the name of the SPG.
"I just wonder how and why such a huge amount of power is being consumed by the SPG at Priyanka's house. They are supposed to provide protection - for what purpose have they consumed so much power? I want to know what is happening there," Bhattacharya says.
"Ironically, both Sonia and Rahul's power bills are far less, and these figures also include the consumption by SPG, since there are no separate metres for the elite force at these two places."
Bhattacharya adds: "Through the PMO, I have sought directions to the Secretary (Security) under the Ministry of Home Affairs, to investigate whether it is actually the SPG using such high amount of power, or is it something else."
He also points out that Sonia's residence is a much more busy place as compared to that of her daughter. At 10 Janpath, there are meetings going on round the clock, but no such activity is on at Priyanka's place. Being an MP, even Rahul's house is a busy place, he says.
"Since Sonia and Rahul are MPs, it is understandable that the government might be footing their bill. But Priyanka alone paying more than Rs 7 lakh for power consumption is also surprising, because the file notings have reportedly revealed that she sought relief in the quantum of rent of her 35 Lodhi Estate house. Both she and the SPG should come forward to explain," Bhattacharya insists.
Legal wrangle
Bhattacharya claims to have attached the Gandhi family's power usage information in an additional affidavit filed before the Himachal Pradesh High Court, where Priyanka is fighting a legal battle to prevent sharing details of her property in Mashobra with him.
The next hearing in the case is scheduled for 6 June, after Priyanka was recently given four weeks to file her response to an application by Bhattacharya seeking details on her Mashobra property.
"My contention is that why is the SPG being used as a shield in Himachal Pradesh to deny me the information? The information was earlier denied to me on the grounds that she is under SPG protection, and there is a threat to her security," Bhattacharya says.
"On the other hand, the NDMC was very forthcoming to provide every information, not only about the power and water usage of the family, but also the usage by the SPG. I want to take this up before the court."