What's behind more stringent prohibition laws in Gujarat? Politics, of course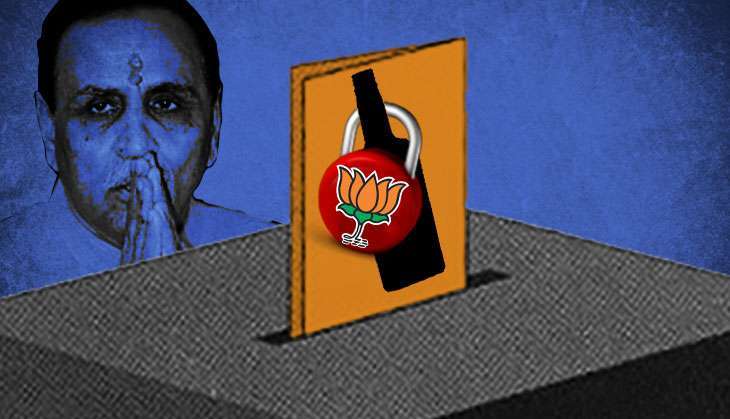 Prohibition has always been a highly debatable and controversial issue in Gujarat. Ever since its implementation, the state has witnessed a series of hooch tragedies and blatant violations of the law.
The recent to make prohibition laws more stringent in Gujarat appears to be politically driven, besides being a tacit admission on the part of the state that prohibition as a state policy has failed to deliver the desired results.
The state government on Thursday reportedly cleared an ordinance proposing an imprisonment of 10 years, up from the present three years' jail term, for buying, selling and transporting liquor, besides a fine of Rs 5 lakh.
Those operating liquor dens will draw an imprisonment of 10 years, besides a Rs 1 lakh fine.
Creating a nuisance after drinking and using abusive language would invite jail terms of one to three years, up from just one to three months prescribed in the existing laws.
Similarly, police officials who facilitate smuggling and disbursal of liquor will face a jail term of seven years and a fine of Rs 1 lakh.
But observers say the decision of the Vijay Rupani-led BJP government to make liquor laws more stringent, while also banning hookah bars, will send corruption to the next level.
Pressure mounting
According to many observers, there is much more to Rupani's move than meets the eye. The move comes exactly one year ahead of the next Assembly polls in the state.
There are hints that the BJP is entering into a competitive mode on the issue of prohibition at the national level, since Bihar Chief Minister Nitish Kumar has been hogging headlines on the prohibition laws introduced by him in his state. Nitish is also trying to make prohibition a core national issue for the 2019 Lok Sabha polls, as he has been selling the prohibition idea at various political platforms. Observers say the BJP cannot afford to allow Nitish to steal its thunder.
Back home as well, local political dynamics have compelled Rupani to take these measures.
The ordinance comes just over one month after OBC leader Alpesh Thakor held a massive rally in Gandhinagar on 7 November, demanding strict anti-liquor measures in Gujarat, on the lines of Nitish's laws in Bihar. With Patidar leader Hardik Patel and Dalit activist Jignesh Mevani reportedly having supported the rally, the state government was left in a fix.
Thakor has been running a powerful anti-liquor campaign for the last six months across the state. He has pointed that youth from his community have been taking to liquor consumption as well as bootlegging in a big way. Thakor's movement has gradually seen growing support from OBCs, along with sections of the Scheduled Castes and Scheduled Tribes. This combination is proving too hot for the BJP to handle, because OBCs account for around 50% of the state's population.
In addition to this, the movement against liquor would obviously have the support of women in the state.
"There is a strange social dimension to the developments also. In Gujarati society, there is a clear caste and class divide on liquor consumption. While it remains a taboo for the upper castes and classes, it has had social sanction in the lower social rungs. Most of the bootlegging is done by the people from the lower strata of society. The most ironic thing is that it is this very strata that has come forward demanding strict laws against liquor," said a senior media person based in Ahmedabad.
How things were under Modi
Another irony is that it was during Narendra Modi's tenure as Chief Minister of Gujarat that prohibition rules were considerably relaxed for outsiders (read: investors and tourists coming to the state).
This again was a pointer that economic interests over ride moral principles. The state also gives permits to its residents on health and some other grounds.
Modi's tenure had also marked a sea change in the bootlegging scene in the state, after the post-Godhra anti-Muslim violence. The trade, which was majorly in the hands of Muslims, fell into the hands of Dalits and OBCs. Quite often, Hindutva activists bragged about it to this reporter.
Corruption will grow
Procuring liquor in the state was never a problem. This reporter is yet to come across a person who wanted liquor and did not get it. The only thing required is money, some time, and a willingness to compromise a bit on brands.
Liquor flows into Gujarat from its neighbouring states of Madhya Pradesh, Rajasthan and Maharashtra, besides the Union Territories of Dadra and Nagar Haveli, and Daman and Diu. Consignments come to the state from as far away as Punjab and Haryana.
Sources point out that the new prohibition laws introduced by Rupani would take corruption to a higher level.
"Earlier, I used to get away by paying Rs 1,000 to policemen whenever I was caught. Now with stringent laws, they will demand 10-20 times the amount. It is simple: whosoever can afford to consume liquor by paying exorbitant sums will continue to have his fun. Smuggling is not going to stop. The only difference would be that now people will consume it sitting at home instead of while driving around or in parked vehicles. The trips of alcohol consumers to neighbouring states, where there is no prohibition, are also set to increase," said a senior media person, who has been covering crime in Gujarat for almost three decades.
Anti-prohibition campaigners in the state point out that if liquor is legalised, the excise duty would go into the state exchequer. Presently, it is being pocketed by politicians and officials.
It is also a known fact that during political crises, parties have the tendency to take supporting politicians to destinations in the neighbouring states, where liquor flows freely and winning them over becomes easy.
Whether Rupani's new laws will be able to achieve the prohibition goals in the social sphere remains to be seen. But politically, he has surely made the correct move.
Edited by Shreyas Sharma
More in Catch
Parties in poll-bound states, including Gujarat, mull the question of prohibition
How Bihar is enforcing a prohibition through a draconian law
Prohibition in Bihar & Nitish's big plans: will the HC order manage to thwart it?