What has our globe-trotter PM achieved on this trip besides a larger fan following?
Catch Team
| Updated on: 10 February 2017, 1:49 IST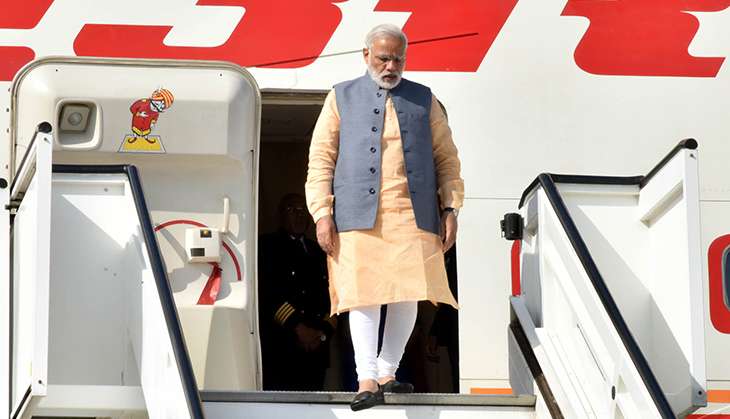 Modi checks in
Narendra Modi visited the US, Switzerland, Mexico, Afghanistan and Qatar
Modi\'s supporters went on a tizzy with the PM visiting so many countries in such short time
Modi supporters flood Twitter
Supporters take to Twitter to hail Modi as a \'world leader\' and \'true statesman\'
Tweeting spree included the hashtag #WorldWinnerModiReturns
More in the story
Critics hit back at Modi and his Twitter fans
What did the foreign visits actually achieve
Prime Minister Narendra Modi on Friday returned to Delhi after a whirlwind five-nation tour in six days and his fans on Twitter went ballistic over the success of his visit, especially the US.
Words like 'world leader' and 'true statesman' were attributed to Modi who hailed for India's induction into the Missile Technology Control Regime.
Announcement by Switzerland and Mexico to support India's candidature for the Nuclear Suppliers Group too was attributed to Modi's fine diplomatic skills.
"World has finally found its leader. He is an Indian.. Remember, he is not a politician, he is a true Statesman.. #WorldWinnerModiReturns," read one of the tweets.
Pictures of US Congressmen scrambling to get his autograph were being used to prove Modi's popularity there. So much so, his supporters on social media claimed that his 48-minute speech at the US Congress with 9 standing ovations and 64 rounds of applause was at par with the Swami Vivekananda's speech in 1893.
They bolstered how Modi has brought India closest to US in its history. Only the sixth Indian prime minister to address the US Congress, Modi spoke about growing Indo-US ties, terrorism and yoga. This would be Modi's last meeting with outgoing US President and 'his friend' Barack Obama.
While the media and his supporters are gung ho about the prime minister's visit to the US, here are some of the major takeaways from the visit -
A $20 million Clean Energy Finance initiative between India and US
A $40 million US-India Catalytic Solar Finance Program
Recognition of India as a 'major defence partner' of the US
Finalisation of the text of an Information Exchange Annex under the Joint Working Group on Aircraft Carrier Technology Cooperation
Despite the hype, critics labeled the prime minister's visit as disappointing considering that nothing concrete came out of it except the 13 ancient artifacts, including a Ganesha statue, that will be returned to India.
Critics hit back
However, the major point of contention for critics is the hype surrounding the label 'major defence partner'. They argue it neither means a 'favourable pricing' or 'free flow of technology' and could just be an eyewash which the US has been accused of by such partners.
Even President Obama's nod for India's entry into UNSC, NSG and APEC is not a first by a US President, countered critics.
Even an entry into the MTCR was seen as a trade off between the Indian and Italian government wherein the latter withdrew its objection after two Italian marines arrested on charges of murder were released.
Keeping the US aside, prime minister's visit to Afghanistan, Qatar, Switzerland and Mexico did result in some important initiatives.
Fruitful trips
Together with Afghan President Dr Ashraf Ghani, he launched the $290-million 'Afghan-India Friendship Dam', previously known as the Salma Dam on the Hari River in Chishti Sharif District of Herat Province. This was seen as a major step towards strengthening India's ties with the war torn neighbour.
During his visit, the prime minister was also conferred with the Amir Amanullah Khan Award - Afghanistan's highest civilian honour.
The globe trotting prime minister's next stopover was Qatar where he courted business heads and assured them that doing business in India was now far more easier than in previous years.
His assurances resulted in signing of seven agreements with the Emir of Qatar which are expected to further bolster ties with the Arab nation.
From Qatar, he flew to Geneva to convince Switzerland government to back India's entry into the NSG which it did.
"I will hold talks with President Schneider-Ammann to deepen our bilateral and multilateral cooperation," Modi said.
During his meeting, Modi also raised the issue of black money parked by Indians in Swiss banks.
In US too, the prime minister met industry leaders and pushed business ties between the two nations resulting in announcement by Amazon founder and CEO Jeff Bezos to invest $3 billion in India. Amazon had promised an investment worth $2 billion in 2014.
In his bid to woo Mexico to back India's claims to be part of NSG, Modi's met and dined with Mexican President Enrique Pena Nieto who endorsed India's entry into the elite club.
Meanwhile, once back at work , Modi chaired three 'key meetings' at South Block which added to the frenzy surrounding his visits abroad.
Edited by Jhinuk Sen