What BJP leaders didn't tell you about their EC complaint against Lalu's son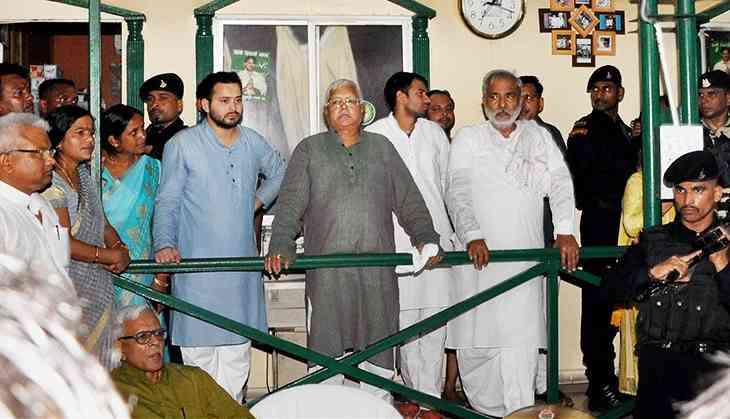 Apart from facing raids by the Income-Tax Department, the Central Bureau of Investigation (CBI) and Enforcement Directorate (ED), there was a possibility of Rashtriya Janata Dal (RJD) chief Lalu Prasad Yadav's getting into trouble with one more agency. BJP leaders had complained to the Election Commission that Yadav's son and Health Minister of Bihar, Tej Pratap Yadav, had concealed information about property owned by him, in his election affidavit.
On this basis, the BJP had demanded that the EC disqualify Pratap and render his election to the Bihar Legislative Assembly from the Mahua constituency null and void.
However, it appears that BJP leaders who had met top EC officials with this complaint forgot to report to the media a key part of EC's reply to them on the case.
It turns out that EC officials made it very clear to the BJP leaders on the day they met that they will not be able to do much in the case because the time limit prescribed for making such complaints was already over.
A source told Catch that EC explained to the BJP leaders that a complaint of this nature could be made only within 45 days of the election of the candidate. Beyond 45 days, the commission has no provisions to deal with it, EC officials said.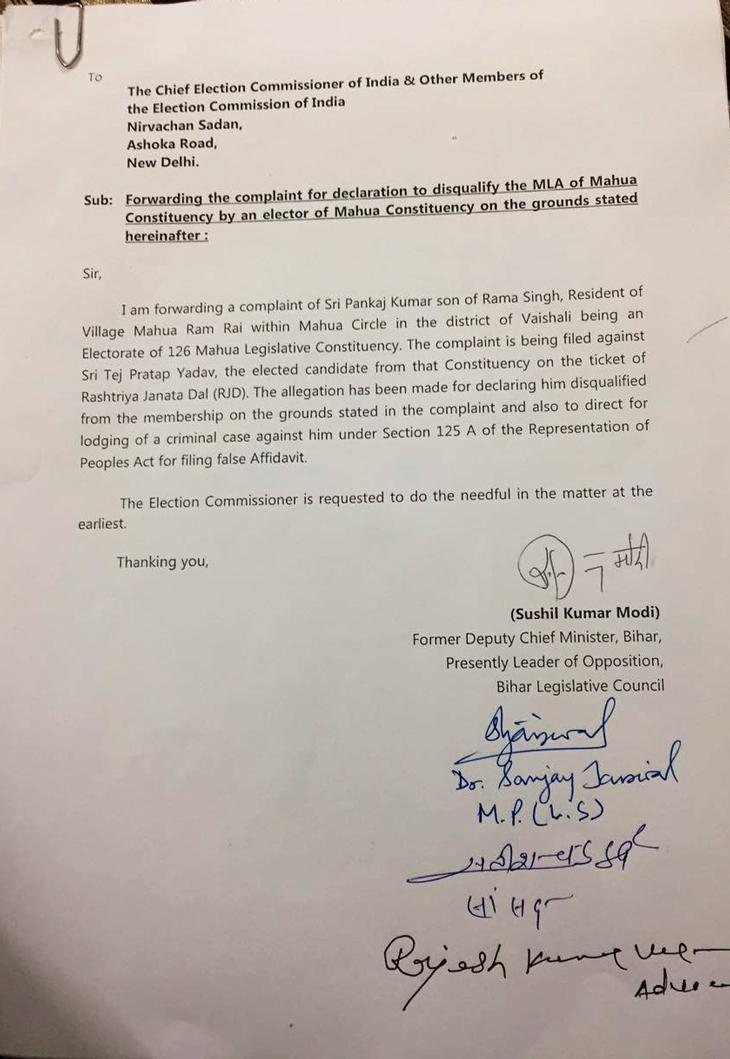 Case filed by the BJP against Tej Pratap Yadav to the EC
Case against Tej Pratap to crumble?
Tej Pratap Yadav's election victory was announced on 8 November 2015, which means there is no way that the EC can entertain such a complaint against him now.
In the said meeting, it was the EC that asked the BJP leaders to get the Parliament to enact a law to make a provision for handling such cases. The leaders eventually went away after handing their complaint to EC officials, urging them to look beyond technicalities and find a way to take action in the case.
That leaves very little scope for the possibility of EC taking action against Lalu's elder son.
And this will come as good news for the Yadav family, which appears to have been left to fend for itself by the head of the alliance, of which RJD is a part of, Bihar Chief Minister Nitish Kumar.
On Monday, Kumar continued to maintain a strategic silence over the CBI and ED raids.
Evidently deserted by it alliance partner, RJD leaders and workers held a meeting and declared steadfast support for their leaders in a resolution passed unanimously.
As Deputy CM Tejashwi Yadav faced calls for resignation because he was named in CBI's FIR, the party declared unequivocally that he will not resign.
आज राष्ट्रीय जनता दल विधानमंडल की बैठक में पारित संकल्प pic.twitter.com/DFrn8V5flM

— Rashtriya Janata Dal (@RJDforIndia) July 10, 2017
Interestingly, RJD claimed that Kumar was standing in support of its top leaders and that he had spoken to Lalu on phone on Sunday. Neither Kumar nor JD(U)'s official spokespersons confirmed that, but former party chief Sharad Yadav reportedly expressed support for the RJD chief, saying that he was being victimised.
Nitish vs Opposition continues
In another indication of which way the CM is likely to swing, reports have emerged that he will skip a meeting of Opposition parties on 11 July that has been called to pick a consensus candidate for vice-presidential polls.
The report has given rise to speculation that JD(U) may decide to ditch the Opposition for this fight too, just like its decision to back the NDA's presidential candidate, Ram Nath Kovind.
Many are interpreting this as the latest indication of Kumar contemplating junking the Grand Alliance in Bihar and going back to the NDA. However, his silence has baffled everyone and right sure, no one is sure of his next move.
A BJP source told Catch he feared all of this could just be a ploy to indulge in some power-bargain with RJD. Looks like the ball is still in Nitish Kumar's court.