West Bengal: Trinamool Congress & BJP to lock horns this Durga Puja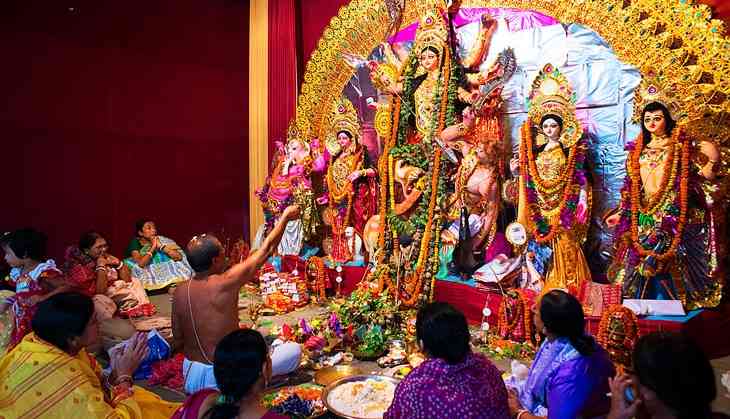 (Subhendu Sarkar/LightRocket via Getty Images)
With Durga Puja approaching, the West Bengal BJP and All India Trinamool Congress (AITC) are busy competing with each other in connecting with the people. While Trinamool has decided to clean every municipality using bleaching powder, BJP plans to set up around 2,500 book stalls in various Durga Puja pandals across the state.
However, BJP faced an embarrassment on Sunday when its national general secretary Kailash Vijayvargiya was supposed to visit Kalighat for a cleanliness drive. But even before Vijayvargiya could visit, the area had already been cleaned up. Apparently it was done by the Kolkata Municipal Corporation though some said that Trinamool cadres also had a role.
BJP accused the AITC of playing politics while the latter said that the KMC was only doing its job.
Trying to save face, state BJP president said, "It is good that Trinamool Congress is cleaning all municipalities and promoting Swachh Bharat Mission. They are frightened by our upsurge in the state and that's why they decided to clean all the wards earlier."
Senior Trinamool leaders said that it is KMC's responsibility to keep all wards clean, especially during the festivities. They also said that additional civic volunteers will be deployed in all the wards, during the Puja days.
On the other hand, the state BJP has decided to set up 2,500 book stalls in various Durga Puja pandals to connect with people. Books on Prime Minister Narendra Modi and the works of Jan Sangh icons Deen Dayal Upadhyay and Shyama Prasad Mookherjee will be put up in the stalls.
According to Ghosh, the party had put up 700 book stalls during the Durga Puja last year.
However, the state government is worried that BJP may try to create communal tensions during the Puja.
Partha Chatterjee, state parliamentary affairs minister, said "They are trying to divide people on communal lines and we have received information that they will try to create communal disturbances in some areas. Additional police force will be deployed to prevent any untoward incident".
CPI(M) chose to attack both BJP and AITC. Party leader Sujan Chakraborty said, "The secret understanding between AITC and BJP has yet again been exposed. They are only concerned about votes, not welfare of the people".