West Bengal Panchayat polls: On the ground in Bhangor, where AITC controls polling booths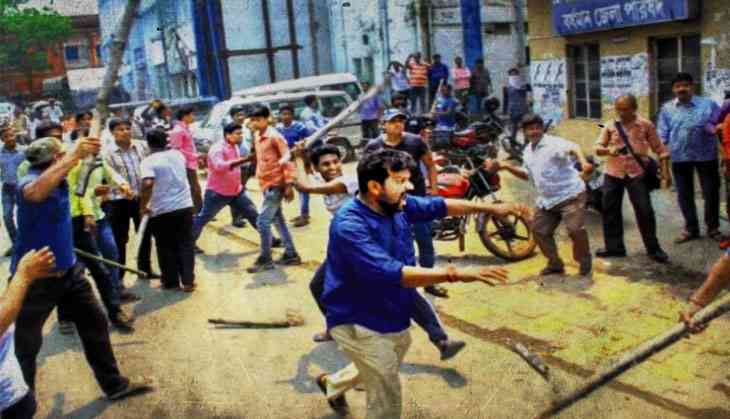 Violence marred the West Bengal Panchayat election on Monday as 13 people have died and several others have been injured in clashes between the ruling All India Trinamool Congress (AITC) and Opposition parties.
Two out of the 13 people – one in Gopalpur in Coochbehar and the other at Tehatta in Nadia – died trying to prevent the AITC and the Opposition from entering into a clash.
Meanwhile the Union Ministry of Home Affairs has instructed the West Bengal government to submit a report on the incidents of violence reported on the day of polls and action taken by the state police. The West Bengal Director General of Police has said that 12 people died on polling day, six of these due to political clashes and six due to other reasons.
There have been allegations of booth capturing and intimidation of voters in Bhangor in South 24 Pargana, Egra in West Midnapore, Mohamadbazar in Birbhum and Dinhata in Coochbehar.
Catch went to some of the polling booths at Bhangor in South 24 Pargana. We found that after 2 PM, no poll officials were seen inside the polling booth. For instance at Kanthalia Primary School in South 24 Pargana, voting started at 7 AM and was supposed to continue till 5 PM. But polling officials were not seen after 2 PM.
Asil Sheikh, a AITC worker close to party MLA and Bhangor strongman Arabul Islam, said "The poll officials have gone for lunch and on behalf of them, we are guarding the polling booth".
When this reporter asked why all poll officials have gone for lunch at the same time, Sheikh replied sternly, " I have already said they went for lunch. Please don't ask any more questions."
Catch spoke to a few polling officials, who were too scared to come on the record.
"We risked our lives and came here for polling duty. From 4 AM onwards, AITC goons gheraoed the polling stations. After 2 PM, they did not allow us to work independently and threatened us with a knife that if we still continue to work, we will be killed. We did not have any other option but to keep all the ballot boxes inside the polling station. We were given shelter at a nearby house. The police did not take any action when we asked for help".
On Friday, Arabul Islam was arrested by West Bengal police from his North Gazipur residence at Bhangor for allegedly murdering Hafizul Mollah an activist of the Jomi Jibika Bastutantra O Poribesh Raksha Committee.
A senior official of state election commission said "We have received reports from various booths at Bhangor, Coochbehar, Birbhum and East Midnapore that the entire voting process could not be carried out till 5 pm and after 2 pm onwards, no poll officials were allowed to perform their duties. AITC workers threatened the poll officials to stop their work."
The scene at Kanthalia Primary School scene was almost replicated at most of the polling booths at Polerhaat area of Bhangor where Arabul Islam resides. At Polerhaat in Bhangor, Arabul's people were pitted against the supporters of the Jomi Jibika Bastutantra O Poribesh Raksha Committee. At Anantapur Primary High School, a bomb was found near the polling booth when voters went to cast their vote. The members of the Committee also gheraoed the police at Anantapore More in Bhangor and demanded action against the AITC workers who did not allow voters to cast their vote.
Mirja Hasan, general secretary of the Committee said "Trinamool workers did not allow people to cast their vote. At Bhangor in South 24 Parganas, there are eight Zilla Parishad and one Panchayat Samiti. In seven ZPs, Trinamool workers did not allow people vote freely. Police did not take any complaint related to poll malpractices".
According to the reports received from the state election commission, at Nakshipara in Nadia one Trinamool worker was killed due to an intra-party feud when he went to cast his vote. In Coochbehar state minister Rabindranath Ghosh was seen booth capturing and slapping an Opposition polling agent. A CPI(M) worker Debu Das and his wife were allegedly burnt to death by Trinamool workers after being locked inside their house at Kaccharibari area in North 24 Parganas in the wee hours of Monday. At Nandigram in East Midnapore, two CPI(M) workers have been shot dead allegedly by Trinamool workers when they went to cast their vote. A Trinamool worker was allegedly shot dead allegedly by SUCI workers in South 24 Parganas' Kultali. A CPI(M) worker was also killed in North 24 Parganas' Amdanga allegedly in clash with Trinamool workers at a polling booth. In Beldanga in Murshidabad, a BJP worker was allegedly killed by Trinamool workers. At Naoda in Murshidabad an independent candidate was allegedly killed by a Trinamool worker when he went to cast his vote.
Sitaram Yechury general secretary of CPI(M) leader said " Our state leaders have gheraoed the state election commission office on Monday evening as Commission did not accept any complaint. Democracy is at peril. No condemnation is strong enough to denounce the barbarity which West Bengal witnessed on Monday to ensure AITC's project of capturing cent percent of elected Panchayat bodies in the state. In most cases, poll observers are not responding to any complaints".
Partha Chatterjee, state parliamentary affairs minister, said "Minor isolated incidents have been reported. The Administration and state election commission has taken steps where clashes took place. Voting was conducted peacefully and I strongly condemn the attack on journalists."