'Vikas ki jai' nahi, 'Jay ka vikas': Congress takes potshots at BJP and Amit Shah's son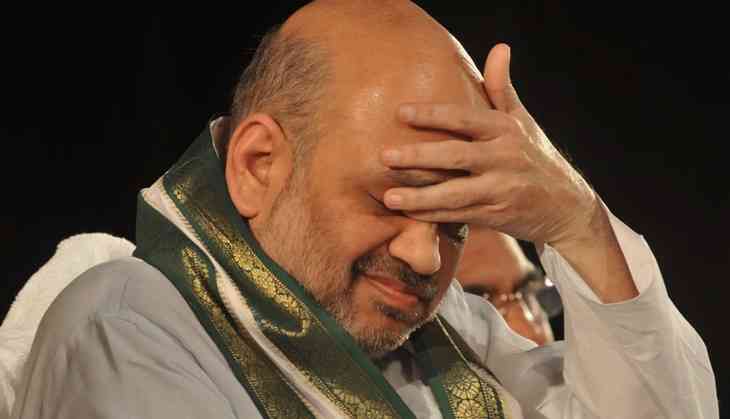 (Debajyoti Chakraborty/NurPhoto/Getty Images)
Citing past precedents of BJP presidents resigning when allegations of corruption were levelled at them, Congress on Monday demanded Prime Minister Narendra Modi should ask BJP president Amit Shah to resign or relieve him of all his duties to allow an unbiased investigation.
Earlier on Sunday, The Wire, a news portal, in its report claimed that Jay Shah, the BJP president's son, made massive profits after the BJP government came to power in the Centre in 2014.
"In the past few years, three BJP presidents, after being accused of financial irregularities, had to quit their post. Everyone remembers how LK Advani after the Jain Hawala case resigned as president and vowed not to take any position till the investigation was over and the court announced its verdict," said senior Congress leader and Rajya Sabha MP Anand Sharma.
He added that after the Tehelka expose, Bangaru Laxamn, who was caught taking a bribe, resigned, and even Nitin Gadkari resigned as president after allegations were made against him and his Purti Group.
Even Congress vice president Rahul Gandhi, who is campaigning in Gujarat, asked the Prime Minister to explain his stand on the controversy. Earlier on Sunday, Gandhi accused Jay Shah of being the real beneficiary of the demonetisation exercise.
मोदीजी, जय शाह- 'जादा' खा गया|
आप चौकीदार थे या भागीदार? कुछ तो बोलिए

— Office of RG (@OfficeOfRG) October 9, 2017
We finally found the only beneficiary of Demonetisation. It's not the RBI, the poor or the farmers. It's the Shah-in-Shah of Demo. Jai Amit https://t.co/2zHlojgR2c

— Office of RG (@OfficeOfRG) October 8, 2017
The main Opposition party has demanded that for an unbiased and credible investigation, a commission comprising of two sitting Supreme Court judges should be constituted to get to the bottom of this controversy and submit its report at the earliest.
'Jay ka vikas'
Taking pot shots at BJP, Sharma said that while the country is waiting for "vikas ki jai" (victory for development), The Wire's report has pointed to how only "Jay ka vikas" has transpired. Putting stress on the fact that the nations deserves to know the truth, he had several questions for eh BJP.
The first question is the same one that has been on nearly everyone's lips since the news story was published: what business did Jay Shah's firm, Temple Enterprises Private Ltd., which is jointly owned by Amit Shah's wife and daughter-in-law, do that within a year its income rose by 16,000 times?
Seeking details of its assets, workforce and financial transactions, Sharma questioned, "Which was that magic wand that led to the company which was running in losses between 2012-13 and 2103-14 had registered 16 lakh per cent increase within a year of BJP coming to power."
Further, he questioned what were the reasons that a company which witnessed such spike in its income had to shut down in October 2016 after showing losses. "Is it not the responsibility of the Income Tax Department to issue a notice and investigate the suspicious circumstances in which the company was shut down?" asked Sharma.
Accusing the Income Tax department of harassing businessmen from Gujarat and other parts of the country for depositing their legitimate money, Sharma went on to add that the department had put on a blindfold when it comes to the business dealings of Shah's son's company.
He further questioned the role of government agencies for not probing the business dealings of Temple Enterprises, which received Rs 51 crore came from foreign sources. "If this would have happened with the company of an ordinary businessman, ED, CBI and IT department would have made life hell for him," said Sharma.
Further, Congress raised the issue of Rajesh Khandwala owned KISF Financial Services giving unsecured loan worth Rs 15.78 crore and how KISF was warned by SEBI and not even allowed to conduct business. "The people want to know whether for this unsecured loan Rajesh Khandwala was given any special evident and indirect favours or was this loan given as social work," he asked.
Sharma also raised questions about Jay Shah's other firm Kusum Finserv Private Ltd that was given Rs 25 crore loan against two properties worth Rs 6.20 crore. The Congress leader informed that one of these properties belonged to Yashpal Chudasama who was made an accused by the CBI in the fake encounters of Sohrabuddin Sheikh and his wife Kauser Bi. Both Chudasma and Shah were later let off by the CBI court.
Questioning the RBI, Congress said whether the rules allow that Rs 25 crore loan can be sanctioned against properties worth Rs 6.20 crore. Further, Sharma questioned as to why Kusum Finserv, whose primary business was share trading and export import, was given contract of a 2.1 MW windmill power plant in BJP-ruled Madhya Pradesh by Union Power Minister Piyush Goyal in 2016.
"The nation wants to know what was the basis for giving contract of power generation to a company that deals in share market and export import and has no experience in the power sector," Sharma asked. Expressing surprise at Goyal's decision to defend Shah and that too when his own ministry had lobbied to provide cheap loans to Shah's firm.
"Question that arises is whether Shri Jay Shah is a minister in Modi government or a national office bearer of BJP. If not, why is a BJP minister trying to protect a private citizen," he said.