Goregaon sankalp sabha just a trailer: VHP to hold 5000 Ram Mandir events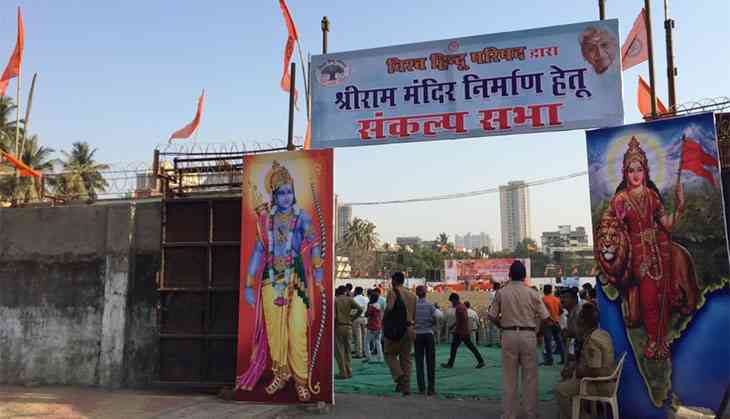 By organising a large Sankalp Sammelan at Goregaon in Mumbai, the Vishwa Hindu Parishad has made its intentions clear – it will be mobilising popular support for the construction of a Ram Temple in Ayodhya.
After the Supreme Court suggested that efforts be made to resolve the matter through negotiations, the VHP seems to believe that a show of strength is the means to get its way.
The Sankalp Sabha in Goregaon attracted controversy after a person (Twitter handle @AlistRap) tweeted pictures from the event on 9 April and alleged that incendiary songs were being played there.
According to him one of the songs said "Ram Mandir will be built with the blood of Hindus".
Another song said, "Suno papiyo, tumhare chhaati pe Shiv Tandav hoga, Mandir Na bana toh tumhara shav hoga" (Lister sinners, Shiv will dance on your chest. If the temple isn't constructed, your dead bodies will be there [everywhere]).
"Little children are being radicalised, with slogans like 'Blood of Hindus will bring Ram Mandir.' he tweeted.
"There are like 50 cops there. And not exactly training though, this is more like indoctrination/recruitment," he alleged
The tweets soon went viral and were retweeted by several prominent people as well. Many expressed concerns over the possible agenda.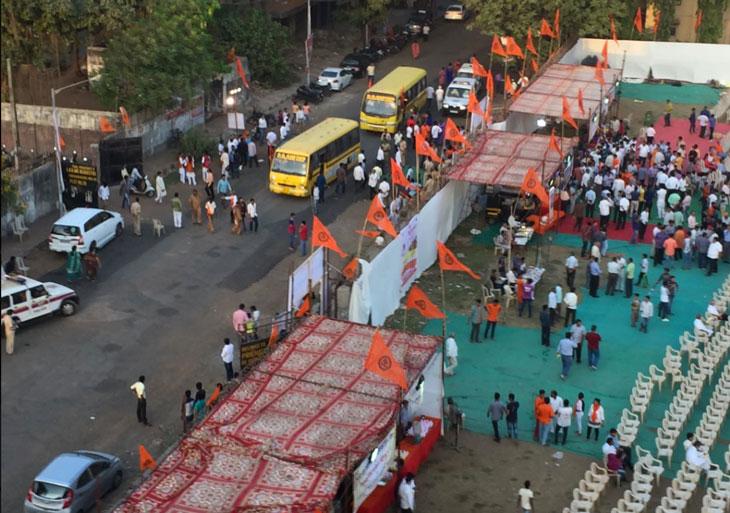 Aerial view of VHP Sankap Sammelan at Goregaon (@AListRap)
The agenda
VHP plans to organise 5000 Sankalp Sabhas across the country in the days to come.
"We organised the Sankalp Sabha in Mumbai on 9 April. It was part of a series of Sabhas. The main objective of these meetings is to inform people about the current status of the Ram Janmabhoomi movement. We informed people about the details of various court orders and the recent observations by the Supreme Court," said Shankar Gaikar, senior VHP leader from Mumbai.
He said that there have been many developments on the Ram Mandir front, which many people are not aware of and the Sankalp Sabha is a platform to gather people and spread the word about the movement.
"The recent observation by the Supreme Court of India is very important. The SC is in favour of an amicable solution to the dispute, out of the court. We need to create awareness about the same among general public of the country. The Sankalp Sabha will play a vital role in this," Gaikar said.
"VHP wants more and more Hindus to be informed about and roped into the movement...We will organise 5000 Sankalp Sabhas," he added.
A senior leader who did not wish to be named, said, "Sankalp Sabhas are a routine feature of the VHP. Apart from the Ram Janmabhoomi movement, the Sabha organised at Mumbai was also a platform to bring people together for Lord Hanuman's birth anniversary."
Reacting to buzz on social media, Gaikar said "It was just a meeting to inform people about the Ram Janmabhoomi movement. No one was radicalising people. The event was open for all and several media persons were also present. Had there been any such incident, they would have reported it. Whatever is spread on the internet about the Sabha is baseless."