Vaishali farmer Anjani: 'The BJP should get majority'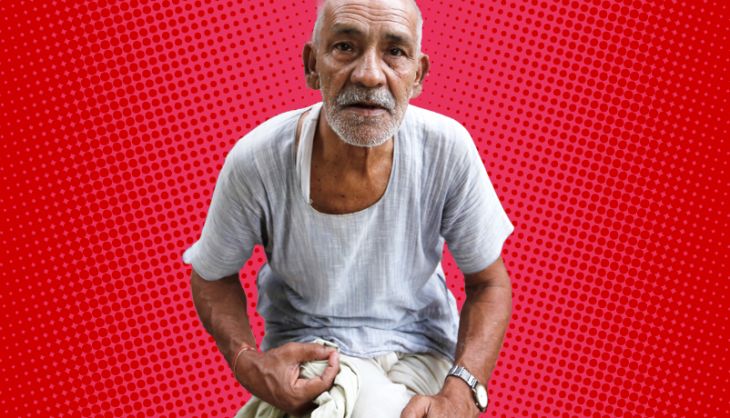 The \'retired\' farmer
Anjani Kumar Singh says he\'s between 70 and 75 years old
He spent almost his whole life as a farmer, but kept a keen interest in politics
The politics
Anjani, a Bhumihar, used to vote for the Congress for many years
He now calls the grand alliance a \'conglomerate of thieves\'
More in the story
Why Anjani will vote for the BJP
Why he\'s angry with CM Nitish Kumar
Having spent almost his entire life as a farmer, Anjani Kumar Singh now leads a 'retired' life. He says his age is '70-75', and there's not much life left in the old bones.
Anjani hails from Lalganj in Vaishali district of Bihar, and is a Bhumihar by caste.
He has maintained a keen interest in politics since first casting his vote in 1956 in favour of the Congress. But today, he is part of an increasing majority of people who have moved on from the grand old party.
Anjani holds the Congress responsible for the abandonment of the development process, and is happy that it barely stands a chance to pick up a few seats in the Bihar assembly election.
He believes the NDA has the upper hand over the grand alliance. Here's more from our conversation with him.
Which are the issues you'll consider when you go out to vote?
I want a government that does serious work instead of merely making noises in the media.
We recently saw how a mere 40 opposition members stalled Parliament. I, therefore, want one side to win with a resounding majority so that this is not repeated in the assembly.
A BJP government in the state would mean money allocated for development will be utilised properly, since the Centre is also ruled by the same party. A BJP CM would fear Narendra Modi, if nothing else.
If the grand alliance comes to power, there will only be rabble rousing. That's why I'll vote for the BJP.
"A BJP CM would fear Narendra Modi. If the grand alliance wins, there'll only be rabble rousing"
Don't you want to ensure victory of a candidate from your own caste?
No. Only leaders think on caste lines, not the public. You can see Lalu's whole campaign is on caste lines. He has openly claimed that if Yadavs don't vote for him, they would be finished. But, I think this election is not about caste equations.
Why have Bhumihars always opposed Lalu?
That's because Lalu began his political career by abusing Bhumihars. He has been hostile to Bhumihars in this election as well, though his vitriol has been little bit more subtle this time. How can we support a leader who has always opposed us?
What's your opinion of Nitish Kumar?
Nitish makes the false claim that he has restored the rule of law in Bihar. The situation has deteriorated everywhere.
He did a fine job during his first tenure, but floundered in his second innings. He spent most of his time fighting Narendra Modi and forgot to govern.
Why do you assume that the BJP will bring in an era of development in Bihar?
Does hope have any basis? Who else we can expect from? A conglomerate of thieves? There is no doubt that the party that rules the Centre needs to govern Bihar too.