Uttarakhand polls: In BJP's first list, 7 rebels who felled Harish Rawat govt
Catch Team
| Updated on: 11 February 2017, 6:41 IST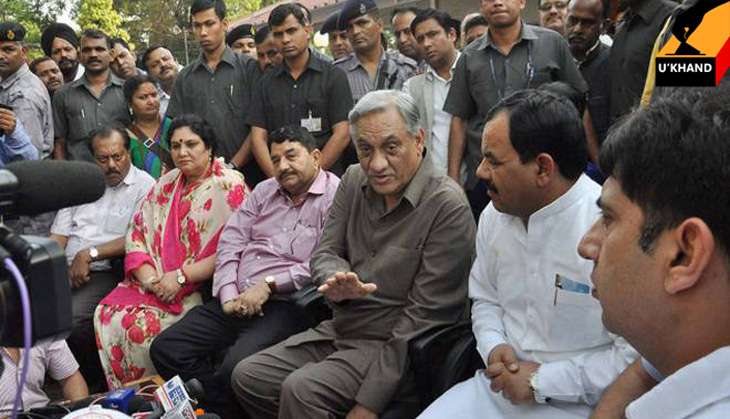 The BJP Monday declared its first set of 64 candidates for the Uttarakhand assembly election. The 70-member assembly goes to polls on 15 February. Interestingly, 12 former Congress leaders have been allotted tickets by the saffron party. They include seven of the nine rebels who tried to topple the Harish Rawat government last March.
Two Congress rebels - Vijay Bahuguna and Amrita Rawat - did not feature in the list announced by Union Minister JP Nadda at the BJP headquarters in Delhi. Bahuguna's son has been fielded from Sitarganj.
Earlier in the day, the BJP received a shot in the arm after Congress minister Yashpal Arya joined it along with his son Sanjeev Arya in the presence of the Amit Shah and other senior leaders. As expected, the father-son duo feature in the list of candidates announced by Nadda.
Also Read: Uttarakhand HC blasts Centre for chaos, Harish Rawat calls it setback for BJP
Former Congress heavyweight Satpal Maharaj too has been allotted ticket while his wife, Amrita Rawat, did not make it in the first list. Sources say her name is likely to be announced in the second list. A few more Congressman are likely to switch over to the BJP in the next few days. Another Congress sitting legislator Kedar Singh also joined the BJP with Arya and has been asked to contest on a BJP ticket.
It appears from the list that the BJP central leadership has paid no heed to the party's state leaders, who were against allotting tickets to Congress turncoats. They had argued that BJP leaders could revolt if "outsiders" are chosen over them in their constituencies.
From within its own ranks, the BJP has fielded former chief minister BC Khanduri's daughter Ritu Khanduri Bhushan from Yamkeshwar. There had been reports that Khanduri was not too pleased with the BJP leadership for "ignoring" him and had even skipped key party meetings.
There's no word, however, on former chief minister BS Koshiyari. The BJP veteran has made known his desire to contest the election. Koshiyari is said to be miffed with the central leadership for giving more prominence to turncoats over him.
The Congress, meanwhile, is expected to announce its candidates soon. The party is planning to field strong candidates against the rebels who have gone over to the BJP.
Also Read: After the victory: 10 dos and don'ts for Harish Rawat
In March 2016, the Rawat government was plunged into a crisis after nine sitting Congress legislators switched allegiance to the BJP. The state was put under President's Rule. The Congress went to court and, in a landmark decision, the Supreme Court ordered Rawat to undergo a floor test, which led to the restoration of his government.
Here's the full list of candidates released by the BJP.
Purola (SC) Malchand, MLA
Yamunotri Kedar Singh Rawat, Ex-MLA
Gangotri Gopal Singh Rawat, Ex-MLA
Badrinath Mahendra Bhatt, Ex-MLA
Tharali (SC) Maganlal Shah
Karnprayag Surendra Singh Negi
Kedarnath Shaila Rani Rawat, MLA
Rudraprayag Bharat Chaudhary
Ghanshali (SC) Shakti Lal Shah
Deoprayag Vinod Kandhari
Narendranagar Subhodh Unial, MLA
Pratapnagar Vijay Singh Panwar, Ex-MLA
Tehri Dhan Singh Negi
Dhanolti Narayan Singh Rana, Ex-MLC
Sahaspur Sahadev Pundir, MLA
Raipur Umesh Sharma "Kau", MLA
Rajpur Road (SC) Khajandas, Ex-MLA
Dehradun Cantt. Harbansh Kapoor, MLA
Mussoorie Ganesh Joshi, MLA
Doiwala Trivendra Singh Rawat, Ex-MLA
Rishikesh Premchandra Aggarwal, MLA
Hardwar Madan Kaushik, MLA
BHEL Ranipur Adesh Chauhan, MLA
Jwalapur (SC) Suresh Rathore
Bhagwanpur (SC) Subodh Rakesh
Jhabrera (SC) Deshraj Karnwal
Pirankaliyar Jaibhagwan Saini
Roorkee Pradeep Batra, MLA
Khanpur Kunwar Pranab Singh Champion, MLA
Manglore Rishipal Baliyan
Laksar Sanjay Gupta, MLA
Hardwar Rural Yatiswaranand, MLA
Yamkeshwar Ritu Khanduri Bhushan
Pauri (SC) Mukesh Koli
Srinagar Dhan Singh Rawat
Chaubattakhal Satpal Maharaj, Ex-MP
Lansdowne Dilip Singh Rawat, MLA
Kotdwar Harak Singh Rawat, MLA
Dharchula Virendra Singh Pal
Didihat Bishan Singh Chufal, MLA
Pithoragarh Prakash Pant, Ex-MLA
Gangolihat (SC) Meena Gangola
Kapkote Balwant Singh Bhoriyal, Ex-MLA
Bageshwar (SC) Chandan Ram Dass, MLA
Dwarahat Mahesh Negi
Salt Surendra Singh Jeena, MLA
Ranikhet Ajay Bhatt, MLA
Someshwar (SC) Rekha Arya, MLA
Almora Raghunath Singh Chauhan, Ex-MLA
Jageshwar Subhash Pandey
Lohaghat Puran Fartiyal, MLA
Champawat Kailash Gehtori
Lalkuwa Naveen Dumaka
Nainital (SC) Sanjeev Arya
Kaladhungi Bansidhar Bhagat, MLA
Jaspur Shailendra Mohan Singhal, MLA
Kashipur Harbhajan Singh Cheema, MLA
Bajpur (SC) Yashpal Arya
Gadarpur Arvind Pandey, MLA
Rudrapur Rajkumar Thukral, MLA
Kichha Rajesh Shukla, MLA
Sitarganj Saurabh Bahuguna
Nanak Matta (ST) Prem Singh Rana, MLA
Khatima Pushkar Singh Dhaami, MLA