Uttarakhand: ND Tiwari's gambit fails, son not part of BJP list of candidates
Catch Team
| Updated on: 11 February 2017, 5:45 IST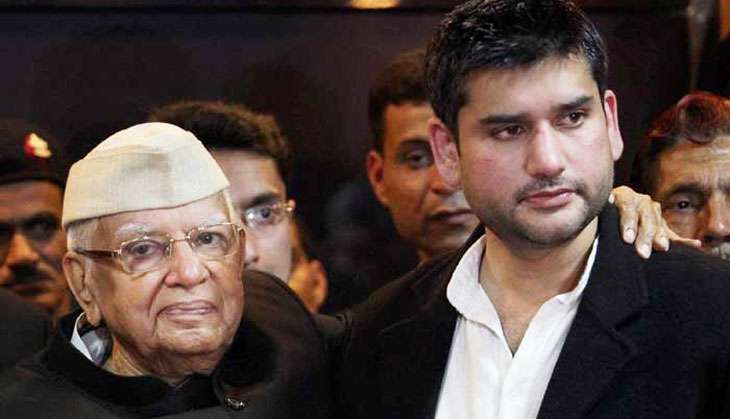 Congress veteran and former Uttarakhand and UP chief minister ND Tiwari's attempts to secure a BJP ticket for his son Rohit Shekhar have failed after the saffron party fielded another candidate from Haldwani. The BJP had earlier announced candidates for 64 seats and Tiwari was hoping that his son, who recently joined the party, would be allowed to contest on the party's symbol. However, that was not to be after BJP announced six remaining candidates for the upcoming assembly elections in the hilly state.
On 18 January, Tiwari surprised political observers when he met BJP president Amit Shah and extended support to the saffron party. The father son duo assured Shah that they would campaign for the party during the Assembly polls. As Tiwari has been elected from various Assembly seats on multiple occasions from the Kumaon region of the state, BJP hoped to cash in on the former chief minister's popularity.
Tiwari, aged 91, has almost disappeared from the political scene in the state till he decided to take this gamble to set in motion the political career of his son with whom he was engaged in a long and bitter paternity suit. Eventually a DNA test was done which proved that he was Rohit's biological father after which he married Ujjawala Sharma, Rohit's mother, at a tender age of 89.
The former Uttarakhand chief minister's decision to extend support to BJP was ridiculed on social media and questions were being asked what message was the party sending to its young followers. Though Tiwari clarified that he hasn't joined BJP, Rohit had with the hope of being allotted a party ticket.
A senior BJP leader claimed that Rohit was never considered for a ticket considering he is a political novice and has no following. "Even his father's political capital has shrunk drastically over the years. The father-duo was entertained so that the senior Tiwari could campaign for the party. They were given no such assurance," said a senior party leader from the state.
With the announcement of the candidates for the six remaining seats, BJP has now announced 70 candidates for the upcoming polls which has a large number of Congress turncoats. Interestingly, none of the political heavyweights, including former chief ministers BC Khanduri and BS Koshiyari, have been given tickets to contest polls. Even former Congress chief minister Vijay Bahuguna, who joined the BJP last year, was not given a ticket.
However, the children of these senior leaders have been accommodated in the party list to avoid any rebellion within party ranks. Khanduri's daughter is BJP's candidate from Yamkeshwar while Bahuguna's son has been given a ticket from Sitarganj.
With BJP deciding to not field any of these veterans, it would be interesting to see who the party will nominate as its chief minister if it manages to win the Assembly elections.
Meanwhile, Congress is yet to announce its second list for the state elections owing to differences over the selection of candidates. The grand old party wants independents, who were part of the Progressive Democratic Front that supported the Harish Rawat government, to contest on Congress' symbol which they are not agreeing to. If these talks fail, there is a high possibility of Congress changing its candidates even from the first list.