Uphill task: BJP delegation greeted with protests & black flags as they visit Kalimpong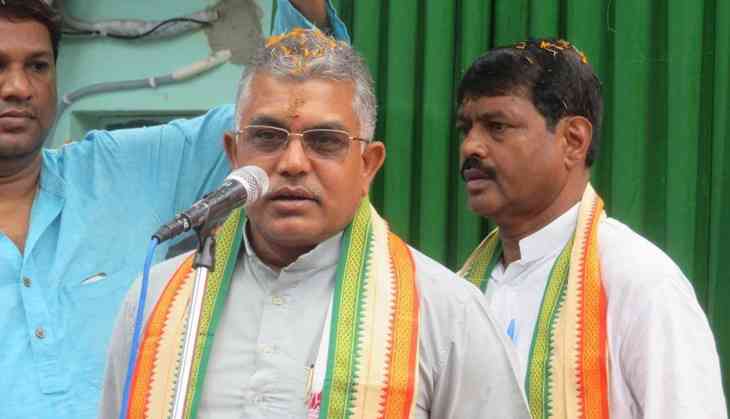 The Bharatiya Janata Party (BJP) delegation, which included party secretary Dilip Ghosh, were in Kalimpong on Wednesday to speak to morcha leaders about how the movement for Gorkhaland is going to be carried on. According to a few Gorkha Janmukti Morcha (GJM) leaders, a difference of opinion cropped up between GJM Chief Bimal Gurung and Binoy Tamang, the chairman of the board of administrators picked to run the Gorkha Territorial Administration (GTA).
The board to run the GTA was picked by Mamata Banerjee a few weeks ago.
According to political analysts, on one hand, a desperate Gurung is trying to keep his position in the hills intact and therefore trying to maintain a close liaison with the BJP. Gurung feels that without BJP support it will be hard for him to maintain relevance. And on the other hand, morcha factions lea by Tamang are against the BJP's visit and have already have been putting up posters across Kalimpong asking the delegation to 'go back'.
The 104-day strike in the hills was lifted on 27 September after Union Home Minister Rajnath Singh appealed to the GJM. Singh had also issued a statement, on 27 September, asking the Union Home Secretary to convene an official-level meeting to discuss all issues related to the demand for Gorkhaland.
According to a senior political analyst and professor of International Relations Jadavpur University, Imankalyan Lahiri, with Gurung trying to keep his position intact, the BJP feel that it is a good deal to maintain an amicable relationship with Gurung. The BJP also need GJM support to increase their hold in the hills, Lahiri pointed out, adding that the BJP is just 'exploiting' Gurung as they wait for the right opportunity to make their move.
Gurung's hold over the GJM weakened after factions developed inside the morcha and with leaders supporting Tamang clearly shifting their allegiance to the All Indian Trinamool Congress (AITC), both the BJP and Gurung need each other.
Wednesday saw morcha leaders who are Tamang supporters demonstrating in several areas of Kalimpong. They were demanding that BJP makes its stand clear on the Gorkhaland issue. A party meeting convened by Dilip Ghosh also saw protests outside the venue with placards and black flags.
"This is just an eyewash. We want BJP to clear their stand on Gorkhaland. We will continue our agitation as long as BJP leaders do not clear their stand," a protestor said.
"When the hill people were on their indefinite strike, no BJP leader came to Darjeeling to speak to them. We feel that if the Centre wants to hold a tripartite meeting then BJP's stand on Gorkhaland should be made clear first. Otherwise, it is meaningless to speak with BJP leaders on this issue," Binoy Tamang said.
"As the AITC government has failed to tackle the law and order situation in the hills, the BJP delegation came here to speak with the GJM to resolve issues. Binoy Tamang has already been sold to Trinamool Congress after he was made the chairman of the board of administrators. So he is favouring AITC. But the crisis in the hills is yet to be resolved. We are speaking with the people in the hills and trying to get their views to resolve the impasse," Ghosh said.
Ghosh was greeted with black flags in Darjeeling as well. The meeting scheduled for Thursday with local BJP leaders was also called off.
Edited by Jhinuk Sen