UP polls: Being targeted for Rs 104 cr cash deposit because I'm a Dalit, says Mayawati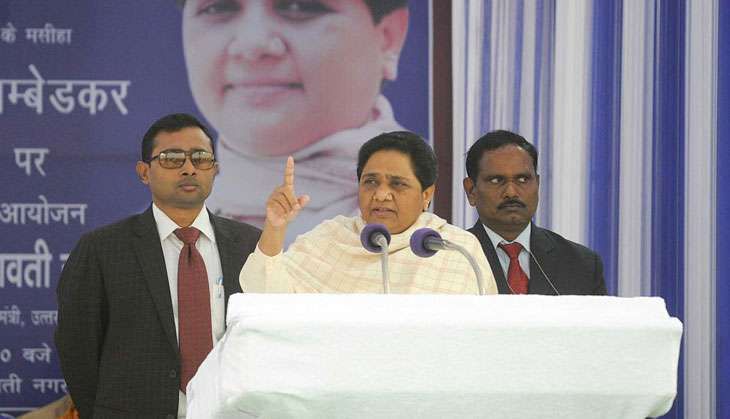 Bahujan Samaj Party president Mayawati defended the Rs 104 crore deposited in her party's account in banned currency notes at a press conference in Lucknow on 27 December, saying that "due procedures were followed".
The Bharatiya Janata Party was misusing the government machinery to tarnish her image, she said.
The money trail
Enforcement Directorate (ED) officials said on 26 November that after 8 November, Rs 15-17 crore had been deposited everyday into the party's account with the Karol Bagh branch of the United Bank of India. Of the total amount, Rs 102 crore was deposited in Rs 1,000 notes and the remaining in Rs 500 denomination notes.
Also read - Yadav civil war: Akhilesh-Shivpal feud headed for another clash over Assembly election tickets
Another tranche of Rs 1.4 crore was deposited in the account of Mayawati's brother Anand.
Mayawati said the entire amount was accounted for and that the cash was given by party members who couldn't have given it small-denomination notes. "Should I have thrown all that money?" she asked.
A target of the BJP
Claiming vendetta, she hit out at the BJP and asked it to disclose the amount of cash deposited in its accounts 10 months before the old currency was demonetised.
"It was the same BJP which had targeted me in 2007 and recall what happened. My party won absolute majority in the state elections in 2007," the BSP president said, alleging that the ED's disclosure was made after her allegation that the BJP was behind the Congress-Samajwadi Party alliance move. Mayawati leveled the charge at a press conference on 26 November too.
She said after her Monday press conference that the BJP leaders must have spent sleepless night before deciding to let loose the government machinery on her.
According to the rules
The former UP chief minister has faced cases for possessing assets disproportionate to her income, which she said were acquired from small donations given to her by her supporters.
Explaining the huge amount, Mayawati said hers was a national party and those seeking party membership travelled either by plane or train from across the country, making it more convenient for them to carry high denomination notes than smaller notes. "All this money reached the party from around 31 August while I was busy in Uttar Pradesh from 21 August till mid-November," she said.
"The cash was being collected all this while in my Delhi office. So I told party officials to keep the cash till I reach Delhi, see it for myself before deciding on depositing it in consultation with the treasurer," Mayawati said in her defence and described the BJP as being anti-Dalit.
"This is the party's money and every penny is accounted for. The entire cash was deposited as per rules. It was a routine procedure," she asserted.
Conspiracy theories
Mayawati alleged that it was a conspiracy by anti-Dalit forces to prevent a "Dalit ki beti" from coming to power in UP.
After 8 November, BJP and several other parties had also deposited cash in their respective accounts but they are not being talked about, she alleged. "If this is not anti-Dalit mindset then what is it?" Mayawati questioned.
She was also investigated in connection with the Taj Corridor case but could not be prosecuted because the then governor of UP, TV Rajeswar, refused to give permission to sanction her.
During the probe the CBI had carried out searches at Mayawati's house and even questioned her.
In April this year, the Supreme Court admitted a public interest litigation petition in the DA case.
Her government in UP was rocked by the National Rural Health Mission scam in which over Rs 10,000 crore of public money was pocketed by ministers, bureaucrats, doctors and suppliers.
Edited by Aleesha Matharu
More in Catch - BJP's Parivartan Yatra ends on a lukewarm note in Lucknow. Note ban effect?
UP 2017: Will Akhilesh Yadav split SP for an alliance?