Unite or there will be nothing left: Oppn comes together on Limaye's birth anniversary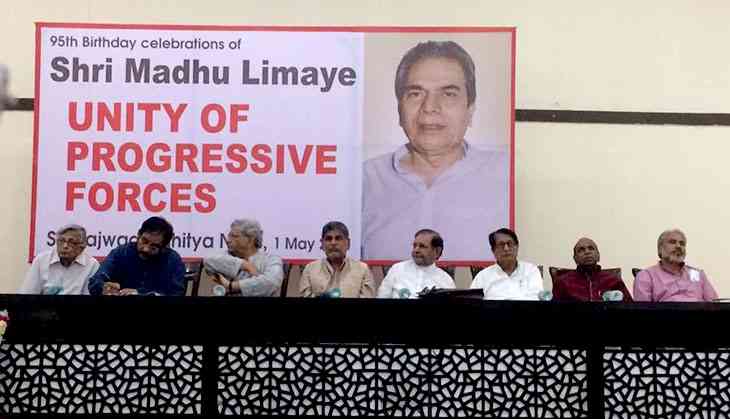 On the occasion of the 95th birth anniversary of late Socialist leader Madhu Limaye, leaders of various political parties opposed to the BJP, stressed on the unity of progressive forces to defeat fascist forces that according to them are slowly destroying the secular fabric of the country. In a show of unity, leaders of Congress, CPI, CPM, JD(U), BSP, RLD, NCP and trade unions stressed on the need of secular parties to shun their differences to take on the communal forces that are dividing the country on religious lines.
Interestingly, Limaye was one of the most vocal critics of the Congress and by inviting the grand old party for the conclave suggested that the socialist parties have shunned their anti-Congress agenda and embraced the anti-BJP plank in wake of the recent political developments. Ever since BJP assumed power under the leadership of Prime Minister Narendra Modi, it has demolished regional parties in elections after elections forcing them to embrace Congress to stop the BJP juggernaut.
Anti-Modiism not enough: Digvijaya
While addressing the conclave Congress general secretary Digvijaya Singh claimed that in the present context the fight is between democratic and fascist forces and if the country has to be saved from these fascist forces, the only alternative is the unity of the progressive forces. The Congress general secretary repeatedly stressed on the unity of secular forces and said it is the only way to stop fascist powers.
"We should forgo minor political differences to get together in this fight against communalism. As far anti-Congress-ism is concerned, the only difference between Ram Manohar Lohia and Madhu Limaye was that for Lohia it was a major issue but it was not so much for Limaye," he said. He cited examples of how Limaye praised former Prime Minister Indira Gandhi for Bangladesh's liberation from multiple platforms.
"Today the need of the country is not anti-Congress-ism rather it is about giving a positive narrative so that we can save this democracy. And all the forces who want to fight against communalism and the divide between the rich and the poor, they have to become one. BJP and RSS stayed away from the freedom struggle and they want to rewrite it," he added.
Further, he cautioned the progressive forces and said that a grand alliance was formed in 1971 which was against Indira Gandhiji and that is such an alliance is not defined appropriately it will become Modi vs others. "We should be a little cautious of this because this fight is not about personalities, it is about ideology which should be kept in mind," he said.
Patriots must unite against Hindutva: Yechury
Meanwhile, CPM General Secretary Sitaram Yechury urged that it is not possible to save and strengthen India's secular and democratic values, if the secular forces don't join hands. He mentioned, "The first litmus test of this unity is the upcoming Presidential election because it will determine whether this government is under the supervision of a secular president or a communal one."
On behalf of his party, Yechury said that Opposition parties should create a situation so that a secular candidate is elected. "Lets first achieve this and then we will think about the future course of action." He pressed on the unity and closeness between socialists and communists to face the challenge facing this country and said, "The fight should be defined as the one between the Hindutva nationalism and patriotism and we should ensure that all patriots unite against the Hindutva nationalists."
Democracy and India's unity in danger
Former JD(U) president Sharad Yadav, who is considered a possible presidential candidate of a united Opposition, said that the situation of the country at present is very serious and cited Modi's poll promises during the 2014 Lok Sabha elections as an example. "Whatever he promised in 2014 is not happening. Instead, issues like ghar wapsi and love jihad are being raised across the country," he stated and went on to claim that Opposition unity has already happened which can be witnessed inside the Parliament. "The entire Opposition is united in Rajya Sabha because parties fear that India's unity is in danger."
Danish Ali of the JD(S) extended his party's support for the unity of progressive forces and suggested that democracy is under threat. "The time has come to unite or else we will all be finished one by one and I assure you that to stop these fascist forces, JD(S) will certainly be part of such an initiative," he added. Lashing out at the media, Ali said that the country's agenda is being decided in TV studios and not by progressive forces.
Ali was joined by RLD's national general secretary Trilok Tyagi who also criticised the media, especially television media, for its coverage of the prime minister and BJP. "Democracy is under threat because it is become about one person which is an extremely dangerous trend. Out of the 18 hours, there is only one man being shown for 12 hours. Even children who know nothing about elections are chanting Ab ki baar Modi sarkaar which is not healthy for our democracy."
Cautioning those present, Tyagi claimed that there is a desperate need to do something to stop this worshiping. "If we shut our eyes like pigeons, the cat will come and eat us one by one," he said. Atul Anjaan of the CPI also criticised the media for its coverage and claimed that there are only three faces that dominate the screens. "One is that baba who has become lala, other is Modi and the third one is comedian Raju Srivastava. This reflects on the sad state the media is in. There is hardly any news of the Opposition," he claimed.
He also criticised the role of the Niti Aayog for trying to subvert the Constitution by promoting Presidential style democracy. Anjaan said, "Niti Aayog neither has a niti on education or culture or other issues but it has all the time to suggest simultaneous elections. If any attempts are made to change the Constitution, people would be out on the streets across the country." Urging the prime minister to choose a consensus candidate for the presidential elections, he said that no one will agree on a "Nagpur orange".
Renowned historian Irfan Habib reminded those present about RSS's role during the freedom movement and how it was the socialists and communists who played a crucial role. He said, "This government wants to raise religion on every occasion which is very dangerous for the country. If you raise religion before every elections and every discourse then the country won't remain united for long."
He stressed that RSS' nefarious agenda should be demolished and how crucial it is to stop the rise of semi-fascist dictatorship in India. "Left forces should ensure whether India is still the same as it was before Independence or has Bharat changed? We have to stand united and also present contrary idealism in the times of capitalism."
Since it was May Day, the speakers also spoke on the need to mobilise labour unions against the capitalist government which has been successful in widening the divide between the rich and the poor. While concluding the conclave Sharad Yadav said, "If we don't unite there will be nothing left to protect. We have to unite to save this nation or else secularism and diversity would only remain as words."