Under the lens: what photos of Modi doting on his mother tell us
It was the historic day of 16 May 2014. As trends of the Lok Sabha election result became clear, Narendra Modi went to see his mother with a crown of victory on his head, trailed by a battery of TV cameras. He ate sweets from her hand and sought her blessings. Only then did he return to Delhi to take oath as the prime minister.
As Modi trotted around the country, and the world, his mother Heeraben often found a mention in his campaign speeches, and chats with eminent people such as Facebook's Mark Zuckerberg. He has invoked her struggle and sacrifice, many a time overcoming with emotion as he did so. His mother, apparently, is the prime minister's foremost emotional support.
Also read:You are quite moved by your statue, Mr Modi. Why not by the suffering of the people?
But is that about it?
Two years to the day he received his mother's blessings on camera, she was back in the frame. This time, Heeraben was at Modi's official residence. They went for a morning walk together, and discussed flowers and birds. But even these private moments were duly captured on camera. The pictures, it's being said, oozed the prime minister's love for mother. Is that why they were taken?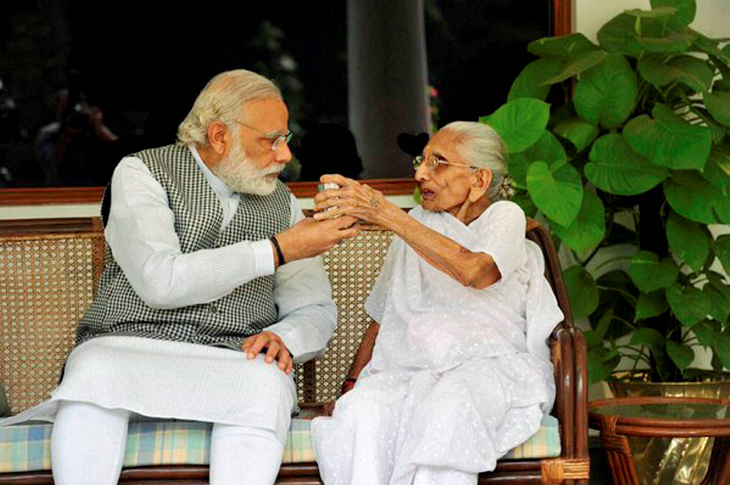 PTI Photo / Twitter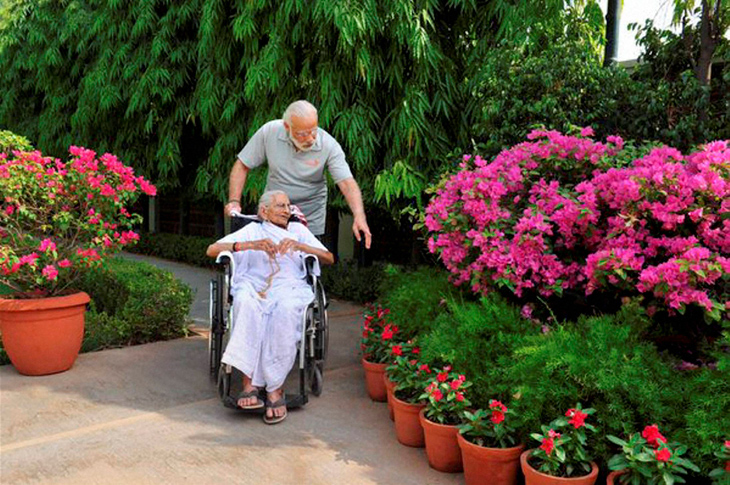 PTI Photo / Twitter
No amount of smartness can ever hide the real intent behind this episode, the fact that intimate moments between a mother and son were reduced to a press release. So, when these pictures were posted on Twitter, people saw not only Modi and his mother, they also sensed the photographer lurking behind them, and asked why he was there.
Nobody can claim Modi's predecessors loved their parents and families any less. It is also not the case that they were shy about being seen with them in public. None, however, used them as shields, as photo-ops. Why, indeed, would anybody want photographers and a contingent of public relations people around when spending "quality time" with one's family? Unless, of course, the purpose is to use it as a tool to embellish one's political image.
Also read: 'Bharat Mata Ki Jai' is a trick to divide and rule: Mayawati
We have seen many top leaders at public functions with their kin. Sonia Gandhi often stood beside Rajeev Gandhi, as did the wives of Manmohan Singh, KR Narayanan, Lal Krishna Advani and Hamid Ansari, to name just a few.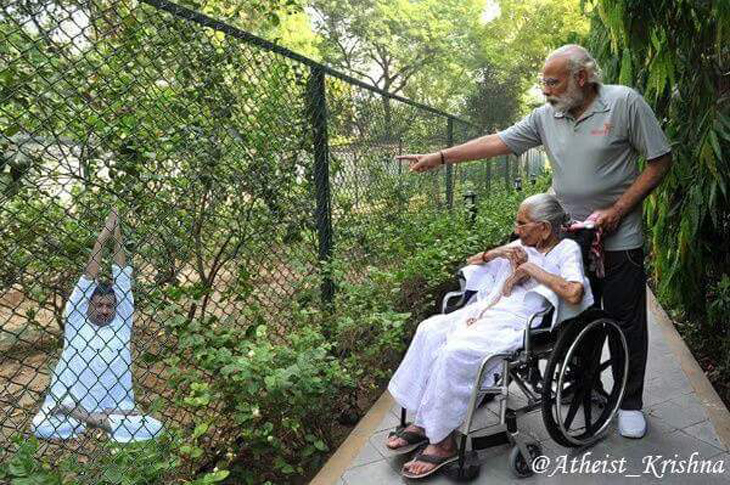 Soon after the photographs of the PM's mother at 7 RCR became public, social media, predictably, kicked into action. Among the more creative takes was this morphed image of Delhi CM and AAP leader Arvind Kejriwal doing yoga. The accompanying caption had him asking for Modi's birth certificate from his mother.
Modi is married but his wife Jashodaben leads a separated, secluded life. Many people attribute the apparent lack of sensitivity in his behaviour to the absence of a woman in his life. Modi apparently makes up for this by having pictures taken with his mother.
Whenever Modi's public image seems to take a hit or he is faced with some crisis, he almost invariably uses a meeting with his mother or a mention of her as a shield. She's turned into a political Brahmastra, a sanjeevani for him. She is used for political gain.
Also read: Modi and Hindutva: how to read the good cop, bad cop routine
Modi is not the only one to do so. A whole lot of people belonging to his ideological camp have been using the term "mother" for vested interests. Sometimes, the mother is the cow, at other times it's the river Ganga or the country. To them, "mother" is a convenient shield to hide their misdeeds and insensitivity.
There's hardly any mother who doesn't want to see her child succeed. But many end up seeing their children wrecked by the injustices of an unequal society and the apathy of the state. Innumerable mothers in this country are wailing for their starving daughters and dying farmer sons. A great many await the return of their children disappeared by the state forces.
Such mothers and their children won't be comforted by pictures of the prime minister doting on his mother, however lovely they may be. They desperately want the government to relieve their suffering, not offer them empty rhetoric and candid photographs that are better kept in private albums.
Edited by Mehraj D Lone
Also read: PM Modi gets emotional while talking about his mother at the Facebook campus