Too many cooks spoiling BJP's broth in Uttarakhand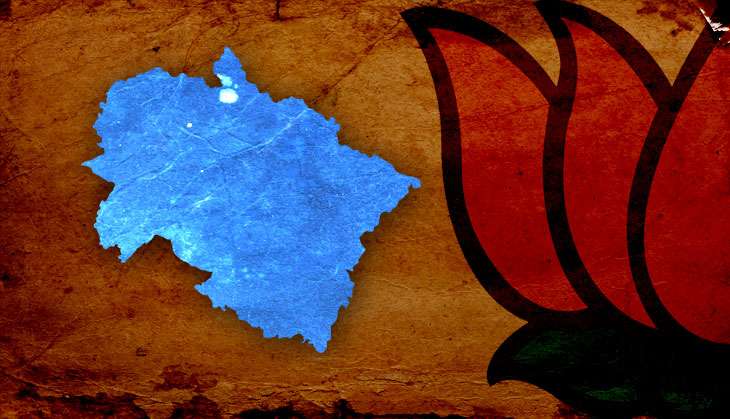 The BJP has a peculiar problem at hand in the hill state of Uttarakhand. Its platter is so full that it is finding it difficult to handle things. This might prove to be its undoing in the forthcoming Assembly polls.
The party has assumed a top-heavy profile, with its three former Chief Ministers - all MPs at present - trying to dictate ticket distribution. It also has some excess baggage in the form of some Congress heavyweights who have joined the party in the last one year.
According to some observers, the upcoming elections in the state have almost become a case of the Harish Rawat-led Congress against a Congress 'B' team that's part of the BJP. All the BJP's claims of being a party with a difference have gone for a toss.
All the Congress rebels who had joined the BJP to help dislodge the Rawat government from power have been given tickets. This has led to the BJP's own cadres and senior leaders getting annoyed.
The cadres have begun rebelling, with many BJP leaders announcing that they will contest as independents against the official BJP candidates. Some of them are also contemplating joining the Congress and embarrassing their parent party.
Congress rebels in BJP list
Pradeep Batra - Roorkee
Kunwar Pranav Singh Champion - Khanpur
Subodh Uniyal - Narendranagar
Rekha Arya - Someshwar (reserved seat)
Shailendra Mohan Singhal - Jaspur
Umesh Sharma (Kau) - Raipur
Harak Singh Rawat - Kotdwar
Kedar Singh Rawat - Yamunotri
Shaila Rani Rawat - Kedarnath
In addition, former Congress CM Vijay Bahuguna's son Saurabh has been given a BJP ticket from Sitarganj, former Congress MP Satpal Maharaj has been fielded from Chaubattakhal, while the latter's wife, Amrita Rawat, may get a ticket from Ramnagar.
The Dalit face of the Congress, Yashpal Arya, has also joined the BJP, along with his son Sanjiv. Both of them are expected to get BJP tickets - Yashpal himself from Bazpur, and Sanjiv from Nainital.
Yashpal is known to be a protege of former CM ND Tiwari, whose son also joined the BJP on Wednesday. Yashpal was miffed that his demand for a ticket for his son was denied by the Congress's state leadership, as well as the party high command in New Delhi. The Congress instead decided to back its sitting MLA from Nainital, Sarita Arya.
The BJP expects more Dalit faces to join it in a few days, but the Congress, too, is expecting to poach some BJP leaders soon.
Too many cooks
The BJP has become known as a party with too many candidates for chief ministership. It currently features three former Uttarakhand CMs - Maj. Gen. (Retd) BC Khanduri, Ramesh Pokhriyal 'Nishank' and Bhagat Singh Koshiyari. All three have been trying to get tickets for the members of their groups, with Khanduri's daughter Ritu getting a ticket to contest from the Yamkeshwar seat.
While Khanduri looks to be out of the running for CM, given that he has crossed 75 years of age, Koshiyari and Nishank are still in the race.
In addition, other names being floated are those of former minister Trivendra Singh Rawat, who is said to be in the good books of the RSS, state unit chief Ajay Bhatt and even Anil Balooni, who was, till recently, a non-entity. Even Congress defectors like Harak Singh Rawat are said to be in the race for the post.
In such a scenario, rebellions are only natural. Already, Om Gopal Rawat has decided to contest as an independent from Narendranagar seat, which he had lost by just 401 votes in 2012.
Suresh Chand Jain is also expected to contest as an independent from Roorkee. Sources say his supporters raised slogans against BJP national president Amit Shah on Monday. Cadres are protesting against the central leadership backing or turning a blind eye to the state leadership's opportunism.
Significance of Uttarakhand for BJP
Uttarakhand is a state conducive for the BJP brand of politics. Of its 13 districts, 10 are hill districts with negligible Dalit or minority presence, which are perceived to be non-BJP voters.
The districts where these communities are present in considerable numbers are Haridwar, Udham Singh Nagar and parts of Dehradun and Nainital.
This is the main reason why Uttar Pradesh's Samajwadi Party and Bahujan Samaj Party (BSP) failed to gain a foothold in the state. While the Samajwadi Party continues to be seen as a villain for opposing the creation of the state, the BSP is mainly seen as a party of Dalits, and hence, has no takers in the hill districts. This is despite the fact that it was BSP supremo Mayawati who created three hill districts of Champawat, Bageshwar and Rudraprayag, along with Udham Singh Nagar, for better administration, while the state was still part of Uttar Pradesh.
However, despite having started with RSS leader Nityanand Swami as its first Chief Minister, Uttarakhand shocked the BJP in the state's first Assembly polls when the Congress, under ND Tiwari's leadership, was elected to form the government. Ironically, Tiwari, as the Chief Minister of Uttar Pradesh, had been opposed to the formation of Uttarakhand, despite hailing from what would become the hill state.
In such a scenario, despite the anti-incumbency against Harish Rawat, the BJP will have its task cut out if it is to achieve its dream of a Congress-free Uttarkhand.
Edited by Shreyas Sharma
More in Catch
Uttarakhand polls: In BJP's first list, 7 rebels who felled Harish Rawat govt
Assembly Polls 2017: Cong eyes boost in Uttarakhand, Punjab as it gets ex-servicemen's support