Today's Nero plays drums: How Delhi failed Kashmir, yet again
The most remarkable aspect of Kashmir's spiraling events of the last three days is the centre's woefully inadequate response. News of Hizbul Mujahideen commander Burhan Wani's killing came on 8th July and by evening that day, separatist leaders Syed Ali Shah Geelani, Mirwaiz Umar Farooq and Yaseen Malik had already given calls for a bandh in Kashmir, the next day. This was enough indication of the turmoil that was about to unfold.
Predictably, prayers were held for Wani on 9th and protests against his killing soon took engulfed the valley. The usual rigmarole followed - mobile services were suspended, curfew was imposed and separatists were placed under house arrest. Reports claimed that lakhs attended Wani's funeral in Tral. If that wasn't indication enough, reports of the first death in the midst of protests came soon, but the political leadership was yet to wake up.
By the end of the day, at least 10 were shot dead. New Delhi did not deem fit to send any representative to Srinagar to deal with the situation. It took the union government the entire day to even put out its first statement. Late in the evening, at 8.12 PM, Home Minister Rajnath Singh tweeted that he was "deeply anguished at the loss of precious lives" and that he prayed "for the speedy recovery of the injured".
Behind the home minister's "deep anguish"
Singh also appealed to "the people of J&K to remain calm and maintain peace." "Centre is working with the State govt. to bring normalcy in Kashmir valley," he assured. His ministry issued a release carrying the same words, nearly two hours later, at 9.51 PM.
In spite of his "deep anguish", Singh did not leave for Srinagar. He did not tell the public whether he had spoken to the J&K Chief Minister, and his party's ally, Mehbooba Mufti, to do her best to control the situation. Neither did he mention whether he was able to reach out to Deputy Chief Minister Nirmal Singh, who is the home minister's party-colleague. In fact, there was utter silence from Rajnath throughout the next day, 10th of July.
On his twitter timeline, the silence was interrupted by none other than Prime Minister Narendra Modi. Modi tweeted not to appreciate the latter's "anguished" response to the situation in Kashmir, but to wish him a Happy Birthday.
A humble leader, man of the people, valued colleague & friend...wishing HM @rajnathsingh ji on his birthday. Praying for his long life.

— Narendra Modi (@narendramodi) July 10, 2016
A much-obliged Singh promptly acknowledged the "good wishes".
@narendramodi Thank you Pradhanmantriji for your good wishes and kind words

— Rajnath Singh (@rajnathsingh) July 10, 2016
By the end of the home minister's birthday, the death toll had risen to at least 21.
PM playing drums in Africa
Why, pray, all this focus on the number two in the union government? Simply because the number one is away on a foreign tour and the only things back home on his radar are his cabinet colleagues' birthdays. Singh was not the only privileged one to distract Modi from his engagements in Africa. Railways Minister Suresh Prabhu too received a birthday wish, via twitter.
Wishing my industrious & dedicated colleague who is spearheading the transformation of the railways, @sureshpprabhu ji on his birthday.

— Narendra Modi (@narendramodi) July 11, 2016
How many tweets did the PM send out on the situation in Kashmir? Zero. Perhaps Kashmir would have registered on his radar if it was Mufti's or her deputy's birthday. Three days after Wani's killing, the death toll in Kashmir has gone up to 23 and the PM has not deemed it proper to issue one statement on the situation. Backroom co-ordination, if any, between his government in Delhi and Mufti's in Srinagar, has obviously been a failure.
Splashed on the front page of a major Indian daily on Monday, 11 July, are two pictures, in unconnected contexts. The one on the top is from the heart of tragedy in Kashmir, of a masked protester pelting a stone at security forces. Just below that is a picture of an elated Modi playing drums with the President of Tanzania in Dar-es-Salaam.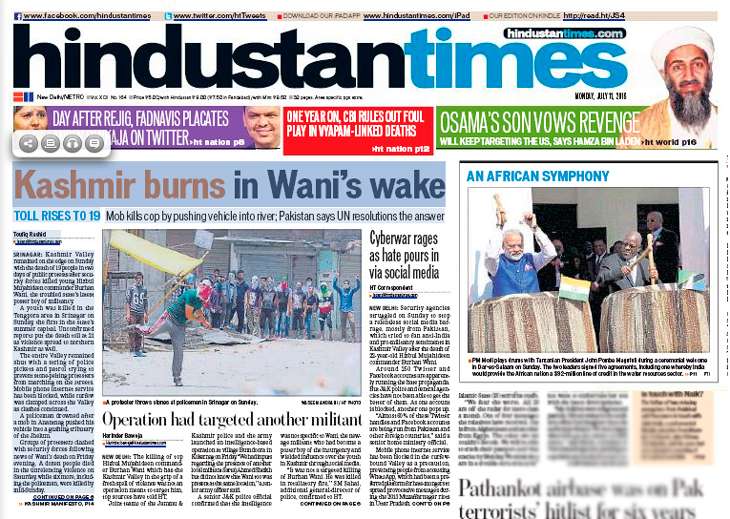 S P Mookerjee's legacy forgotten?
In another part of the world, Modi's 'friend', who also happens to be the US President, Barack Obama, is cutting short a visit to Europe to get back home to respond to the killing of five police officers in the south-central city of Dallas.
It is hard to believe that these are the same set of politicians who used to rush to Kashmir at the drop of a hat, chanting in the name of BJP's founder Shyama Prasad Mookerjee, "Jahaan huye balidaan Mukherjee, wo Kashmir hamara hai" (That Kashmir where Mukherjee sacrificed his life belongs to us). It is clear that the innovative alliance of BJP and PDP is as helpless, if not complicit, as the previous dispensations in the burning of Kashmir.