Think surgical strikes mean an easy win for BJP in UP? Think again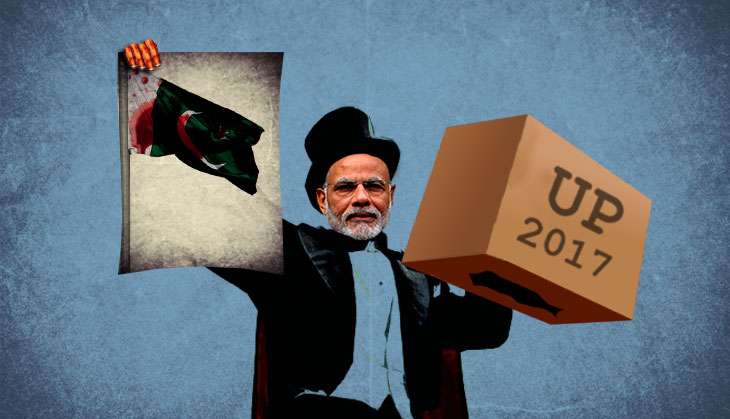 BJP will not draw any leverage from 'surgical strikes' in their campaign in Uttar Pradesh anytime soon. And as campaigning reaches dead-heat, which is still at least five months away, harping on 'muh tod jawab' and Modi's '56 inch chest' may prove to be too little, too late. In the end 'surgical strikes' may only be a minor factor for BJP in Uttar Pradesh.
Senior leaders in BJP have told Catch that there are no plans to hold any rallies and tap public sentiment in the name of 'surgical strikes' anytime soon. There has been no celebration by the party anywhere across the country, which at first may seem surprising.
The prime minister, who from Kozhikode promised that the martyrdom of the soldiers slain at Uri will not go waste, has not even acknowledged the 'surgical strikes' yet.
Party president Amit Shah only sent a perfunctory congratulatory message on Twitter. Notably, a media interaction Shah was supposed to hold on the day of 'surgical strikes' was cancelled at the last moment.
The reason being offered to everyone is that the party wants the armed forces, and not the party itself, to take credit for the strikes. But the truth is that the party knows chest-thumping right now could prove to be counter-productive.
While BJP may have found a face-saver in the 'surgical strike' carried out last Thursday, it isn't sure how to react in case Pakistan decides to retaliate and up the ante. Which, for several reasons, Pakistan is expected to do sooner or later.
A limited-scale war would surely swing the scales in favour of the BJP. But to be sure, party workers would not want to run out of steam before the general elections in 2019, when such a confrontation could pay more effectively.
Besides, there are historical poll patterns that suggest that BJP has not been very successful in drawing people towards it in times of terror attacks or at times when central governments led by it have launched an offensive against terrorists and even against Pakistan.
Tracking the past
Take the case of the Kargil War for instance. While many believe that the war had a positive effect on BJP's fortunes across the country, a claim which at best is debatable, the truth is that the party suffered a drubbing in Uttar Pradesh as soon as the nation went to polls - its seat share in UP fell by half.
One can also take an instance of a localised attack in Uttar Pradesh that happened just before assembly elections in the state - the serial blasts in Varanasi in 2006. 28 people died and 101 people were injured in a series of blasts across Varanasi in March 2006.
BJP at that time had launched a huge movement against Pakistan and the Congress.
A year later when polls were held in the state, BSP was elected with an overwhelming majority. And BJP's seat share, compared to previous Vidhan Sabha polls, fell by over 40%.
A class question
Finally, how seriously do minorities and socially backward sections of society in Uttar Pradesh get affected by and take BJP's bait of national security threat, isn't clear at the moment.
What is clear is that no big political leader of backward castes in UP has reacted to the 'surgical strikes'. Mayawati did grudgingly approve of the strikes but called them a delayed response to Pathankot attack.
The reality is that Uttar Pradesh has not put the Una incident behind as yet and the issues of Dalit atrocities and Muslim insecurities are more lasting poll issues than these 'surgical strikes'.
One week before Modi government ordered 'surgical strikes' across Line of Control (LoC), a 10-year-old boy from a backward caste was whipped and petrol was poured over his private parts for allegedly stealing a buffalo.
Issues like these will continue to haunt BJP, especially with new and younger leaders like Jignesh Mewani promising to hold rallies in Uttar Pradesh against Dalit atrocities and the BJP.
Shaky grounds
The BJP does not at the moment have good standing among Brahmins, sections of which feel ignored by the party. Its Thakur leaders like Dayashankar Singh being thrown out of the party after comparing Mayawati to a prostitute, and later to a street dog, are also not helping BJP's cause in the state.
BJP's attempt to reach out to Dalits through Dhamma Chetna Yatra have also not gained any social traction either.
In the end, the party has bigger challenges ahead in UP. First is the issue of their chief ministerial candidate - will they or won't they declare a CM candidate ahead of elections.
According to party sources, a decision on the issue has still not been taken. The decision of CM candidate, whenever it is taken, will affect many sections of voters, and also rub egos within the party in the wrong way.
Yogi Adityanath is said to be staking his claim to the top post very seriously while Rajnath Singh is understood to have opted out of the race.
Unsettled ranks
The other challenge before the party is of infighting. The party has been accepting leaders from every party - BSP, SP and the Congress. And this has resulted in serious conflicts, infighting and a sense of doubt within the party.
Party workers who've worked closely on the ground for last several years naturally aren't liking the interference of people who were, till recently, their political rivals. The biggest example of this is the rift between the senior-most leader of the party in the state, its president Keshav Prasad Maurya and former BSP leader Swami Prasad Maurya who has recently joined BJP.
SP Maurya has been holding public rallies in Uttar Pradesh under the banner of the party he formed after parting ways with BSP - the Loktantrik Bahujan Manch - much to the dismay of state party leadership. And the Sangh workers haven't forgotten SP Maurya's mocking words against Hindu Gods and goddesses as a BSP leader.
So livid is the anger among workers in the party and Sangh against 'outsiders', that RSS is said to have intervened and set an upper limit to the number of outsiders that BJP can accept. But it's still unclear how seriously BJP will adhere to this advice.
While 'surgical strikes' may have eased pressure off BJP and bought its worker some time, the party will continue to fight the same battles it fought before Uri.
The 'muh tod jawab' will surely be played up by the party, in case Pakistan does not launch a huge counteroffensive (and it most likely will). But at best it will help gather 'some' people. What BJP's leaders say after that remains to be seen.
Edited by Jhinuk Sen
Also read: Cheers, humour & some cynicism as Twitter India uses #ModiPunishesPak to react to surgical strike
Also read: Surgical strikes: Truth the casualty as India, Pakistan make competing claims
Also read: People are frantically Google-ing 'Surgical strike'. Here's what it means
Also read: After India's surgical strike, Sensex plummets 465.28 points; Nifty nosedives 153.90 points to 8,591.25
Also read: Pakistan PM Nawaz Sharif condemns India's surgical strikes across LoC