Selling Barracudas: has India dropped its stand of not exporting arms?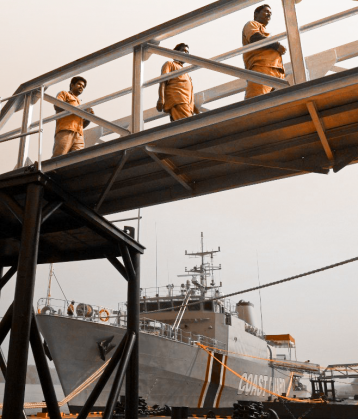 The milestone
India sells the Barracuda, an Offshore Patrol Vessel, its first indigenously-made warship, to Mauritius for $58.5 million.
This marks India\'s first tentative foray into the defence exports market.
The significance
India could be dropping its historical stand of not exporting defence equipment, which can indirectly fuel conflicts.
Up to now India exported only small defence items like light weapons, army uniforms, trucks etc.
Next step
India may also sell the Brahmos missile to Vietnam.
India to bid for a Rs 2,000 crore frigate project for the Philippines Navy.
The pros & cons
Experts say the sale of arms is about building relations and earning goodwill.
FDI in defence raised from 26% to 49% but foreign firms still lukewarm.
Indian private companies gearing up for defence production may tap the civilian market.
India created a stir in the global arms market by selling an Offshore Patrol Vessel, the Barracuda - its first indigenously-made warship - to the Coast Guard in Mauritius last December.
The 74-metre long, 1,300 tonne vessel fetched a tidy $58.5 million and was commissioned by Prime Minister Narendra Modi himself.
Built by Garden Reach Shipyard and Engineers (GRSE), Kolkata, it carries a 83-strong crew, delivers a top speed of 22.5 knots and will be used by the Mauritius Coast Guard to keep a vigil over its extensive special economic zone.
It will also help Mauritius combat pirates and smugglers; conduct search and rescue operations; transport troop detachments; respond to environmental emergencies and aid in external fire-fighting.
Dropping a pacifist legacy?
Even though a one-off sale, it raises two important questions: Has India dropped its historical Nehruvian stand of not exporting arms? And, can the world's largest arms importer metamorphose into an arms exporter smoothly?
Giving a historical perspective, former foreign secretary Lalit Mansingh, says: "It was an open-ended policy. In the early years, India did supply small quantities of arms to friendly countries like Bhutan and Nepal."
Sri Lanka also got military help from India when Sirimavo Bandaranaike faced her first Janatha Vimukthi Peramuna insurrection. However, there were some red lines - no lethal arms could be sold to a country ruled by a dictator and, one that was in the throes of a civil war.
Defence analyst Rahul Bedi says bluntly: 'Barracuda is a low-level ship. The enthusiasm surrounding the defence export policy is overblown'
Under Modi, India has openly decided to jump into the lucrative global defence market. It is constructing two ships at the Goa dockyards for Sri Lanka while GRSE is finalising the design for a series of 140-tonne Fast Patrol Boats for the Vietnam Navy. New Delhi has already offered a line of credit to Vietnam for this.
Keen to showcase its prowess in the global market, India is gearing up for a Rs 2,000 crore bid to supply two frigates required by the Philippines. The competitors are big names like Spain's Navantia, France's STX and Korean majors, Hyundai and Daewoo.
Besides this, India may even give a nod to Vietnam for its long-standing demand for the Brahmos missile, for which the UPA government was hesitant as it probably did not intend to ruffle Chinese feathers.
Can India succeed in defence exports?
However, the defence establishment cheering the sale of their first warship - the high-sounding Barracuda - maybe a bit overdone, since, essentially, the Barracuda is only a patrol vessel.
Defence analyst Rahul Bedi puts it bluntly: "Let's not go overboard - Barracuda is a low level ship. The enthusiasm surrounding the defence export policy is overblown."
India may have made the policy leap, but Bedi knows the roadmap to exports is tough. "It will take 15-20 years for India to come up with decent defence items - those, which other countries may want to buy. If we play it smart, we will get there, but not immediately,'' Bedi adds.
Under Modi, India has decided to jump into the lucrative global defence market and is constructing two ships for Sri Lanka
Traditionally, India's defence exports have been paltry - small arms, light weapons, army uniforms, trucks, patrol boats and non-lethal items. But in the recent past, India has gifted a handful of locally built warships to Maldives, Mauritius and Seychelles to counter Chinese influence. It even sold a second-hand patrol vessel to Sri Lanka in 2000.
Despite the stumbling blocks, Vice Admiral (Retd.) Pradeep Kaushiva is all for defence exports. "India should go for exports because it has the capacity and also because there are friendly countries that seek defence equipment," he argues. He feels that defence exports are instruments of State influence and earn goodwill besides the money.
GRSE head, Rear Admiral (Retd.) AK Verma echoes the sentiment. "I hope the interest among friendly countries to buy Indian warships will go up now. Building in India provides a significant cost advantage because of cheaper labour, compared with other foreign shipyards."
India needs indigenous muscle
Benefits of defence exports seem to be there but can the country, with a laggardly history of defence production make the grade? Naresh Chandra, former Indian ambassador to Washington, believes that successive governments have protected the defence PSUs.
"Money was sunk into these industries with no hope of returns. There are huge vested interests,'' says Chandra.
The policy change of increasing FDI in defence from 26% to 49% has not enthused foreign companies. Figures released by Minister of State for Defence, Rao Inderjit Singh, in Parliament show that since June 2014, only six FDI proposals, worth around $4.5-5 million, have come into the sector.
The sale of Barracuda raises an important question: has India dropped its historical Nehruvian stand of not exporting arms?
Notwithstanding poor interest from foreign companies, strategic analyst Commodore (Retd) Uday Bhaskar says that it is a step in the right direction. "Unless we create enough incentives and provide long term guarantee on investments, little is going to change,'' says Bhaskar.
It is here that the role of the private sector kicks in. Indian companies are getting into the act but will need time. Also, Indian firms are used to making quick profits, but investing in research and staying the course is not part of their DNA.
However, significant players like the Tatas, L&T, Reliance, Punj Loyd, Fokker Elmo and India Forge have shown interest. Lars Olof Lindgren of SAAB, the Swedish aerospace and defence corporation, is upbeat. He says: "The potential is certainly there, but it will take some time. India can do very well in the high-tech sector."
If Modi's ambitious plans for indigenous manufacturing take off properly, India can shave off as much as $50 billion from its likely spend of over $260 billion on defence equipment in the next 12-years, says an Ernst and Young report. And that is a distinct advantage.
Geo-strategic pay-off
With China breathing down its neck in South Asia, India is now going out of its way to build relations with its island neighbours. India, Sri Lanka and Maldives have a trilateral arrangement for naval co-operation and even South-East Asian nations want India to be a part of the collective defence architecture in the Asia Pacific region.
Kaushiva believes that providing warships, patrol boats and equipment to neighbours should be sustained and nurtured. For India, domestic naval manufacturing has worked. At least 39 vessels including frigates are home-grown, six diesel powered submarines are under construction and an aircraft carrier is being designed in Cochin.
So, where is our market?
Some of the military hardware that India hopes to export in future includes Astra beyond-visual-range air-to-air missiles, Prahar surface-to-surface missiles, Akash missiles, the light combat aircraft (LCA), supersonic cruise missile Brahmos, sonars, Arjun Mk-2 tanks, airborne early warning and control system, a variety of unmanned systems and battlefield radars.
FDI in defence has gone up to 49%. But only six FDI proposals, worth $4.5-5 million, have come in since June 2014
And who buys our weaponry? Oil rich nations will buy from the well-established end producers in the US, UK and Europe. India can perhaps find markets in Africa and friendly Asian countries. Defence analyst and writer Surya Gangadharan says that for economic viability, the private sector will have to crack open the civilian market for its helicopters, ships and small planes.
India has launched itself in the highly competitive global market and only time will tell whether Modi's dream of converting India into a noteworthy defence exporter will succeed.