Tamil Nadu Assembly Budget session: Palaniswamy's future hangs in balance
S Murari
| Updated on: 14 June 2017, 15:26 IST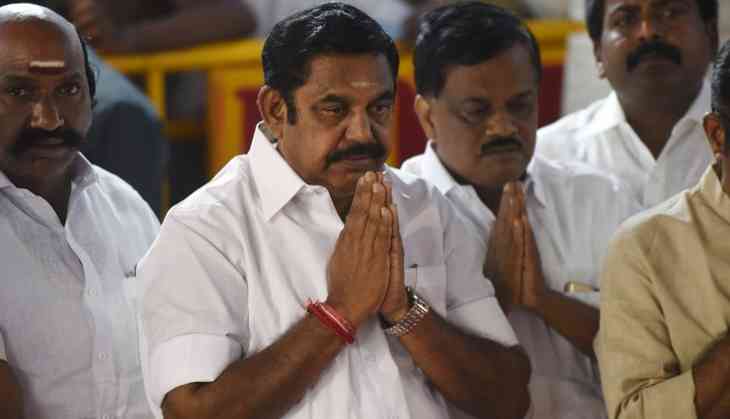 The Tamil Nadu Assembly is starting its month-long budget session on Wednesday which may decide the future of the beleaguered EdappadiPalaniswamy (EPS) government.
Palaniswamy owes his position to sidelined All India Anna Dravida Munnetra Kazhagam (AIADMK) deputy general secretary TTV Dinakaran. Dinakaran helped him win a confidence motion last February by sequestering over 100 MLAs in a beach resort and bringing them straight to the House just ahead of the vote.
Since then, there have been desertions from the AIADMK Amma to the Dinakaran's faction. On the last count, 31 MLAs have shown their solidarity with Dinakaran upon his return from Delhi.
Dinakaran is out on bail in the case relating to the alleged attempt to bribe the Election Commission officials to get the frozen symbol in his favour.
He has, however, made it clear that his intention to show that he is still the boss and that he is not interested in toppling the EPS government. The unsaid provison is that he will let EPS stay as long as he takes orders from him.
EPS is under pressure from the rival O Panneerselvam faction to disown self-appointed general secretary VK Sasikala and her nephew and deputy Dinakaran.
Having waited for long, Panneerselvam has disbanded a committee that was formed to talk to the EPS group on modalities on the merger of the two factions.
It is a different matter that two committees set up for the purpose never met in the last 50 days.
But Panneerselvam's announcement on the eve of the Assembly session has come as a jolt as he has to fight on all fronts – rebels in his own ranks, Dinakaran and the Dravida Munnetra Kazhagam (DMK).
Panneerselvam has contended that EPS is not willing to completely remove Sasikala and Dinakaran from the party as he fears he may be toppled by dissidents.
The tussle
Dinakaran, upon his return from Delhi, asserted that he will resume party work and no one can remove him from as he has been appointed to the post by his aunt and general secretary Sasikala.
Panneerselvam contended that Sasikala was expelled from the party and Poes Garden residence by late Chief Minister J Jayalalithaa in 2011 end. Though she was readmitted in 2013, she has not been a member for five continuous years, a pre-requisite, when she anointed herself as general secretary.
Moreover, the general secretary can be appointed only by the general council. Knowing the legal implications, Sasikala has only been designated as general secretary-in-charge.
The issue is before the Election Commission as also rival claims to the frozen two-leaves symbol. And it has given time till 16 June to the two factions to submit documents and affidavits in support of their claim.
As over one lakh affidavits have been filed by supporters of Dinakaran, no early decision can be expected from the commission.
They pro-Dinakaran affidavits have said that Sasikala is the general secretary and Dinakaran is her deputy.
The loopholes
Panneerselvam was himself party to her elevation as general secretary after Jaya's passing, though he claimed that he was later forced out of office by Sasikala.
As pointed out by a supporter of the EPS camp, he was elected chief minister in December 2016 after Jaya's passing, by all the AIADMK legislators. If he was forced out of office, why did he not call the meeting of legislators instead of resorting to theatrics – like going on a fast on Jaya's memorial and declaring he would fight to save the party from the clutches of the Sasikala clan?
Equally untenable is Panneerselvam other demand for a CBI enquiry into the so-called mystery surrounding Jaya's death. He was the CM during that period. Was he kept in the dark by Sasikala who was by Jaya's side all through the 75 days she was in the hospital?
The issue is that Panneerselvam claims the cadres are with him, while EPS says the majority of the AIADMK MLAs are with him.
Only if the EPS government falls will there be a move forward on the merger issue. Till then, they will stay divided.
The other side
However, DMK working president and leader of the Opposition, MK Stalin has said that he will not topple this government as it will fall under the weight of its own contradictions.
In a sideshow to this ongoing drama, Jaya's niece Deepa created a ruckus outside the late chief minister's Poes Garden residence after an altercation with her brother Deepak.
No one knows, why she went there except her own claim that she was called by her brother who is staying there.
Her allegation was that she was roughed up private security guards, obviously, employed by Sasikala, who is now in a Bengaluru jail, shows that the Sasikala-Dinakaran clan is holding on to Jaya's property. And Deepak is with Dinakaran.
Since Jaya did not leave a will, Deepa and Deepak, being blood relatives, are natural heirs to her properties, including the Poes Garden which is outside the purview of the disproportionate assets case.
Deepa said that she is sentimentally attached to the house bequeathed to Jaya by her mother Sandhya. However, she is not clear whether she will agree with Panneerselvam's plan to turn it into a memorial for Jaya.
With the presidential election due on 17 July, it is to be seen whether the EPS government will last till then.
If it does, BJP and Narendra Modi can count on the support of all the 134 MLAs( 122+ 12) and 35 out of the 37 Lok Sabha members. Even otherwise, the BJP nominee can win, but only by a close margin.
Edited by Jhinuk Sen