Swaraj Abhiyan's challenge to Kejriwal: forceful closure of liquor shops in Delhi
Continuing its efforts to carve out its own political space, the Prashant Bhushan and Yogendra Yadav-led Swaraj Abhiyan is resorting to newer tricks. The outfit led by the former Aam Aadmi Party (AAP) heavyweights, who later fell out with AAP chief Arvind Kejriwal, has been running a campaign against liquor vends in Delhi for months now.
The latest strategy they appear to have adopted in this campaign is to lead local residents in forcefully shutting down liquor outlets in residential areas.
Bhushan led the call to direct action in old Delhi's Ajmeri Gate area on 11 September. Swaraj Abhiyan had organised a Jan Sunwai (public hearing) in the area, as a part of a series of such hearings they have been organising against liquor outlets across Delhi.
The organisation says these vends were opened without the consent of local residents. In the Ajmeri Gate area, Swaraj Abhiyan claimed it had been organising protests for at least 72 days against one particular liquor outlet in Matia Mahal.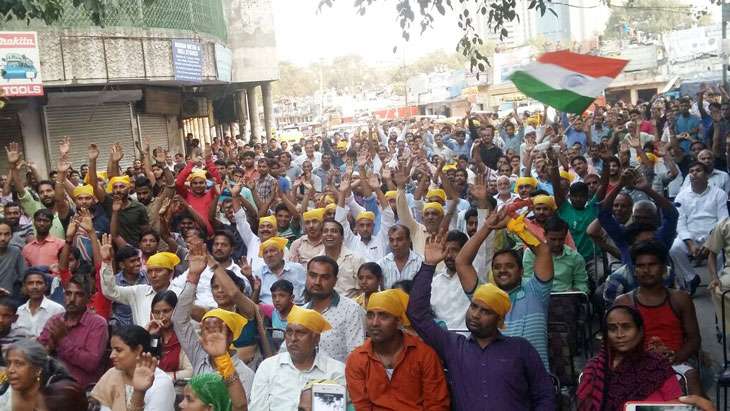 Swaraj Abhiyan
Bhushan goes 'Halla Bol'
At the end of the Jan Sunwai, Bhushan announced a 'Halla Bol' campaign, wherein his organisation would lead local residents to "take the responsibility of closing down the liquor vends in their own hands".
The first such campaign was executed at an outlet in Matiya Mahal, where Bhushan led people to forcefully close the shop. He also appealed to the local residents check the next morning and ensure that the shop does not open again.
The senior advocate told the gathering, that the "power of people is greater than anything" and promised that if local residents were not acknowledged, he will take up the matter in the court.
Swaraj Abhiyan claimed that the women of the area had complained about incidents of eve teasing, chain snatching and theft having become common because of the liquor shop.
The organisation also objected to the fact that the shop was located within less than 50 metres from a place of worship.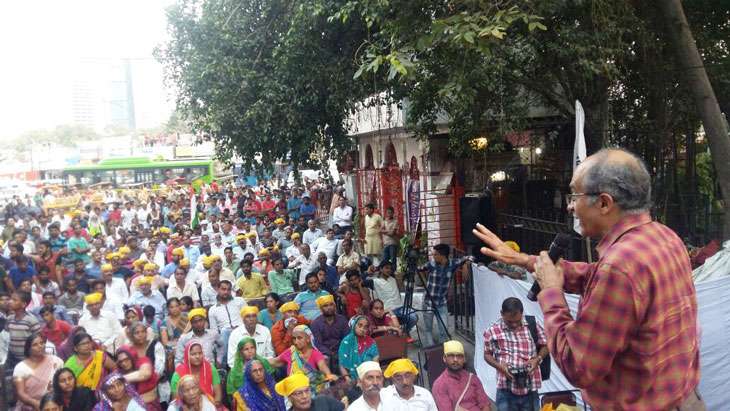 Swaraj Abhiyan
Coming down heavy
Swaraj Abhiyan has demanded cancellation of all 399 licences for new liquor vends that were opened in Delhi over the last one year.
The party announced that the second phase of its "Sharab Nahi, Swaraj Chahiye" campaign has begun and will now choose a new site every day to close liquor vends.
Speaking on the occasion, Anupam, a member of the organisation's National Working Committee, also lashed out at Kejriwal and AAP government in Delhi.
"The definition of de-addiction is different for Arvind Kejriwal. He enforced de-addiction in Delhi by giving 399 licenses in 371 working days. Now he says that he will do de-addiction in Punjab and Goa. May God save us from his de-addiction," he said.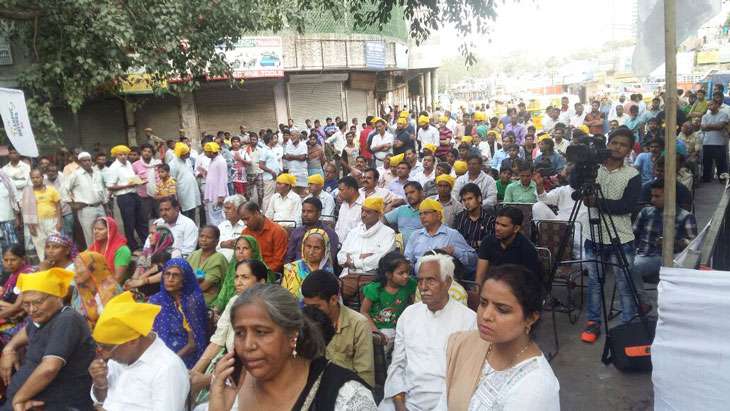 Swaraj Abhiyan
Kejriwal dubbed "small Modi"
Anupam also took a dig at Kejriwal, saying, "We have elected a PM who always lives abroad and we have elected a CM in Delhi but he is always busy in other states. We have elected one Modi and another 'small Modi'. One of them is advertising for Reliance Jio, other one is advertising for 'sharaab piyo' (drink liquor)."
Interestingly, he also sought to clarify that Swaraj Abhiyan was not demanding complete prohibition of liquor, but only that liquor vends should not be opened in residential areas and without the consent of the local residents, especially women.
AAP's rebel MLA from Timarpur, Pankaj Pushkar, was also present at the gathering alleged that the Delhi government had joined hands with the "mafia" and it was of "utmost importance that the transition of Delhi into a "Sharab ki Mandi" be put to a stop.
Edited by Jhinuk Sen
Also read:Swaraj Abhiyan launches political party in Punjab, signs of rift with Delhi
Also read:Yogendra Yadav's Swaraj Abhiyan goes political, to debut in Punjab by-poll