Swamy's attack on Rajan a 'fascist' campaign to hound him out: Cong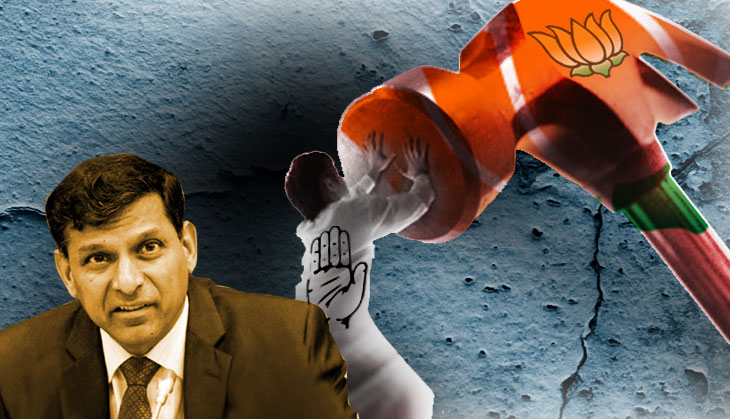 Demonstrating strong support for RBI governor Raghuram Rajan in the face of personal attacks on him by BJP MP Subramanian Swamy, the Congress on Wednesday, 18 May, hit out at the NDA government.
Terming it a 'fascist' campaign to hound Rajan out, Congress spokesperson Manish Tewari especially singled out Prime Minister Narendra Modi, questioning his silence on the matter.
Also read: Subramanian Swamy writes to PM Modi seeking Raghuram Rajan's termination
Swamy had recently written to Modi, urging him to sack Rajan, because he was 'deliberately' trying to "wreck the Indian economy", and was also "mentally not fully Indian". In a series of tweets, Swamy indicated that Rajan should also be dismissed because he supported Islamic Banking.
Raghuram Rajan changed views after becoming RBI guv: B N Srikrishna https://t.co/KO1gvNGY51 via @sharethis

— Subramanian Swamy (@Swamy39) May 18, 2016
RBI Gov R3, openly advocates Islamic Banking even though RBI Act bars it. Kerala HC upheld the bar in my WP challenging K govt setting it up

— Subramanian Swamy (@Swamy39) May 18, 2016
Late night Dec 1 2014, Namo blocked setting up Sharia compliant FI by the R3, on my letter of Nov end protesting the unconstitutional set up

— Subramanian Swamy (@Swamy39) May 18, 2016
Raghuram Rajan 'mentally not fully Indian', sack him, Subramanian Swamy writes to PM Modi https://t.co/pxuH8tUbyE via @timesofindia

— Subramanian Swamy (@Swamy39) May 17, 2016
Tewari told reporters that this attack on the RBI governor was an attack on the RBI as an institution, and that this had happened for the first time in independent India's history.
Also read: RBI governor Raghuram Rajan inappropriate for country, send him to Chicago: Subramanian Swamy
He said that the ruling dispensation was trying to send a message through this attack that if the RBI didn't work in tandem with it, then it would 'come after' him and make him resign. Tewari called it "the worst form of fascism and the oldest trick in the fascist movement".
Wary of RBI's stand against crony capitalism?
Interestingly, Tewari also attempted to allege that this attack on Rajan was a result of the RBI's assertions on tackling black money and crony capitalism.
He recounted that under Rajan, RBI had stressed that names of all wilful defaulters should be made public, and had also launched a drive to get Public Sector Banks to declare details of their Non-Performing Assets.
"Is it worrying some very-very important crony capitalists in this country and their benefactors in the government that an institutional decision has been taken to hound the RBI governor out?" Tewari asked.
Is Jaitley the real target?
The former Union Minister also said that the government's silence on the issue indicated either its "obvious complicity", or that the real target behind the attack on the RBI governor could be Finance Minister Arun Jaitley.
Interestingly, Jaitley is the only Union minister to have commented on the development, although he took a politically correct line. "I think what is important are issues, not personalities," he had said earlier, adding that the RBI and the Finance Ministry have a "very mature level of consultation", and that it wasn't fair to comment on them.
Edited by Shreyas Sharma
More in Catch:
Deep surgery needed to clean up bank balance sheets, says RBI governor Raghuram Rajan
Raghuram Rajan is an asset. Govt must stop hating him & take his advice