Surprises & spoilers: meet eight RS candidates who've grabbed the spotlight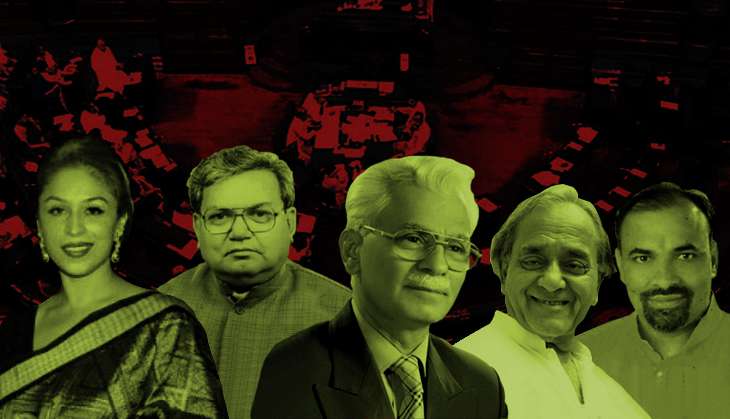 Rajya Sabha elections are often \'elections\' only in name. Parties decide whom they want to send to the upper house, and then get their MLAs in various states to elect these candidates.
On some occasions, however, surprises spring up at the last moment, upsetting the applecart and giving rise to contests.
In the latest round of elections, set to take place on 11 June, there are some surprise candidates, and some who are clearly spoilers.
Fifty-seven seats are up for grabs in these biennial elections, that will alter the composition of the Rajya Sabha only slightly.
From a wealthy businessman to a little-known businessman\'s wife, and from a politician past his prime to a sudden entrant, here\'s a look at these candidates.
The 37 year-old will be contesting from Uttar Pradesh and filed her papers as an independent candidate. However, she is believed to have the BJP's support, because most of those who support her candidature are from BJP.
Read:BJP backs Gujarat's Preeti in UP RS election, SP-BSP cross-voting likely
She was a last-minute entrant and very little is known about her, besides that she is the wife of a Mumbai-based Odiya businessman, Harihar Mahapatra.
UP will be sending only 11 members to the Rajya Sabha and the Samajwadi Party, Bahujan Samaj Party, BJP and Congress have already selected these 11 candidates. Mahapatra is the 12th candidate, which means her entry will necessitate voting, making the result uncertain.
The former Union minister, a businessman, has filed his nomination papers from Rajasthan as an independent candidate. He is reportedly supported by Congress and some other Opposition parties. The state will send four members to the Rajya Sabha, and the ruling BJP was set to win all four, until Morarka stepped in.
He is said to be just three votes short of defeating one of the BJP's men.
Gotia is BJP's general secretary in Madhya Pradesh, but filed his papers on the last day of nomination as an independent.
Only three members will be elected from the state, and the Congress and the BJP had already announced one and two names respectively, according to their quota.
The BJP's surprise decision to field Gotia will result in voting here too, and will make the sailing tough for Congress's candidate, senior advocate Vivek Tankha.
The BJP's only candidate from Bihar is not a spoiler, but is definitely a big surprise.
Former Deputy Chief Minister Sushil Kumar Modi, who is the party's most prominent face in the state, was widely believed to be its pick for the Rajya Sabha. However, Singh's name emerged from out of blue, and many party men still have not been able to understand the reasons behind his selection.
Also read: No Sushil Modi in RS: why the BJP's Bihar face wants to stay in Patna
A senior BJP leader told Catch that Singh is close to the RSS, and has been organising a large annual expedition of RSS and VHP followers from Hariharnath in Bihar to Muktinath in Nepal for the last six years.
The BJP leader also said that the Rajput lobby has prevailed in Singh's selection, who is a Rajput.
The Janata Dal (Secular), led by former Prime Minister HD Deve Gowda, has fielded this real estate businessman from Karnataka.
Elections in Karnataka are being held for seven seats, out of which the ruling Congress has announced four candidates and the BJP two. The JD(S) can only send one candidate, and what is interesting to note is that after Vijay Mallya, the party has chosen another wealthy businessman.
The combined value of Farooq and his wife's movable assets, according to his affidavit, is Rs 737 crore.
The senior advocate was among the earliest surprises, chosen by Lalu Prasad's RJD.
Jethmalani has earlier been a member of the upper house on a BJP ticket, but has now publicly announced his disillusionment with the party and Prime Minister Narendra Modi.
He has also represented Lalu in a few of the several fodder scam cases, in which the RJD supremo was convicted.
The media baron, who recently stepped down as Chairman of Zee Media, was set to be nominated to the Rajya Sabha by the Union government earlier. However, that didn't work out, and he filed his papers as an independent candidate from Haryana. He is counting on the BJP's support.
The former Congress MP has also filed his papers as an independent from Haryana, but is supported by Om Prakash Chautala's Indian National Lok Dal. If INLD and Congress members decide to back Anand, Chandra's chances could turn bleak.
Edited by Shreyas Sharma