SP split wide open: Akhilesh & loyalists may miss party's silver jubilee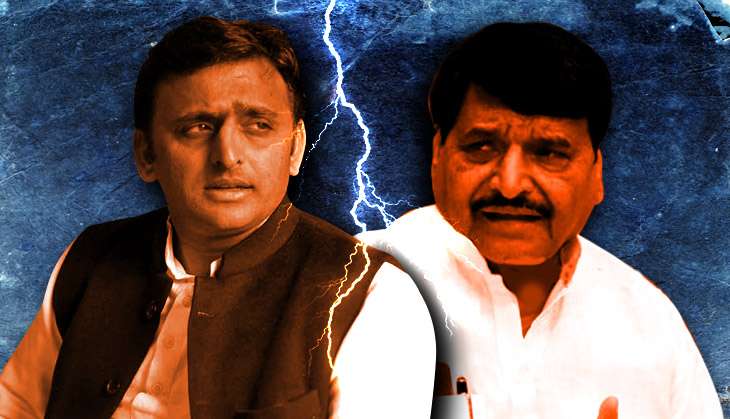 The crisis in the Samajwadi Party is showing no signs of abatement even as elections in the Uttar Pradesh are barely a few months away.
The party's state unit president Shivpal Singh Yadav voiced the worst fear in Kanpur on Tuesday when he said that some people were trying to break the party.
The senior Cabinet minister did not name anyone but said that some "dhongee samajwadi" were trying to strike at the root of the party. If he was he referring to his cousin Ramgopal Yadav and chief minister Akhilesh Yadav, is open to interpretation.
The clue may lie in the board outside Janeshwar Mishra Trust's office. It reads: "Janeshwar-Lohia ke loag, Akhilesh ke saath" (followers of Janeshwar Mishra and Ram Manohar Lohia are with Akhilesh).
It is now clear that neither side is in a conciliatory mood, at least not Akhilesh Yadav. He has decided to start his election campaign - "Vikas Se Vijay" (victory through development) - from 3 November. The campaign is already late by a month.
What is significant about this move is that Akhilesh will be a notable absentee when the old guard of the party assembles in Lucknow to celebrate its 25th anniversary, an important milestone.
Not only Akhilesh but all his loyalists will stay away from the event. At a meeting chaired by Colonel (retired) Satyaveer Singh Yadav, head of the party's Soldiers' Cell, a resolution was passed regretting the expulsion of some of the young leaders "on false allegations". The meeting decided that the young brigade will boycott the party's foundation day function.
Instead, many of these lieutenants of Akhilesh will accompany him on this campaign. Anand Bhadauria, a close confidante of the chief minister, said that the word boycott cannot be used for those who have been expelled. "We won't go there because we have not been invited to the event," he said calling the developments unfortunate.
Akhilesh's announcement of starting his election campaign came a day after Mulayam Singh Yadav held a meeting with his son and brother Shivpal. Before meeting them together he had a one-on-one meeting with Akhilesh. It was claimed that a rapprochement had been reached.
Before this meeting party's vice-president Kiranmoy Nanda had pitched in for Akhilesh and said that the chief minister should have a say in the distribution of tickets, the main cause behind the family rift. If tickets are given to only Shivpal's loyalists, it would be difficult for Akhilesh to get re-elected as the leader of the legislature party. For all one knows, it could be Shivpal instead.
Shivpal's lament
Mulayam's younger brother lamented in Etawah last week that some people toil all their life but do not get the reward they deserve. "Some people get political rewards as inheritance, others go unrewarded despite toiling for years," he said before announcing that if the party came to power he would recommend Akhilesh for chief ministership.
There was no taker for his olive branch which was offered after Mulayam himself told the media that the legislators would elect their leader.
Mulayam's stunning announcement led to a strong reaction from Ramgopal Yadav who, in a letter to Mulayam, said that not making Akhilesh the CM face would be detrimental to the party's chances in the coming elections.
Urban development minister Azam Khan also threw his weight behind Akhilesh and while comparing him with Mulayam, placed him above Netaji for his leadership qualities. His preference must have been dictated by the close friendship between Shivpal and Amar Singh and his dislike for the latter.
Kiranmoy Nanda subsequently clarified that Akhilesh will be the CM face and that his statement had Mulayam's approval but the mistrust refuses to go.