SP in meltdown mode: Akhilesh asserts his authority, sacks Shivpal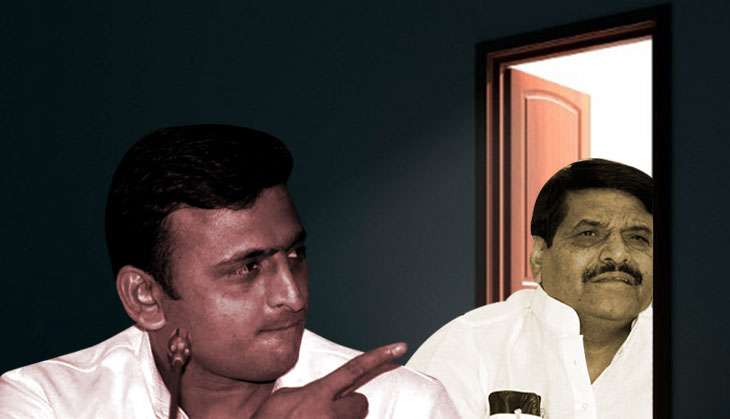 Uttar Pradesh looks to be headed towards a constitutional crisis after Chief Minister Akhilesh Yadav sacked his uncle Shivpal Singh Yadav from his council of ministers on Sunday morning.
All eyes are now on Shivpal in anticipation of a strong reaction from the party's state president. One option that lies before him is to expel the chief minister from the Samajwadi Party. The other is that he may just resign from the party himself.
Also read -Samajwadi Party mess worsens as Akhilesh skips party meet
Cause and effect
Shivpal was reportedly dismissed for his closeness with Amar Singh, who has finally emerged as the man behind the feud in the ruling family.
Five other ministers - Gayatri Prasad Prajapati, Madan Chauhan, Narad Rai, Ambika Chaudhary, Shadab Fatima, Om Prakash were also sacked.
Within a few hours after his sacking was announced, Shivpal Yadav struck back and expelled Ram Gopal Yadav from the party for six years. Ram Gopal is a member of the Rajya Sabha and the party's national general secretary. Amar Singh, who was elected to the Rajya Sabha this year, had objected to sitting behind Ram Gopal in the House.
In his first direct on Ram Gopal, Shivpal said in a three-page chargesheet that the former's son Akshay Yadav, who is a Lok Sabha MP and daughter-in-law were involved in the Yadav Singh scam and he was undermining the party to save them from the CBI.
The charge-sheet said that Ram Gopal was conspiring to weaken the party at the BJP's instigation. He has had three meetings with a senior BJP leader. "The chief minister does not understand who his well wisher is and who is not," it said.
Shivpal called Ram Gopal anti-SP and said that he has always misused the name and generosity of Mulayam for his own benefit. "Now, the limit has been reached," he said in the chargesheet.
Ram Gopal responded with another letter saying that he is not saddened by his expulsion, but hurt by the allegations which were baseless.
He said Mulayam was not only his elder brother, but also his political guru.
"Mulayam is surrounded by demonic forces and the truth will emerge only after the party is rid of these forces," Ram Gopal said.
He reaffirmed his support for Akhilesh "in this dharm yuddh till he becomes CM again".
He found an ally in another Rajya Sabha MP Naresh Agarwal who said there is no truth in allegations against Ram Gopal.
The day ended with Shivpal's remark made before party workers. "Next government will be formed under Mulayam's leadership," he reportedly said.
Mulayam will speak tomorrow after the meeting of MPs and MLAs, both past and present.
The meeting that changed it all
The chief minister, who held a meeting of party legislators on 23 October - scheduled a day prior to the one that is to be convened by Shivpal - has emphatically said that there would be no compromise on Amar Singh.
He is said to have shared his views on Amar Singh with them.
The number of legislators who attended the CM's meeting is not known. Unconfirmed reports say that 60 MLAs loyal to Shivpal were not called for the meeting at all.
The chief minister proved true to his words when, along with his uncle and ministers, he sacked Amar Singh's friend Jaya Prada from the post of vice-chairman of UP Film Development Corporation.
Giving the impression of being the man in control, Akhilesh ordered his principal secretary Anita Singh, who was close to Mulayam, to not issue any orders without his approval.
The feud intensifies
Shivpal, during a press conference at the party office in the afternoon, said he was not bothered about his removal as minister and ruled out a split in the party.
He targeted his cousin Ram Gopal Yadav and said he was trying to weaken the party by hobnobbing with the BJP. Without naming Ram Gopal, Shivpal told the media, "Some leaders of the party were in touch with the BJP to escape CBI inquiry and were weakening the party."
Ram Gopal is feeling the heat in the Yadav Singh case being probed by the CBI.
Ram Gopal had earlier circulated a letter addressed to party workers explaining the situation. "We want to form the next government under the leadership of Akhilesh Yadav. 'They' want Akhilesh Yadav to lose, come what may."
The letter said that Akhilesh's "Vijay rath yatra" is a thorn in "their" flesh. The letter did not say who "they" were, but Shivpal's reaction made it clear that he and Amar Singh were in Ram Gopal's crosshairs.
Deja vu
Sunday's developments are, in many ways, a repeat of the events in September when Akhilesh had divested Shivpal of his key portfolios after being removed from the post of party president.
At that time too, he had removed some ministers loyal to Shivpal and had also sacked Deepak Singhal from the post of chief secretary.
Shivpal had then threatened to resign from the party and relented only after Mulayam brokered peace between his brother and son.
It was then thought that Akhilesh was upset over his removal from the state president's post. He, however, kept referring to an outsider who was out to destroy the Samajwadi Party and insisted that there was no place for him in the party.
While Akhilesh had agreed to restore ministerial positions to Shivpal's loyalists under pressure from Mulayam, his repeat act on Sunday signifies his continued defiance.
Mulayam had warned Akhilesh that Shivpal's departure would break the party, but even then he brushed aside his father's warning and threw the gauntlet for his uncle to pick.
Whether Shivpal will swallow his pride or resign from the party as he had threatened to do in August will only be known on 24 October.
Edited by Aleesha Matharu
More in Catch - SP split wide open: Akhilesh & loyalists may miss party's silver jubilee
Yadav family feud: Mulayam snubs Akhilesh again, refuses to name him CM candidate