Sister's act in UP? Clamour for Priyanka Gandhi grows in Congress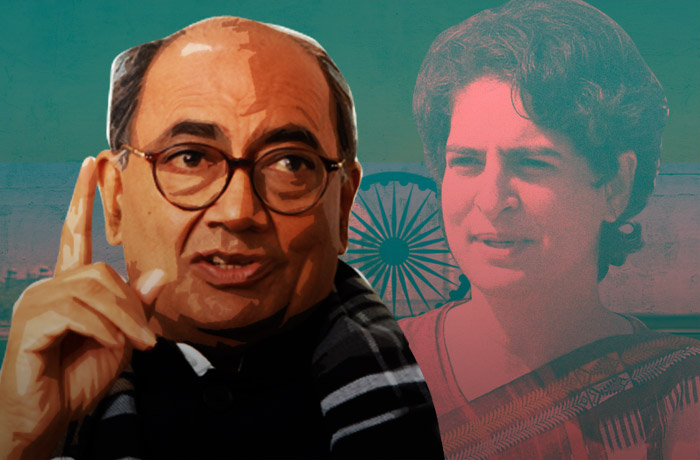 The clamour
\"Rahul at the Centre, Priyanka in UP\" is the clamour in the Congress
Strategist Prashant Kishor also wants Priyanka to pay a key role in UP
The scepticism
The Congress doesn\'t have the organisational wherewithal in UP
Can Congress match up to SP, BJP and BSP?
More in the story
Can Priyanka save the Congress in UP?
What role can she play?
What Congress opponents have to say about her
On 13 March, Congress general secretary Digvijaya Singh during his visit to Lucknow stressed that the party would benefit immensely if Priyanka Gandhi joined active politics. He added that this is the wish of every Congress worker on the ground. Even the Congress leadership in the state is literally praying that she does that.
On 9 March, Congress leaders in UP performed a yajna in Lucknow and prayed to God so that Sonia Gandhi lets Priyanka take charge of the party in the state. They were heard chanting: "Priyanka lao desh bachao. Desh main Rahul, Pradesh main Priyanka".
Also read - Rahul Gandhi 2.0: Pappu can dance! With a little help from Prashant Kishor
The clamour for Priyanka taking the reins of the party in UP has been growing ever since reports of poll strategist Prashant Kishor suggestion of projecting her as the chief ministerial candidate surfaced.
While Congress leaders and state level workers are optimistic that her foray will certainly get them eyeballs, they are uncertain on whether it will translate into votes.
"She talks well and looks good and that might attract some young voters but that is it. The Congress party have achieved nothing exceptional either at the Centre or at the state level so what will they tell the people? They don't have workers at the grassroots level. You can add salt to the daal to enhance its flavour but would salt be of any use if there is no daal?" said Govind Pant Raju, senior journalist based in Lucknow.
Even with Priyanka on board, it will be a tough battle for the Congress. The party is in dire straits in the state with no mass base, barring a few constituencies which are considered Gandhi family bastions. But in the 2012 Assembly Elections when Congress won only 2 out of the 10 seats in Amethi and Rae Bareli .
Senior Congress leaders that Catch spoke to ridiculed these charges of Priyanka just being a face. They believe that she alone can rejuvenate the organisation and boost the morale of party workers in the state. "Her taking the charge of UP is a family decision. Her appeal transcends caste, class and age. If she does decide to take the plunge, the change will be there for all to see," said a senior Congress leader.
Prashant Kishor has reportedly asked for Priyanka to assume a key role in UP
Meanwhile, the Congress' opponents in the state look at her "candidature or active role" as just another electoral gimmick which will fall flat once the results are announced. "Congress party is history in UP and these could be their last elections in the state. They might even fare worse than they did in 2014 when they managed to win only two Lok Sabha seats. It's a dilapidated structure that will bound to collapse," said Dr Dinesh Sharma, senior BJP leader who is also the Mayor of Lucknow.
Even Samajwadi Party leadership is unperturbed by this clamour for Priyanka and claim that faces will not help Congress or the BJP win the UP elections. "People of UP are not as naive as these two parties would like to believe. It is the mobilisation of cadres on the ground that wins elections and not some master strategist," said SP spokesperson Rajendra Chaudhary.
The opposition parties in the state are especially critical of Congress' "much hyped" poll strategist Prashant Kishor. They believe that his two previous successful victories are not his alone and that the parties he represented had strong presence on the ground unlike the Congress. "No strategist from outside can help the Congress party. You don't need strategists alone to win elections, you need mass base which is clearly missing as far as Congress is concerned," added Chaudhary.
Even BJP leaders who were once in awe of Kishor's electoral strategy after he scripted Prime Minister Narendra Modi's successful campaign in 2014 are now calling him an outsider with no understanding of UP politics. "If PR or marketing firms could win you elections, then Tata, Birla and Ambanis would have held crucial portfolios in the government. The Congress wants to win elections using these agents, but they should realise that the bubble will burst in UP," said Dinesh Sharma.
Whether Priyanka chooses to be Congress's CM candidate is a million dollar question. But the BJP leadership in Delhi is upbeat that they already have someone who can counter Priyanka's charm. Could it be Smriti Irani? After all, her name too is gaining momentum within the BJP for UP CM's post.
More in Catch - Is a BSP-Congress-RLD Grand Alliance emerging in UP?
5 reasons why the Congress is in a shambles in Uttar Pradesh