Should minister Sidhu continue TV appearances? Amarinder seeks legal opinion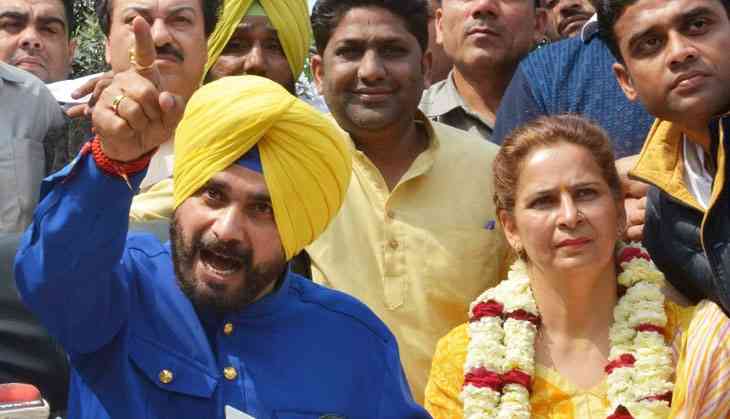 Having been sworn in as the new minister for local bodies in Punjab, cricketer-turned-TV star-turned politician Navjot Singh Sidhu insists that he will continue with his television appearances.
This has resulted in the first quagmire for the new government led by Captain Amarinder Singh, as the issue of propriety over these TV appearances have come into focus.
Sources say Amarinder has decided to seek legal opinion on the issue, and has already forwarded the file to Punjab's newly-appointed advocate general Atul Nanda. Sidhu's wife Navjot Kaur has reportedly said that Sidhu would leave the TV show if there is any illegality found in it.
The Sidhu couple has been saying that the TV appearances do not come under the purview of 'office of profit'. Sidhu has reportedly said that what he does after his office work is nobody's business.
Amarinder's stance
Amarinder, in an interview to The Hindustan Times, said: "I don't know what the Constitution says in this matter. As Manpreet Singh Badal said, it's like saying that a farmer cannot use the income coming from his crop. Why shouldn't Mr Sidhu do his own business? I have sought an opinion on the matter from the advocate general."
He went on to say that he won't have any problem at all if it is legally permissible. "You have to live. I cannot say you cut off your income and become corrupt," he reportedly said.
A problem of propriety
However, there is a strong view that Sidhu should give up the TV appearances at least for sometime and devote more time to the government work. "He should allow things to settle. The new government has just come into existence. He should at least take six months off and devote himself to the immediate task at hand," said a political observer from Ludhiana.
Dr Pramod Kumar of the Institute for Development and Communication (IDC) in Chandigarh told Catch: "The issue here is not of legality but propriety. Throughout the Punjab campaign, Sidhu talked about his 'dard' (pain) for Punjab. Now is the time that he gives expression to this pain by committing himself to the service of Punjab 24x7. He can do it for sometime at least."
Other experts, too, have reportedly said that Sidhu's TV appearances are not unconstitutional or illegal, but certainly improper.
Leading regional English daily The Tribune has also quoted constitutional experts Subhash Kashyap and PDT Achary, both former Lok Sabha secretary generals, on the issue. Kashyap said: "It's more a question of propriety than that of law. There is no law banning a minister from taking up such assignments. But once a politician becomes a minister, he does not go for such things. It has become a matter of convention now."
Achary reportedly said: "There is no express provision of law that debars a minister from doing a TV programme or any other similar thing. But it's certainly undesirable and improper."
Both of them have underlined that if a minister appears in TV shows, he must ensure that there is no conflict of interest. They have also raised the issue of practicability, as the dual role could come in the way of discharging his functions as a minister.
Wife's defence
Sidhu has said that he intends to be in Chandigarh from Monday to Thursday and in Amritsar from Friday to Sunday. What he does at night is nobody's concern, and he would take first flight back to Punjab after TV shoots in Mumbai.
On the other hand, Navjot Kaur had gone on to defend his stance on continuing TV appearances on social media immediately after the matter started doing the rounds when he had taken oath as a cabinet minister. She wrote on her Facebook wall: "Such hype has been created about Navjot earning a living from television. When I was working as a MLA, my electricity bill and tea for guests costed [sic] more. We have no other business or source of income except television. He has left 80 percent of shows which included IPL, commentator etc. Shooting for two shows of Comedy Nights with Kapil takes only five hours in a week and that also mostly on Saturday night. I think it is a meagre time for a non socially active God fearing workaholic."
She has also reportedly said that the couple's daughter is studying in London, and they have expenses to take care of. Navjot Kaur had represented the Amritsar (East) constituency as a BJP MLA in the previous Shiromani Akali Dal (SAD)-BJP regime. The same constituency is now being represented by her husband.
More portfolios
It is not only the issue of TV appearances that has Sidhu in the limelight. He also reportedly sought an expansion of his portfolios. He wants the urban development department, since it is closely linked to local government and housing. These departments are even clubbed together at the Centre. Besides local government, Sidhu has also been allocated the tourism and culture departments.
Observers say that these are comparatively lightweight portfolios, given Sidhu's stature and the fanfare with which he was inducted in the Congress ahead of the polls. In fact, many were expecting him to be named the deputy chief minister.