Shivpal vs Akhilesh vs Mulayam: where will the Samajwadi Party drama lead to?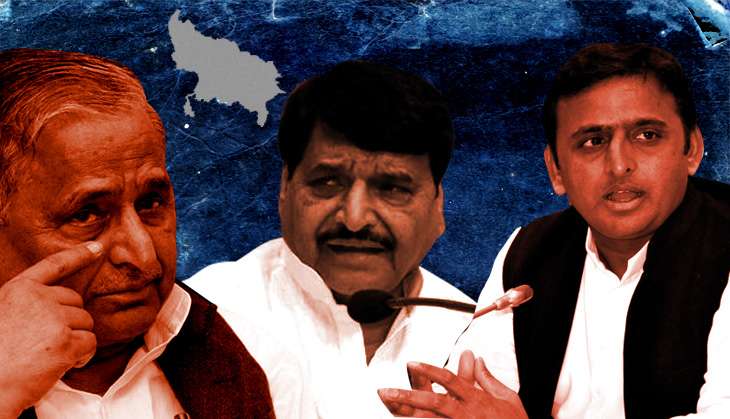 The feud in Mulayam Singh Yadav's family has turned into an all-out war between chief minister Akhilesh Yadav and his senior cabinet colleague Shivpal Yadav, who is also his uncle.
A day-long lull followed Tuesday morning's sacking of Deepak Singhal as the chief secretary, a favourite of Shivpal and his new-found friend Amar Singh. But events began to unfold rapidly as the evening descended.
Shivpal, who had left for Saifai in a huff, downplayed the crisis in the family and said Mulayam's word will be final. "I will abide by what Netaji says," he said. Addressing a press conference in his native village on Wednesday morning, Shivpal said changing a minister's portfolio was the chief minister's prerogative.
Akhilesh held a meeting with officers at his 5 Kalidas Marg residence. He had cancelled his Hindi Diwas programme at Hindi Sansthan.
Shivpal is now on his way to Delhi to meet Mulayam. The family patriarch was earlier said to be rushing back to Lucknow, reportedly to take over as chief minister from his son. Akhilesh, on his part, was said to have sought time to meet Governor Ram Naik.
Also Read: Akhilesh Yadav sacks UP Chief Secretary Deepak Singhal, 3 ministers down in 2 days
Speculation about Mulayam taking over started floating soon after he appointed Shivpal as the Samajwadi Party's state president, replacing Akhilesh, around 7.45 pm. Shivpal had been the party's state in-charge.
Shivpal was informed of his appointment through a four-line letter signed by the party's national general secretary Ram Gopal Yadav: "National President of the Samajwadi Party Mr Mulayam Singh Yadav has appointed you president of Samajwadi Party Uttar Pradesh. It is hoped that through the dint of your hard work you will strengthen the party further."
About 30 minutes later came the news that Akhilesh had divested his uncle of key portfolios - PWD, cooperatives, revenue and irrigation. So important are these departments considered that whenever the party has been in power they have been under Shivpal's charge. To rub salt into his wounds, the minister was given the "insignificant" portfolio of social welfare.
The chief minister decided to keep the PWD portfolio with himself, but handed over irrigation and flood control departments to Awdhesh Prasad, while cooperatives, and revenue and rehabilitation were given away as additional charges to Balram Yadav.
Soon, political and media circles were abuzz with rumours of a miffed Shivpal threatening to resign from the cabinet, which probably forced Mulayam to intervene to prevent a split in the party.
Also Read: Sacked ministers & illegal mines: is Akhilesh making a last-ditch effort to change things?
This isn't the first time that the uncle-nephew duo have sought to cut at the roots of government. On 14 August, Shivpal had threatened to resign from the ministry and work for the party as "some leaders, officers and engineers were not responding to his orders."
It had led to an immediate intervention by Mulayam, who lambasted Akhilesh on Independence Day. He warned the chief minister that Shivpal's exit would have disastrous consequences for the party.
Then on 20 August, Shivpal had a one-on-one meeting with the chief minister. He emerged from the meeting and announced that all was well in the family. But it did not prevent Amar Singh from exploiting the situation and mounting pressure to extract his pound of flesh from Akhilesh.
Exactly a week after Shivpal's outburst, on 22 August, Amar Singh repeated what Shivpal had said but, significantly, he added, "I am a Mulayamwadi... but it has become a kind of crime to be Mulayamwadi."
Another irritant between Akhilesh and Shivpal was the merger of Qaumi Ekta Dal of the jailed mafia don Mukhtar Ansari with the Samajwadi Party. This was the first indication of a deepening divide between the two. Shivpal wanted the merger as the QED had voted for SP candidates in the Rajya Sabha election. It was Shivpal who had announced the merger before the media. Akhilesh, however, did not want to join hands with the QED. The merger was called off a day after it was announced, leaving Shivpal with egg on his face.
Akhilesh even sacked Balram Yadav, who had played an intermediary in the merger talks, as minister. Shivpal expressed his anger by skipping the cabinet expansion that followed.
But Shivpal, with the help of Mulayam, had his way in getting Deepak Singhal appointed as chief secretary. Although he gave in to pressure from his father and uncle, Akhilesh waited for his chance to strike at Singhal and get even with Shivpal.
On Tuesday, Singhal, who was appointed as the chief secretary barely two months ago, was shunted out, and replaced with Rahul Bhatnagar. Singhal has been put on compulsory wait before his next posting.
His sacking came a day after Akhilesh cracked the whip on two of his allegedly most corrupt ministers - Gayatri Prasad Prajapati and Raj Kishore Singh. Both enjoyed Mulayam and Shivpal's trust.
Also Read: Uttar Pradesh: palace intrigue has left Akhilesh Yadav powerless, SP rudderless