Shivpal-Akhilesh spar at SP's 25th anniversary, Lalu plays peacemaker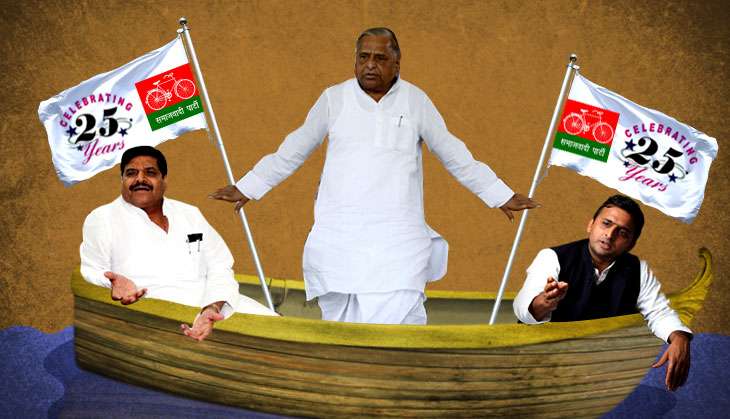 Watched on by party leaders, senior politicians and thousands of workers, Shivpal Singh Yadav and Akhilesh Yadav sparred on stage as the Samajwadi Party celebrated 25 years of its formation in Lucknow on Saturday.
While other guests refrained from commenting on the feud, former Bihar Chief Minister Lalu Prasad Yadav, now a relative of SP chief Mulayam Singh Yadav, said in his own inimitable style: "When nobody fights with us, we Yadavs fight amongst ourselves."
The Rashtriya Janata Dal chief added that the Mahabharata was also about a family war, and that "'maar-peet' has been a tradition of the Samajwadi Party".
The veteran Bihar politician even made a patch-up bid between Shivpal and Akhilesh when he made the latter touch his uncle's feet. He then brought them centre stage, holding their hands.
Ominous start
Those seated on stage at the 400-acre Janeshwar Mishra Park in Lucknow included former Prime Minister HD Deve Gowda, JD(U) leader Sharad Yadav, senior advocate and Rajya Sabha MP Ram Jethmalani, Rashtriya Lok Dal leader Ajit Singh and Indian National Lok Dal leader Abhay Chautala. While they all spoke of preventing the BJP from coming to power, there was no word on the formation of an alliance.
The notable absentees from Saturday's event included Azam Khan, a founding member of the party, and Amar Singh, the 'outsider' accused of fomenting trouble in the Yadav family.
Before Lalu walked up to the podium, the feuding members of the state's first family had played out their parts in front of top leaders, who had gathered here amid talks of a grand alliance.
The function got off to an ominous start with the SP's state president Shivpal pushing away Javed Abdi, a former minister of state, from the podium, while raising slogans in favour of Mulayam and Akhilesh.
As the Chief Minister's supporters began booing Shivpal, the latter got up, and warned them to remain quiet and maintain discipline.
On Friday, Shivpal had instructed the district magistrate and the senior superintendent of police to ensure that the leaders expelled from the party were not allowed into the venue. A top-ranked police officer lightly dismissed the order, saying his men did not recognise those leaders.
Shivpal's angst
Lalu's patch-up effort notwithstanding, Shivpal poured out his inner angst, as he assured Chief Minister Akhilesh that he never aspired to become the CM, and blamed 'some intruders' for the misunderstanding.
In an emotionally charged speech, Shivpal told Akhilesh he was ready to give his blood to prove his loyalty towards the Chief Minister. "Humiliate me as much as you can. Sack me from the ministry as many times as you want, but I won't complain," Shivpal said.
Taking a dig at Akhilesh, the former senior minister in the state cabinet said that the work done by the departments under his charge was in no way inferior to that done by the departments headed by the Chief Minister. He then went on to specially recount the work done by the revenue and irrigation departments.
Shivpal then reminded Akhilesh of his earlier remarks that some have power bequeathed to them, fate helps some others, while there are those (read: Shivpal) who do not get their due despite years of sacrifice. The remarks, he said, had hurt the Chief Minister, but he repeated them nonetheless.
Shivpal's grouse was obvious as he gave vent to his pain at being sidelined by his nephew, as he mentioned how some sycophants of Akhilesh had managed to polish off the cream without doing much work for the party.
Akhilesh's retort
Akhilesh was not one to let it pass. In his riposte, he reminded his uncle that his youth brigade had worked hard to ensure the SP's victory in 2012. "Some people are not willing to understand. They will understand only when everything (Samajwadi Party) will get destroyed," Akhilesh said.
To make his stance provocative, the Chief Minister said that (Gayatri Prasad) Prajapati had presented him with a sword, but expected him not to wield it. "How is that possible?" he asked.
After the inauspicious start of Akhilesh's rath yatra on 3 November, when the luxury bus broke down a few yards away from his residence, this was another attempt at projecting a united front within the SP.
At the 3 November event, Shivpal and Akhilesh had exchanged cold vibes, but on Saturday they made it clear once again that there was no love lost between them.
Edited by Shreyas Sharma
More in Catch
Mulayam, Akhilesh, Shivpal wash dirty laundry in public as Uttar Pradesh watches on
Shivpal, Akhilesh back to where they began. What was the family feud all about?
It's uncle Shivpal vs nephew Akhilesh: Yadav family drama continues