Shiv Sena turns up the heat against the BJP; hits out at 'false patriotism'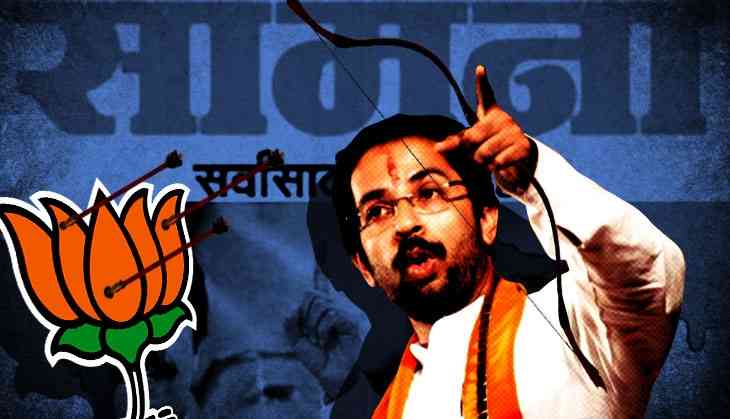 Though the Shiv Sena and the BJP have shared an ideology and been partners for the last two-and-a-half decades, the former, ever since the two parties parted ways, has raised its pitch when it comes to pointing out the faults of the latter.
The alliance was broken this year during the civic elections, when Shiv Sena executive president Uddhav Thackeray snapped all remaining ties and said that the Sena would not ally with any political parties in future.
But the Sena failed to secure a clear majority in the Municipal Corporation of Greater Mumbai (MCGM). Since then, the party's mouthpiece Saamna has begun to praise the Congress praised, particularly sacrifices made by the Nehru and Gandhi family, and bash the BJP.
The editorials
In an editorial in Saamna, Uddhav Thackeray has come down heavily on BJP leaders for unparliamentarily remarks about soldiers and their wives. He has said that, if supporting and glorifying Afzal Guru was sedition, then such remarks on soldiers and their wives should at-least be categorised as serious crimes.
"Patriotism has become a buzzword in recent times. BJP cannot have double standards when it comes to patriotism. It cannot be accepted at all," the editorial says. If alliance with Congress was unholy, then joining hands with PDP in Jammu and Kashmir was equally disastrous, it adds. "After all everyone is making their own definitions of patriotism and if higher number of votes would determine the definition, it means difficult times have started for the nation. These masks of patriotism would prove fatal for the country," it says. According to Shiv Sena, people of the country are still clueless about what is democracy, which is why we are unable to decide a uniform definition of patriotism.
"If your endorse philosophy of a particular organisation, you are patriot, and if you oppose it, you are traitor. This cannot be acceptable. According to BJP JNUSU leader Kanhaiya Kumar is a traitor, but its MLA Prashat Paricharak is not," the editorial says., in reference to a speech Paricharak had made, which included derogatory statements about soldiers and their wives. "Soldiers are posted at some remote location for more than a year and their wives deliver children. When the soldier gets the news, he celebrates the child birth," Paricharak had said.
'So-called patriotism'
"It is character assassination of soldiers and their wives. But neither the government nor BJP has officially condemned Paricharak. On the other hand, Kanhaiya Kumar was arrested on allegations of shouting anti India slogans and jailed. Now the Delhi police have landed in serious trouble as it has failed to prove the allegations. BJP too, exploited the issue for political mileage. Its students' wing ABVP was posed against students' unions affiliated to Communist parties. But the same ABVP is silent on Paricharak," the editorial says.
This proves that the so-called patriotic opposition to Kanhaiya Kummar was hollow. One cannot change the definition of patriotism as per convenience. But the time is such that rulers are deciding what is patriotism, and what is not.
"Those who opposed demonetisation are traitors and anti nationals. But infiltration is continuing even after demonetisation, our soldiers are still dyeing in terrorist attacks. Government has failed to achieve what it claimed, out of demonetisation. What type of patriotism is this?" the editorial asks.