Sharad Yadav may well be expelled from RS despite absence of solid ground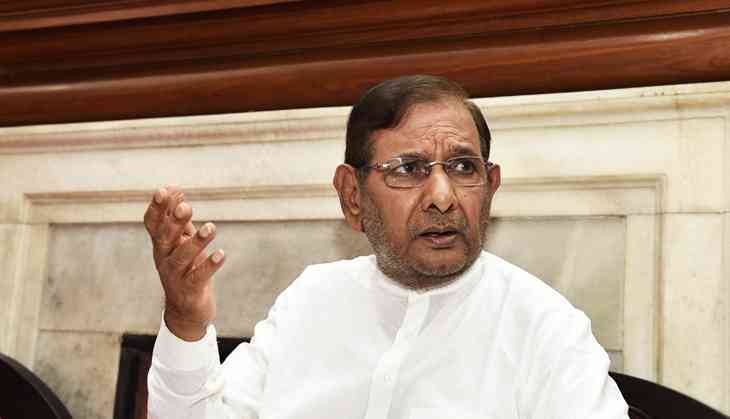 (Arvind Yadav/Hindustan Times via Getty Images)
The battle within Janata Dal(United) between its present and former presidents appears to have entered its last lap. The party has formally appealed to Rajya Sabha Chairman Venkaiah Naidu to disqualify Sharad Yadav, currently a member of the Upper House on a JD(U) ticket and the party's former chief.
The party's petition to Naidu has accused Yadav of indulging in anti-party activities and demanded his disqualification. Interestingly, JD(U) has not expelled Yadav from the party as that would enable him to hold his seat in the Rajya Sabha. The party wants him either to resign or give it adequate grounds to seek his disqualification.
The power to disqualify a member from either houses of Parliament lies only with the presiding officers of the houses, with even courts not allowed to intervene. The grounds are anti-party activities but the allegations have to be proved substantially, in keeping with parameters well laid down.
JD(U) has sought Yadav's disqualification under Tenth Schedule of the Constitution but the schedule is very clear in defining the parameters, which are centered around defection by a member. A member shall be disqualified, the schedule says:
• If he has voluntarily given up his membership of his party
• If he votes or abstains from voting in the House contrary to any direction issued by his party or without obtaining the prior permission of the party
• If he joins any political party after his election.
None of these conditions hold true for Yadav. Neither has he quit JD(U), and joined any other party, nor has he voted in defiance of any party-diktat inside the Parliament. JD(U)'s argument is that Yadav's act of attending RJD's rally in Patna on 27 August in spite of the party specifically prohibiting him from doing so, is an anti-party act.
However, the Tenth Schedule doesn't have anything on participating in rallies and meetings and making speeches. This makes JD(U)'s contention tough for Naidu to accept.
However, as Chairman, his is indeed the final word on this and he has the power to go beyond convention in taking decisions. It remains to be seen whether in keeping with the deal struck between BJP and JD(U) that made the two parties join hands to form the government in Bihar, Naidu rules in favour of JD(U) and disqualifies Yadav. According to sources, Yadav may will be shown the door to enable JD(U) to send senior party leader KC Tyagi to the Upper House.
Tyagi may even be inducted into the Union Cabinet soon. Sources said that another Cabinet reshuffle may take place in which BJP's allies could be accommodated. Tyagi could find a place in the government in this round, according to sources.
Sharad Yadav was elected to the Rajya Sabha in 2016 from Bihar and his tenure will come to an end in 2022. He has rebelled against party president and Bihar Chief Minister Nitish Kumar's decision to break the Grand Alliance with Congress and RJD and join hands with BJP. He has since then been organising conferences across the country, called "Saajhi Virasat Bachao Sammelan, which have seen huge presence of leaders from almost all Opposition parties.
Yadav attended RJD's rally in keeping with this strategy of clever but steady defiance of Kumar's diktat. He is yet to name Kumar in his attacks and only makes veiled references to him in his speeches.