Sharad Yadav declines fourth term as JD(U) chief. Nitish Kumar to take over?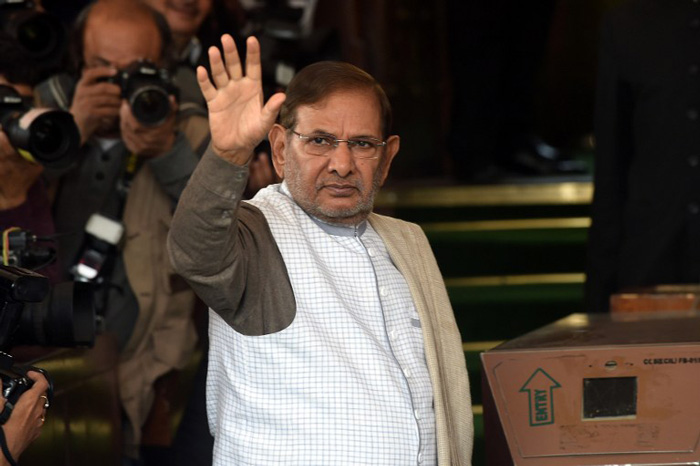 Party President
Sharad Yadav has been the JD(U) president for three terms
This was made possible after amending the party constitution in 2013
Yadav says he isn\'t keen on a fourth term and the post should go to other
More in the story
What plans does Prashant Kishor have in mind?
What does this mean for ties between Sharad Yadav and Nitish Kumar?
The incumbent Janata Dal (United) President Sharad Yadav has conveyed to Bihar Chief Minister Nitish Kumar that he would not be seeking a fourth term as the party president, and that someone else should now be given the charge. Sources within the party claim that Yadav has expressed his desire for Nitish to take over as the next party president of JD(U).

Senior party leader KC Tyagi in a statement released on Monday said, "Sharad Yadav as party president has completed his three successive terms. He has now refused to make any amendment in the party constitution so as to elect him for the next coming term," party spokesperson K C Tyagi said in a statement today." The election of the next party president will take place on 10 April during the party's National Council meeting in Delhi.

Read- Bihar election results a 'victory of principles over moneybags': Sharad Yadav

Sharad Yadav was elected as the party president in 2013 after an amendment was brought to the party constitution, allowing him a third consecutive term. The amendment was introduced since the party constitution only allowed two terms for a president.

First elected to the post in 2006, Yadav took over the reigns of the party from George Fernandes. Thereafter, he won his next presidential election in 2010 with support from Nitish Kumar.

Though Yadav hails from Madhya Pradesh, he has been associated with Bihar politics for decades and was seen as a counter to Lalu Prasad Yadav. In fact, he had defeated the RJD chief in 1999 from Madhepura which is a Yadav bastion. Having been in bitter electoral fights against each other in several elections, these two reconciled after Nitish Kumar decided to align with RJD during the 2015 Bihar elections.

No more amendments to the party constitution. Sharad Yadav refuses a fourth term as JD(U) president

Yadav's decision to not go in for another term was a result of the Election Commission asking the party to furnish details of the next organisational elections by 15 July. Earlier, the party had informed the EC that since it had been busy with assembly elections in different states, it could not hold organisational elections and will complete the process by 30 June.

A senior party leader informed Catch that since the party is planning to take on the BJP in the 2019 general elections, it would be best to keep Nitish Kumar at the helm of affairs, to stitch together a coalition that could take on the BJP as it did during the 2015 Bihar Assembly Elections. "Under Kumar's leadership, we would be in a far better position to take on the BJP. The talks of a merger with Ajit Singh's Rashtriya Lok Dal and Jharkhand Vikas Morcha are almost done and the credit for it goes to Kumar. Under his leadership, we can accept many other like-minded parties to join us for this fight against BJP," he said.

On the question of Yadav's role in the party, he said that he remains one of our founder leaders and would continue to guide the party. "He is a leader with an illustrious career and great political acumen. In this era when people are hungry for power, he has set an example by asking the party to put a new person in command. He will continue to be a major influence on all the decisions that the party takes," said the senior party leader.

Also read- Signature campaign shows corporate India voted for Narendra Modi: Sharad Yadav

The possibility of Nitish Kumar taking over as president is also said to have been influenced by Prashant Kishor who wants to the Bihar chief minister to have total control of the party, to implement strategies without much opposition. Several Congress leaders have concurred that it was at Kumar's insistence that Kishor agreed to help Congress in its election campaigns in different states, and most probably will during the 2019 general elections.

Meanwhile, all has not been well between Yadav and Kumar, ever since the latter decided to walk out of the NDA in 2013. As a convener of NDA, Yadav was keen on continuing with the coalition but Kumar was dead against the idea of Narendra Modi being projected as the prime ministerial candidate. The two had differences on several other issues, but when Nitish Kumar snapped ties with BJP, it became clear who was running the show in JD(U).

Edited by Anna Verghese

More in Catch:

Pilibhit fake encounter: victims' kin satisfied but not happy with verdict

Is National Green Tribunal going soft on Sri Sri Ravi Shankar's Art of Living?

Cheatsheet: Here's all you need to know about the Tamil Nadu election

If you're not Muslim, almost everything you know about 'fatwas' is probably wrong. Here's why