Samajwadi debunks reports of deal with Congress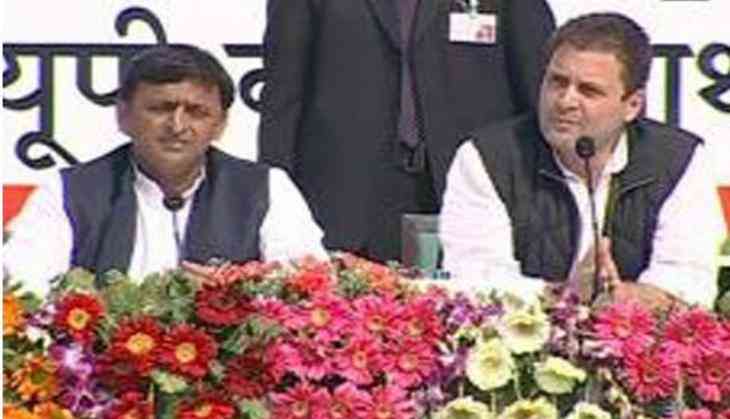 With General Elections less than a year away, news reports have emerged that the Samajwadi Party (SP), the Bahujan Samaj Party (BSP), Indian National Congress and Rashtriya Lok Dal (RLD) have reached a broad agreement over seat sharing in Uttar Pradesh.
These parties have been in talks with each other to stitch together a grand alliance to take on the Bharatiya Janata Party (BJP) in the most politically significant state, which sends 80 members to the Lok Sabha. Not only UP, the parties have also been in talks over seat sharing for the upcoming Assembly polls in Madhya Pradesh, Rajasthan and Chhattisgarh. However, the talks have hit rough weather with Congress not ceding to the demands of its possible allies.
It is for this reason that SP leadership debunked these reports and claimed that talks over seat sharing are being held only with the BSP and RLD. A senior SP leader vehemently denied such "rumors" and said they were based on "WhatsApp forwards" rather than on ground reality.
"They can conjure any numbers they want. As far as SP is concerned, we have not had any such talks. Congress' arrogance in allotting respectable seats to alliance partners for upcoming Assembly polls in other states has led to an impasse. They want more than what they deserve in UP and are not ready to accommodate their partners in other states. Even Mayawatiji is facing similar trouble with Congress," he said.
He further added that it didn't make any sense to have an alliance with Congress in UP considering the Grand Old Party is more of a liability than an asset. "By giving Congress seats, there is a risk factor involved. Their recent performances in UP is a case in point. They cited similar reasons to not give us seats in other states where they seem to be in powerful position. So, why should we be so accommodating? If Congress wants to defeat BJP then it should not have different parameters for every state. Either we are in this together or we are not. They should clarify their stand," he said.
Adding to it, he mentioned that at present the SP leadership doesn't feel the need to hold talks with the Congress. "Having any sort of seat sharing formula with the party will only hurt us," he claimed. It is for this reason, he said that it is not even considering holding talks with the Congress. "We have adopted the policy of keeping away from Congress," he said.
Meanwhile, Congress is facing similar trouble with BSP over seat sharing in the three states, particularly MP. Sources said the BSP has demanded 50 seats in the state, which has unnerved the Congress leadership leading to a delay in the final announcement.
Congress is ready to offer a maximum of 30 seats, which is not acceptable to the BSP which wants similar alliance in Rajasthan and Chhattisgarh as well. In the 2013 assembly elections in MP, the BSP secured a 7% vote share, which combined with Congress' 37% could give BJP a tough fight which had 44% share.
The party, led by Mayawati, contested 227 seats and won just four seats. They managed to get 20,000 votes on 17 seats while secured 10,000 votes in 62 seats. Meanwhile, SP contested on 164 seats failed to win a seat with a total vote share of 1.2%.
Moreover, Congress has already sealed a deal with Gondwana Gantantra Party that had secured 1% vote share in the 2013 Assembly polls. Having been in power for three consecutive terms, the BJP is facing massive anti-incumbency in MP which reflected in multiple protests by farmers across the state.
For Congress, it is crucial to reach an understanding with the SP and the BSP if it hopes to dethrone the BJP in 2019 and to do that it will have to shed its big brother attitude and accommodate allies in other states. The foundation of a grand alliance in UP in 2019 will depend on how Congress treats its allies or else it will have to be at the mercy of the SP and the BSP. SP leaders have time and again reiterated how Congress on its own would not be able to win even the twin Lok Sabha constituencies held by Sonia and Rahul Gandhi.