'RSS-free India & booze-free society': Nitish launches national campaign
The rally
Nitish Kumar addressed a JD(U) workers\' rally at Pindra, near Varanasi in Uttar Pradesh
The Bihar CM and newly-elected party president launched campaigns for the UP polls in 2017 and the Lok Sabha polls in 2019
The slogans
Nitish wants his party workers to ensure an RSS-free India
The other part of his slogan is linked to the prohibition he has introduced in Bihar - he wants an alcohol-free society
More in the story
What Nitish had to say at the rally, especially targeting the
BJP
The BJP\'s retort, and a JD(U) ally\'s surprise attack on Nitish
Bihar Chief Minister Nitish Kumar simultaneously launched two key campaigns on Thursday, 12 May - for the 2017 Uttar Pradesh Assembly elections, as well as for the 2019 Lok Sabha elections.
Presiding over a convention of Janata Dal (United) workers in Uttar Pradesh's Pindra, near Varanasi, the newly-elected party chief declared that Bihar had taught BJP a lesson, and the latter should now look at his party's strength in UP.
Kumar's speech was a harsh criticism of the BJP-RSS combine. He slammed them for a host of issues. Clearly indicating that this campaign was as much for UP as for the Centre, he didn't spare Samajwadi Party supremo Mulayam Singh Yadav either. He also made it clear that a push for nationwide prohibition will be a key plank for his national campaign.
With this rally, the JD(U) also entered the poster war in UP, which has so far seen intriguing posters from the BJP, Congress and the BSP.
The JD(U)'s poster that dotted Pindra's landscape ahead of the meet featured Nitish as Mahabharata's Arjuna on his chariot, being driven by former party chief Sharad Yadav as Lord Krishna.
Incidentally, Yadav as well as JD(U)'s key troubleshooter KC Tyagi flanked Kumar on the dais, indicating full support for him. Tyagi even exhorted party workers to pledge to make Kumar the next Prime Minister.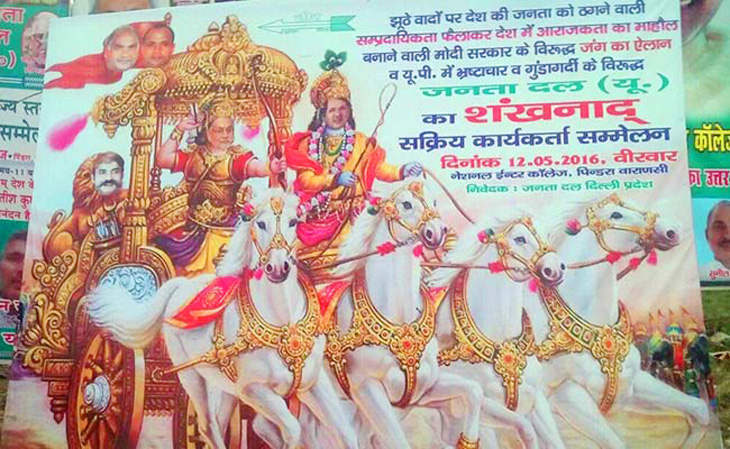 Eyes on the Centre
Nitish began his speech with references to the grand alliance's victory over the BJP-led NDA in last year's Bihar Assembly elections. "We formed a grand alliance... and the BJP used to make fun of us," he said, adding, "the people of Bihar gave the 'Mahagathbandhan' a powerful mandate and taught BJP a lesson."
Nitish said he was in UP to tell the people to identify the BJP correctly, because there is a huge gap in the party's words and actions.
Hitting the BJP hard over its electoral promises, he said whatever the party says during elections is later declared a 'jumla' by its national president, without naming Amit Shah.
Nitish recalled BJP's promises of bringing back black money, giving Rs 15 lakh to each family, jobs for the youth, support price for farmers, and said that what the party delivered instead were controversies over issues like love jihad, ghar wapasi, beef and nationalism.
He also slammed the BJP's ideological fountainhead, the RSS, saying the organisation had no role to play in the independence movement, and was now preaching nationalism to the entire country.
The Bihar CM also took a dig at BJP, saying it was the ideological victory of nationalists like him that a party that used to take the name of only saffron is raising the tricolour today.
However, he added that this was only an attempt to raise emotive issues, so that people's attention can be diverted from the failures of the NDA government.
Once again raising his slogan of Sangh-mukt Bharat or RSS-free India, Kumar said he was a votary of strongly uniting and defeating the BJP. He said he was conscious that some people make fun of him over his slogan, but he does not get deterred under any circumstances.
He said he left the BJP when the party was on the rise, and it was now time for all those opposed to the RSS and BJP to come together.
He also presented his credentials in front of the gathered crowd, declaring that in Bihar, he had worked for Dalits, women and all deprived sections of society.
To Delhi via UP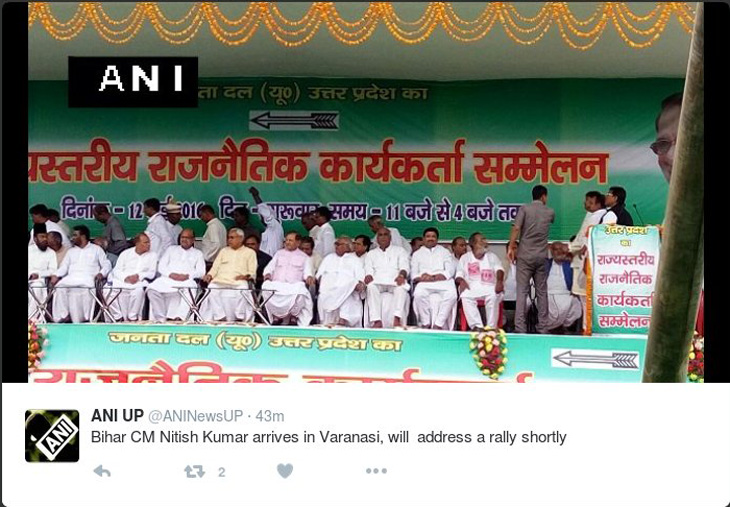 In a clear indication of his ambition to contest in UP, Kumar told the Pindra crowd that the people of Bihar and UP are brothers, and there was no difference between them since they had same temperament, same mould and similar ground situation.
If the BJP could be defeated in Bihar, he added, it could be defeated in other states as well as at the national level.
He lashed out at Mulayam, saying he backed out of the fight against BJP by exiting the grand alliance during the Bihar polls.
The prohibition plank
Nitish also made it amply clear that prohibition is likely to be the fulcrum of his campaign to emerge as a national challenger to the BJP for the next Lok Sabha elections.
Terming prohibition a major social campaign, he said social work was also important, along with political work. He said prohibition in Bihar was a true tribute to the Father of the Nation, Mahatma Gandhi, as the state was about to commemorate the centenary of his Champaran satyagraha.
Nitish also announced that it was women who were leading the campaign, and that he had visited Jharkhand on their invitation. Women also protested against liquor shops on the Bihar-UP border, and that voices in favour of prohibition were also rising in Maharashtra and Rajasthan.
He urged party workers to organise prohibition drives from village to village, and also ensure 50 lakh membership for the party in Bihar and more in UP.
Targeting the BJP, Nitish questioned its silence on prohibition and asked why wasn't it implemented in other BJP-ruled states like it was in Gujarat.
Saying that all religions argued against the consumption of alcohol, Nitish joined his twin campaigns with the slogan - Hum Sangh-mukt Bharat chahtey hain, aur sharaab-mukt samaaj (We want an RSS-free India and an alcohol-free society).
BJP hits back, so does ally RJD
Defending the BJP, Union Minister Ram Kripal Yadav took a dig at Nitish, asking why was the CM in a hurry to go to Varanasi, where people go to attain salvation.
"He has to complete five years of his rule in Bihar," Yadav said.
However, it was a statement from a leader belonging to Nitish's ally RJD that attracted greater attention. Senior RJD leader and perennial dissenter Raghuvansh Prasad Singh said that Nitish was weakening secular forces by running a campaign alone.