RSS 101: Mohan Bhagwat to school cadres in Bengal to strengthen base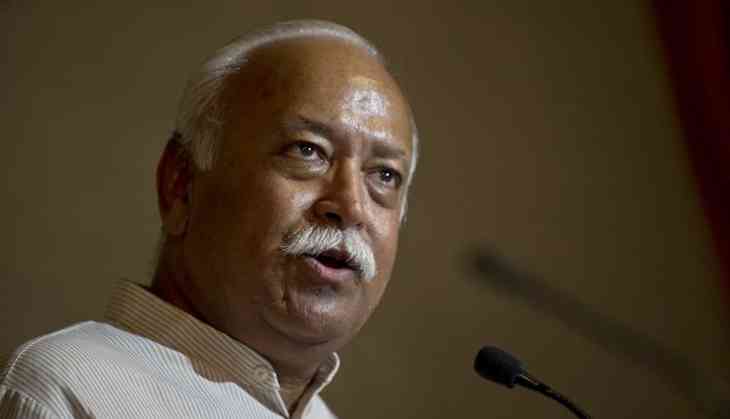 (AFP PHOTO/Prakash SINGH)
The drive to strengthen the Rashtriya Swayamsevak Sangh (RSS) base in Bengal is on full swing. To push this agenda, RSS chief Mohan Bhagwat is set to reach Kolkata on 22 July to speak with local Sangh leaders.
Sources in RSS said that during the meeting, the RSS chief is to give tips on how to increase their base and to highlight the plight of Hindus in Bengal. He will also stress on how the rights of Hindus need to be protected in a state ruled by Mamata Banerjee's All India Trinamool Congress.
He will also launch a heavy social media campaign to put stress on the atrocities perpetrated on Hindus in the state.
More so, there will be a focus on getting Muslims to the side of the RSS as well, particularly in Muslim-dominated areas like Malda and Murshidabad.
A senior RSS worker said that they have already intimated that jihadi forces are strengthening their base as well in Bengal, which resulted in a communal riot that broke out few days back at Baduria in Basirhat North 24 Parganas.
Former principal of Presidency College Amol Mukherjee agrees that there is a need for the RSS to build a "proper platform". "RSS needs a strong voice in Bengal. Bhagwat will address such issues properly," he says.
Strength in numbers
According to RSS pracharakas, the number of RSS shakhas in Bengal have increased from 580 in 2011 to around 1,500 in 2017.
Over the past year, it has been clear that the organisation has been gaining strength. That strength was showcased on Ram Navami when several rallies were taken out.
The result of their growing influence even managed to catapult the BJP into becoming the principal opposition. As such, RSS' goal of strengthening in base is meant to help the BJP gain mileage in a state that has long voted for the Left.
More so, the agenda is also to right the wrong of the present government's policy of appeasing Muslims, which is seen as the main reason by political analysts to for BJP to have started playing the Hindutva card in Bengal.
"We have already highlighted how Hindus were tortured in various districts including South 24 Parganas, North 24 Parganas. We need a strong voice to raise our demands and the RSS chief is likely to address us on how we can go about it," a senior RSS leader says.
Jishnu Bose, general secretary of RSS in Bengal, says, "Hindus are being tortured in various places in West Bengal. The police has failed them. The main aim of Bhagwat's visit is to give us tips on how we can safeguard the rights of the Hindus in Bengal. The nexus between jihadis and radicals is fast gaining ground in Bengal and the situation is alarming."
Senior RSS leaders said that they will also submit the details of various karyakramas (works) undertaken in the state, including a martial arts training camp at Cossimbazzar in Murshidabad.
On 23 July, Bhagwat is scheduled to visit the Pareshnath Jain Temple and speak with Shwetambar Jain, who is in charge of the temple.