Rohingyas issue: Don't teach India how to deal with refugees, Kiren Rijiju says aggressively
Anurag Dey
| Updated on: 5 September 2017, 20:40 IST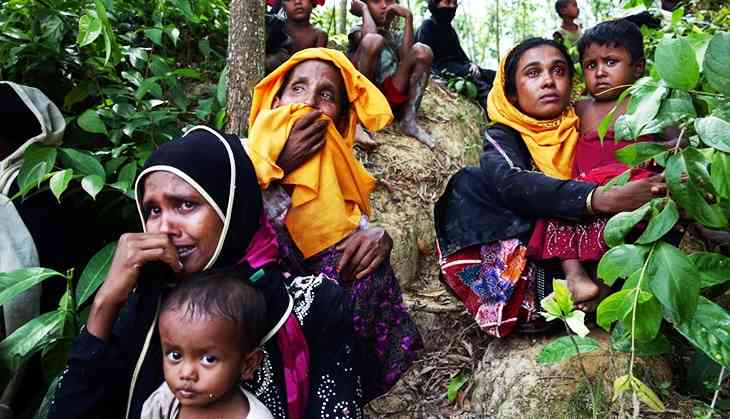 (Mushfiqul Alam/NurPhoto/Getty Images)
Despite facing a lot of criticism, India has made its position clear on the Rohingya issue. As it now stands, all Rohingya Muslims in India, including those registered with the UN Refugee Agency, will be deported.
As Prime Minister Narendra Modi left Xiamen in China after the BRICS summit for his visit to Myanmar, Home Minister Kiren Rijiju reiterated India's legal right to evict Rohingyas.
Modi, on his first bilateral visit to Myanmar, is scheduled to hold talks with president U Htin Kyaw and state counsellor Aung San Suu Kyi, who is also the country's foreign minister and minister of president's office. The Rohingya issue will definitely be a key issue that will be discussed.
Many Rohingyas, a Muslim minority in a Buddhist majority country, were forced to flee in the face of persecution and a violent crackdown. Many sought refuge in Bangladesh and several parts of India - Jammu, Haryana, Uttar Pradesh, Rajasthan and the national capital region.
Don't teach India how to deal with refugees
Besides criticism from Amnesty International India and several rights groups, who have launched demonstrations against the decision to deport the Rohingyas living in India, the move has been challenged before the Supreme Court as well.
But Rijiju asserted that India is legally justified to evict the nearly 40,000 Rohingyas and doesn't need lessons on dealing with refugees.
"International organisations, human right bodies and all, they are unnecessarily accusing India of being harsh to Rohingyas. Let me be very clear, Rohingyas are illegal immigrants, they are not citizens of India. When they are illegal immigrants, they are not entitled to what ordinary citizens are entitled to," Rijiju said in a conference in the national capital.
"The Supreme Court is hearing the matter and I don't want to comment on that. But our position is very clear and through you (media) I want to tell the international organisations, whether the Rohingyas are registered under UNHRC or not, they are illegal immigrants in India."
"India has absorbed maximum number of refugees in the world, so nobody should teach India how to deal with refugees," he said.
Rijiju did not elaborate about the process of deportation but said all the states have been asked to identifying their respective Rohingya populations.
"The position in on legal grounds. As per law, they stand to be deported as they are illegal immigrants. Having said that we are a nation with great democratic traditions, India government is not going to throw them out in the middle of ocean or shoot them. So why are we being accused of being inhuman?" he asked
"What I am stating is totally legal position, that is why we have instructed all state governments to immediately constitute a task force in each district and identify them and start the process of deportation," he said.
Events at the Supreme Court
The minister's comments came a day after a bench led by Chief Justice of India Dipak Misra sought to know the Centre's stand on a petition challenging the decision.
The petition, which has been filed by Mohammad Salimullah and Mohammad Shaqir, two UNHCR registered Rohingyas, names the Union of India, the National Human Rights Commission and the UNHCR as respondents.
The deportation has been challenged on the grounds that it violates right to equality under article 14 and the right to life and personal liberty under article 21 of the Constitution.
"The Rohingyas are being persecuted in their home country. The principle of non refoulement enunciated explicitly under Article 33(1) of the 1951 United Nations Convention on the Status of Refugees prohibits sending back refugees to a place where they face danger," it reads.
"It is considered part of customary international law and binding on all states whether they have signed the 1951 UNHCR Refugee Convention or not, mandating India to recognise this principle in the protection of the Rohingya refugees and prevent their deportation to their country where they are facing discrimination and threat to their life," says the petition.
It also cites the Directive Principle of State Policy which requires India to foster respect for international law and treaty obligations in the dealings of organised peoples with one another.
"India must respect the various Conventions and treaties that provide a framework for refugee protection and extend such protection to the Rohingya refugees in India," the petitioners said, seeking the court to order the Centre not to deport them and also provide basic amenities as required by International law in treatment of refugees.
The SC is slated to hear the matter next on 11 September. At the hearing, the petitioners' counsel Prashant Bhushan urged the court to stay the deportation order in the interim but it was denied.
The Centre too refused any assurances to the petitioners on this behalf.
Northeast cannot afford anymore immigration
The BJP led North-East Democratic Alliance (NEDA), a conglomerate of eight political parties from the north east states, on the day discussed the issue of illegal immigration at length and called for steps including sealing of borders to prevent infiltration.
Formed by the BJP in 2016 the NEDA comprises Sikkim Democratic Front, Asom Gana Parishad, Bodoland People's Front, Naga People's Front, Asom Gana Shakti, National People's Party, and United Democratic Party.
Speaking on the Rohingya issue, Assam minister Himanta Biswa Sarma said the country's north eastern region cannot afford anymore immigration.
"We already have enough immigrants and cannot afford more. Northeastern states are totally opposed to any further immigration, including Rohingyas. The Assam government is not a party to the petition, but if need be we can state our stand to the Supreme Court," said Sharma.
The NEDA held its second conclave on 5 September. Presided over by BJP chief Amit Shah, the chief ministers of five states- Assam, Manipur, Arunachal Pradesh Nagaland and Sikkim - participated.
The BJP rules three of the eight north east states - Assam, Manipur and Arunachal Pradesh. Nagaland and Sikkim are ruled by parties belonging to the NEDA.
"At the conclave, it has been unanimously agreed issue of illegal immigration needs to be dealth with strongly. It has agreed that various steps including complete sealing of the international border will be undertaken to prevent any infiltration," added Sharma.
Minister of State in Prime Minister's Office Jitendra Singh also affirmed Centre will not budge from its stand against the Rohingyas.
"It is more than obvious and the home ministry has time and again reiterated that India's position as far as Rohingya sentiments are concerned is clear, they have to go back," said Singh.
"This also equally applies to the Rohingyas, who have got illegally settled in different parts of Kashmir including Jammu and Kashmir and I am sure there is no ambiguity about it," said Singh, who also participated in the NEDA conclave.