Rise of Anurag Thakur; the perfect mix of cricket and politics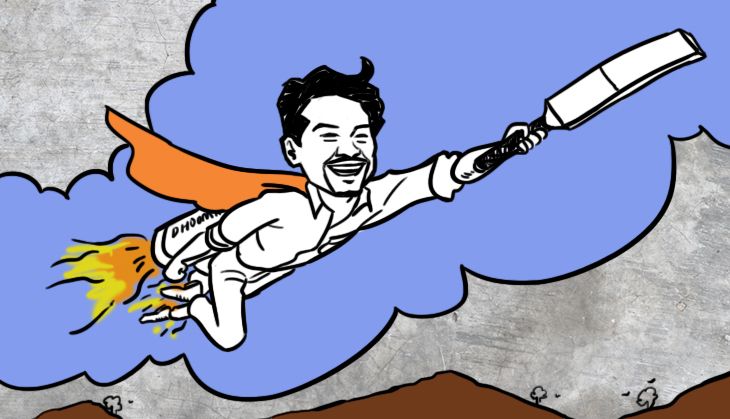 The rise of Anurag Thakur as a politician and also the president of the Board of Control for Cricket in India (BCCI) is a story of 'sonrise' in Himachal Pradesh. Son of two time chief minister, Prem Kumar Dhumal, and being a three time MP from Hamirpur constituency of Himachal Pradesh, Thakur is surely on a crest.
A young politician takes over the BCCI
Observers are baffled by a young politician from the state that has hardly any presence of consequence in India's cricketing scene, taking over as the BCCI chief. At the same time, the general perception now is that the BCCI sting will pave the way for a long political innings for him, and would compensate for whatever shortcomings he has as a political leader.
Besides the cricketing arena, he has had a meteoric rise in the politics, as he has won three straight parliamentary polls, the first one being a by-poll in 2008 from the same constituency. He was elected as the honorary secretary of the BCCI in January of 2015, before he was elected as the new president on 22 May, 2016, replacing Shashank Manohar. He happens to be the second youngest president of the body, the first one being Fateh Singh Gaekwad, who took over at the age of 33.
Read- Anurag Thakur as BCCI president: His main challenge will be finances
Observers attribute his political growth to his father. "He has been riding piggy back on the success of his father in his constituency. He does not have a mass base and is hardly visible in his constituency. Even his programmes as an MP are mainly in the rural areas. When it comes to events like public rallies, these are mainly his father's shows where he has always played the second fiddle," said a political observer and a senior journalist from Hamirpur.
Himachali as BCCI chief
But at the same time, Anurag is acknowledged for his achievements in the cricket world. "Who could have ever thought of a Himachali becoming a BCCI chief. This would be a great stepping stone for him. Secondly, the most important thing is that no one can say that it was his father's reputation or his being a chief minister hat helped him get this post," said a political observer from Shimla.
With age being on his side, a long innings in both the BCCI and politics, is being seen for him. Observers further point out that he has managed to keep everyone in his good books. While on the one hand, he has been politically close to senior BJP leaders like Arun Jaitley, Sushma Swaraj and Lal Krishna Advani, who are otherwise seen to be various poles within the party, on the other hand, he has also been on good terms with Sharad Pawar and Rajeev Shukla, from other parties.
There is no doubt that the BCCI is a big melting of individual interests, which is a great quality. Credit must also be given to him, for bringing the state of Himachal Pradesh on the international cricket map, by organizing international and IPL matches in Dharamshala ,despite all the controversies related to the stadium, regarding land lease and construction of residential complex for players.He has got immense support from the youngsters for building new cricket stadiums in Bilaspur, Nadaun and Guma in Shimla.
The perfect mix of cricket and politics?
But at the same time he is being criticized for this mix of cricket and politics. "The BJP has functioned like Bharatiya Cricket Party in this constituency because cricket considerations have always over ruled the issues of public interest for the MP," said the political observer from Hamirpur.
The state Congress' president, Sukhvinder Singh Sukhu, has hit out at Dhumal for promoting his son. "They always accuse the Congress of dynastic politics. What is Dhumal himself up to if not dynastic politics. To make things worse they are using cricket as a platform for achieving their political goals. This is nothing but commercialization of politics," Sukhu told Catch.
Also read- BCCI presidential elections: Why is it still a cosy club of politicians?
Media personnel in the state also point at two different aspects of Thakur, a cricket promoter and a politician. "Since he got everything on a platter in politics we do not expect him to play a perfect politician on issues like bijli, sadak and paani. But a the same time, coming on the political scene, he has worked his way through. He does not like to be grilled on issues of public domain," said a journalist from Shimla.
"When he used to talk of developing Himachal as another Sharjah for world cricket in the early years of the last decade, we did not take him seriously. But Himachal surely has come a long way in the field," recalled another journalist.
Three time MP but not union minister?
There are different views on Thakur not being made a union minister, despite being a three time MP, and also being in good books of the top brass of BJP. "If the Prime Minister Narendra Modi could make Smriti Irani a cabinet minister despite being a loser in polls, he surely deserved to be at least a minister of state for sports," said an observer.
But at the same time it is being pointed out that Narendra Modi preferred to not give him a ministerial berth, as this would have meant his ignorance towards the BJP chief ministers of other states. It is also said that Modi has been relatively cold towards Dhumal, as the latter is seen to be close to Lal Krishna Advani. There is also a line of thought that he might get the sports portfolio in the days to come.
Read more: BCCI a 'punching bag'? Anurag Thakur's business is divorced from his politics
Thakur has been under a fair share of criticism, for establishing his monopoly on the Himachal Pradesh Cricket Association (HPCA), by allegedly bringing about changes, in its basic structure. He had also been in news for possibly being the first cricketer to have made his first-class debut after taking over as HPCA president.
This was his one and only first-class cricket match, in 2000, that enabled his induction into the BCCI national junior selection committee, to fulfill a mandatory condition. Thakur was elected the HPCA president at the age of 25, making him the youngest head of a state cricket association, affiliated to the BCCI.
In Himachal, parallels are always being drawn between Vikramaitya Singh, the son of Congress chief minister Virbhadra Singh and Thakur, as both are seen as political heirs of the top leadership of the two main parties. At present Thakur seems to have clearly stolen a march over his rival.
Edited by Sahil Bhalla
More in Catch:
WATCH: How Indian Railways took these blind people for a ride
Forget Rio 2016, the 2020 Tokyo Olympics will be the craziest ever
Modi's mohalla: a policy swinging between benign neglect and malign attention
Mullah Mansoor's killing is a game-changer in the Af-Pak region