Ready to battle Cong: Kejriwal's year-end tour infuses energy in AAP cadres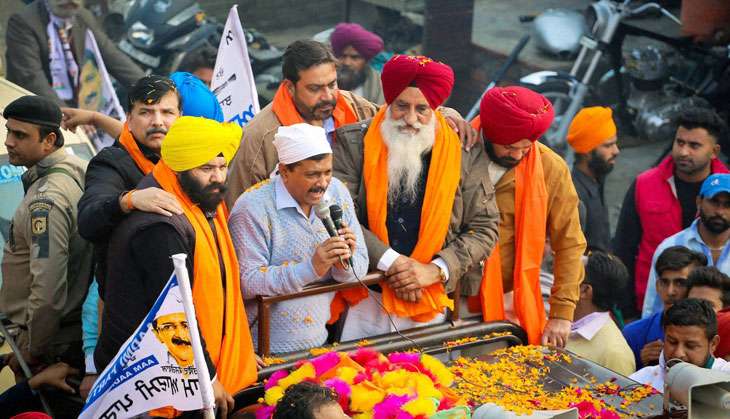 Aam Aadmi Party national convenor and Delhi Chief Minister Arvind Kejriwal's year-end tour to Punjab has infused the party cadres with fresh energy.
Kejriwal's trip has signalled a tactical change for AAP's campaign - it has now started lambasting the Congress more than the ruling Shiromani Akali Dal (SAD)-BJP combine, which is facing heavy anti-incumbency.
This comes with the realisation that state Congress president Captain Amarinder Singh has managed to bring his forces at par with AAP in the run up to the forthcoming polls, and it's high time that AAP starts putting its act together again.
The case of Bant Singh
Just before Kejriwal's visit, the party received a boost when the voice of the Left, singer Bant Singh, joined AAP. However, Bant's induction was marked by a faux pas - two people were inducted with him, and they happen to be the same people who he has been fighting in cases pertaining to the gang rape of his daughter and the murderous assault on him in which he lost his limbs.
Bant is a big name among the Dalits in Punjab, whom he has motivated by singing songs of Sant Ram Udasi, a Naxalite sympathiser poet.
Kejriwal's visit began with apologies to Bant and the removal of the attackers, who had joined the party. Bant went on to sing Udasi's verses, this time for AAP, at a subsequent rally.
In fact, AAP, over the last few weeks, has been working towards winning back its volunteers and leaders, who had left in recent months over the party's choice of candidates or over the treatment meted out to them from leaders from outside the state who have been working in Punjab.
One example of this was the way AAP's Jalandhar Cantonment candidate, HS Walia, tendered an unconditional apology to party volunteers, including former Indian women hockey team captain Rajbir Kaur, earlier this week.
To pacify the discontent in the party, AAP's Punjab leadership has gone in for another expansion of its organisational structure, giving representation to leaders in various wings and cells of the party.
Top leaders or scapegoats?
Kejriwal's tour was marked by his party resorting to the strategy that it had adopted in the Delhi polls - of fielding prominent party leaders against top guns from rival parties.
Having already named Bhagwant Mann as the candidate on the Jalalabad seat represented by Deputy Chief Minister Sukhbir Badal, and having moved the party's legal cell in-charge Himmat Singh Shergil from Mohali to Majitha to take on revenue minister Bikram Singh Majithia, Kejriwal announced the candidature of Punjab co-incharge and Delhi MLA Jarnail Singh from the Lambi constituency that is represented by Chief Minister Parkash Singh Badal.
While on the face, it may seem that these leaders have been made sacrificial lambs by AAP, observers feel that it is a clever strategy to keep the Akali top guns tied to their personal strongholds during the campaign. Besides, this will add a lot spice to the party campaign in the days to come, when the battle begins on the ground level among the public.
Kejriwal's full-frontal attack on Cong
However, the most interesting aspect of Kejriwal's visit has been the manner in which he has gone after the Congress, while being relatively soft on the Akalis this time. The attack on the Congress - particularly Amarinder, since the entire Congress campaign revolves around him - often crossed personal boundaries, which points to yet another low being witnessed in Punjab politics.
The two have been locked in a bitter Twitter war for the last few days.
Kejriwal, while accusing the Congress and the Akali Dal of having a secret agreement, went to the extent of saying that since Amarinder and Majithia have decided not to take action against each other, any vote polled for the Congress will be a vote for the drug dealers in the state.
In his rallies at Kalanaur and Kahnuwan, he said that the Badals and Amarinder have looted the state in successive terms, and the people, in the absence of any other option, were bound to vote for any one of them. However, with the emergence of AAP in Punjab, now people of the state have a healthy option to save Punjab.
"Whenever I talk about sending Majithia to jail, Captain sahib comes to fight with me. Both Sukhbir and Captain are challenging me to contest against them, but I will continue to fight against mafia raj and drugs," said Kejriwal.
In an attempt to embarrass Amarinder, he posed five questions. He began by attacking the Congress campaign on providing jobs to every household, saying that Amarinder is cheating the people by promising 60 lakh jobs to the youth when there are only four lakh sanctioned posts in Punjab and the number of central employees is around 55 lakh.
He accused Amarinder of banning recruitment against vacant posts when he came to power in 2002, and introducing contractual employment, besides abolishing the pension scheme for employees. He also pointed to Amarinder admitting that the Congress lost the last two polls because he had not made false promises. "Is this is the reason you are making so many false promises which you can't fulfill?" Kejriwal asked.
Calling cricketer-turned-politician Navjot Singh Sidhu the undeclared Chief Ministerial candidate of the Congress, Kejriwal said: "Sidhu had refused to join AAP when we denied him the post of Deputy Chief Minister, and it is a fact that he had decided to support the Congress after he was given the promise of the Chief Minister's post."
He also accused Amarinder for using his influence with Congress president Sonia Gandhi to save Bikram Singh Majithia from the CBI in 2013, when he was about to be arrested in a drug case.
Crossing the line to make personal attacks, he raised questions about Amarinder's inaccessibility, and went on to say that unlike Amarinder, who had 'interests' in Pakistan, the AAP Chief Minister in Punjab would be loyal to his wife. He was apparently pointing to Amarinder's friendship with Pakistani journalist Aroosa Alam. Amarinder's detractors have resorted to such personal attacks against him in the past as well.
Amarinder's challenge
The Congress leadership has retaliated to these attacks, with Amrinder challenging Kejriwal to come out for an open debate on all substantive issues relating to the state, instead of indulging in 'cheap and undignified gimmickry out of sheer frustration', in the face of imminent defeat in the forthcoming Assembly elections.
Accusing him of eying the state's Chief Ministerial post, Amarinder has once again asked Kejriwal to come out with the name of the AAP's Chief Ministerial candidate, saying the people of Punjab want to know who they are voting for. He asked AAP why it had not declared the name in Punjab, while it had already done so for Goa?
Citing the large number of AAP posters in Delhi showcasing deputy CM Manish Sisodia, he said this clearly indicates that Kejriwal has no interest in carrying on as Delhi's Chief Minister, as he has his sights set on heading the government in the larger state of Punjab.
Amarinder dismissed Kejriwal's allegations as frivolous, pointing out that the people of Punjab were aware of his commitment to fulfill all his promises, and asked the AAP leader to leave it to him to decide the modalities of giving jobs to the youth.
Charging Kejriwal with resorting to blatant lies to divert the attention of the people from his own party's scandals and scams, Amarinder accused him of making baseless allegations against the Congress on the job front.
AAP is anti-Dalit
More than the Congress, it is the SAD that has attacked Kejriwal for his statement on Sidhu.
Sukhbir's advisor Manjinder Singh Sirsa said Kejriwal considers Punjabis to be fools, and that's why he is resorting to a bundle of lies, so as to mislead them and try to form government in the state.
He said AAP had announced some days ago that if it came to power, then the post of deputy chief minister would be given to a Dalit MLA, but now, Kejriwal's real face has been exposed by his own revelation that he had offered the post to Sidhu.
Sirsa has accused Kejriwal of having an anti-Dalit mindset.
Edited by Shreyas Sharma