Raman Singh is now BJP's longest-serving CM. What makes him tick?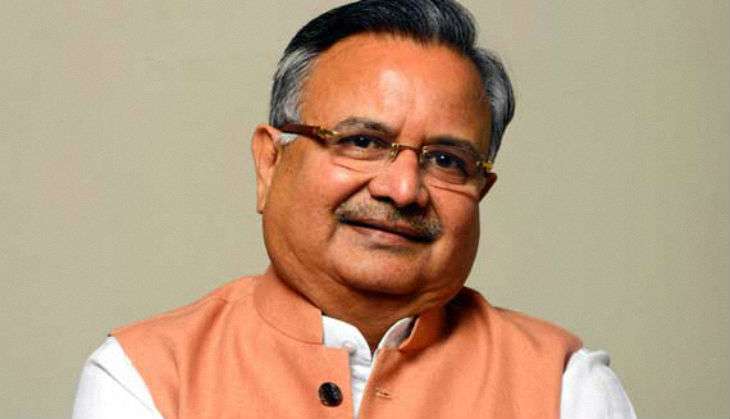 In the changing political landscape of Chhattisgarh, where former chief minister Ajit Jogi has floated a new party and likely ensured that coming electoral battles won't be an easy ride for either the BJP or the Congress, Raman Singh just touched a new milestone. On 25 July, he completed 4,613 days or 12 years and 230 days in office, surpassing Narendra Modi (12 years and 277 days) as the BJP's longest serving chief minister.
Apparently, the BJP is in heaven, savouring the "success saga" it has scripted in Chhattisgarh. But at this juncture, introspection rather than celebration will do the party good, and enable Raman to prepare the roadmap for a fourth poll victory in a row.
In his three-decade-long political career, Raman has built a brand image his competitors can only envy. The former ayurvedic doctor started to be called "Chawal Wale Baba" after he announced a scheme to provide rice for as little as Re 1 per kg to poor families through fair price shops. It was this sop that helped him win a second term in 2008.
Also read - Growth minus jobs: Raipur youth's self-immolation a sign of deeper malaise
He later won appreciation for putting in place a transparent PDS system; it was even acknowledged by the then prime minister Manmohan Singh who advised other states to adopt Chhattisgarh's model. By making Chhattisgarh an energy surplus and "zero power cut" state, he distinguished himself as a chief minister committed to development.
Rise to the top
Raman Singh, 63, hails from a small town called Kawardha. He joined Jan Sangh, the forerunner of the BJP, in the early 1970s and went on to become president of its Yuwa Morcha in 1977, a year after completing his bachelors in Ayurvda Medicine and Surgery. He then contested polls to the Kawardha Municipality and became a councillor. In the 90s, he was twice elected to the assembly of the undivided Madhya Pradesh, in '90 and '93. In 1999, he was elected to Parliament from Rajnandgaon and was made minister of state for commerce and industry in the Atal Bihari Vajpayee regime.
His acid test came in 2003 when the BJP leadership asked him to quit the Vajpayee ministry to lead the party into that year's election in Chhattisgarh, which had been carved out of Madhya Pradesh in 2000 and was holding its first assembly election. It was a tough assignment as the state was considered a Congress stronghold just as the neighbouring MP it has been created out of. In 2000, Digvijaya Singh of the Congress was the chief minister of MP and when the new state was created, the Congress installed former bureaucrat Ajit Jogi as the CM. The election was a high-voltage political drama with Jogi at the centrestage and the odds were stacked against the BJP. Still, it won.
When the BJP bosses gathered to pick the chief minister, they had several options - Raman Singh was in contention with party heavyweights such as Dilip Singh Judeo, Ramesh Bais, Brijmohan Agrawal as well as tribal leader Nandkumar Sai. But the leadership chose Raman. What went in his favour was his clean image and political acumen.
On weak footing
Raman's elevation was far from smooth, however. It caused in dissension in the party; Judeo, Bais and Sai became his government's fiercest critics. They minced no words while denouncing him at every forum. They ridiculed him for failing to "control" the bureaucracy and frequently prognosticated about the downfall of the saffron regime due to escalating "administrative terrorism".
This trio apart, Brijmohan Agrawal and Ramvichar Netam, both ministers under Raman, left no stone unturned to prove they would have been better choices for CM. Netam was once said to have even convinced the party's tribal lobby to pressure the leadership to install him as the CM. Saroj Pandey, former Lok Sabha MP, was sporadically presented as the most eligible female candidate for chief minister. She is said to be still nurturing the dream of replacing Raman as is Netam. Presently, Pandey is general secretary and Netam secretary in Amit Shah's team.
Raman though displayed sangfroid and gradually built up his support base in the party's rank and file, in no small part due to the help of Saudan Singh, the party's national joint general secretary. In his nascent cabinet, Rajesh Munat, Kedar Kashyap and Ajay Chandrakar overtly supported Raman.
Interestingly, while the BJP appeared to be polarised all the time, it always became remarkably united during elections, in sharp contrast to the faction-ridden Congress.
Taking control
Although he had been a central minister, Raman took time settling into the driver's seat in Chhattisgarh. He was described as a "passive administrator" even by his own partymen, mostly his rivals, who, along with the Congress, relentlessly questioned his capability to tame the "babus and supercops".
Raman appeared to be reticent and even diffident initially, but he was soon laying out his "vision" and setting deadlines for every target. Aman Singh, an IRS officer, emerged as Raman's Chanakya. He left the service to take up the CM's contractual offer to shape the new state. Their efforts fructified, most noticeably in the energy sector, both conventional and renewable, in which Chhattisgarh became the leader in the country. Such was his influence that Aman was regarded as the most influential bureaucrat in the country. He has remained an indispensable part of Raman's core team for over 12 years and is presently his principal secretary.
Raman has three other babus in his "think tank" - former chief secretary Shivraj Singh, who is now his advisor; additional chief secretary N Baijendra Kumar; and his secretary Subodh Singh. The three of them and Aman have shaped nearly every major strategic move made by the chief minister, from public interaction and outreach programmes including Lok Suraj Abhiyan, Nagar Suraj Abhiyan, Jandarshan and Raman Ke Goth on the lines of PM Modi's Mann Ki Baat.
Poor record
Although his party claims to be pro-farmer, Raman has failed to keep his campaign promise of disbursing paddy bonus of Rs 300 per quintal to the state's farmers. His government's decision to cap paddy procurement at 15 quintal per acre has led the Congress to portray him as pro-capitalist and pro-industrialist. The opposition party has slammed his regime for selling water, forests and land to industrialists and making farmers and tribals landless.
The Congress has also cornered Raman on the issue of Naxalism, charging his regime with having a nexus with the ultras. The party has even accused the saffron brigade of rigging elections with the help of the insurgents. The BJP is also facing heat over the alleged atrocities being committed by the state against common people in the Naxal hotbed of Bastar.
Security is an issue on which the Raman regime has always been on the backfoot. The biggest stain on the CM's record is the bloodbath in Jiram Valley on 23 May 2013, when Naxals killed nearly 30 people, including top Congress leaders Nandkumar Patel, Mahendra Karma and Vidya Charan Shukla.
Apart from this, Raman has failed to explain why a state that boasts of a GDP growth rate over 10% has done little to improve school education, and reduce infant mortality and malnutrition rates in remote areas.
More in Catch - Rice scam trail is catching up with 'Chawalwale Baba' Raman Singh
Sukma CJM's sacking: something is rotten in the state of Chhattisgarh