Rajya Sabha polls: BJP to increase its tally but it will still be in a minority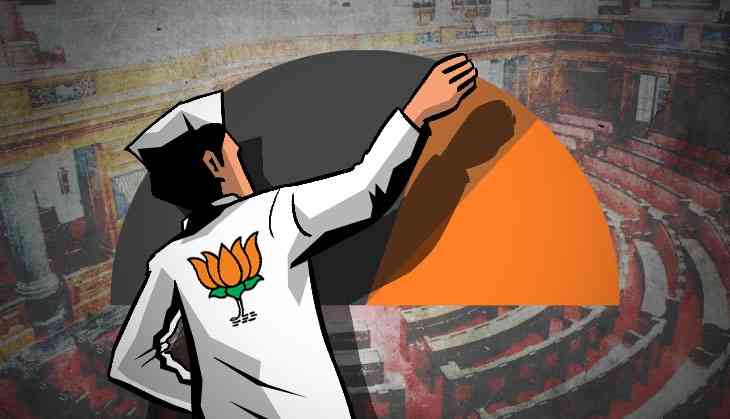 As political parties slug it out for the Assembly elections in the North East, another round of elections in April could hold the key to BJP's fortunes in the Rajya Sabha. Ever since it registered an emphatic win in the 2014 Lok Sabha elections, BJP has not been able to assert itself in the Upper House the way it wants to despite winning most of the state Assembly elections since then.
At present, the ruling party has 58 members in the Rajya Sabha and its electoral victories across states since 2014 will certainly help it beef up its presence there. However, even these victories will not help the party and its alliance partners to cross the majority mark, which should come as a major relief to the Opposition.
Nearly one-fourth of Rajya Sabha members retire every two years and it is for this reason that political parties will spar for 58 seats that go to polls later in March. Last week, the Election Commission announced that polls for these seats would be held on 23 March with results being announced the same day.
BJP's winning streak in state Assembly elections since 2014 has not yet helped the saffron party in increasing its presence in the Upper House. Wins in states like Uttar Pradesh, Maharashtra, Madhya Pradesh, Haryana, Jharkhand, Rajasthan, among others, will now pay dividends as BJP looks to try and win as many seats as it can from these states. The ruling party sees the upcoming biennial elections as an opportunity to counter the Opposition that has used the Upper House as an effective platform to attack the government over its politics and policies.
Meanwhile, out of the 58 seats that are up for grabs, UP leads the pack with with 10 seats followed by Bihar and Maharashtra (6 seats), Madhya Pradesh and West Bengal (5 seats each), Gujarat and Karnataka (4 seats each), and three seats each in Andhra Pradesh, Telangana, Odisha and Rajasthan.
Of the 10 seats in UP, BJP is certain to win eight while SP will win one and the remaining seat could go to any of the parties in the fray. A combined Opposition could get one seat but it remains to be seen whether these parties can put up a united front to deny BJP yet another seat.
Interestingly, Jaya Bachchan whose term expires in April is looking for a return to Rajya Sabha as a Trinamool Congress candidate. Bachchan was representing SP in the Upper House but that is not likely to happen now.
Four members retire from West Bengal in April and out of these three are expected to go to TMC with one remaining seat expected to be won by Congress and CPM. This is even more interesting considering how the CPM has shot down the idea of having an alliance with Congress before the 2019 polls. It remains to be seen whether the party agrees to vote for a consensus candidate in the upcoming polls.
Meanwhile, the saffron party is expected to win seats in Uttrakhand, Jharkhand, Haryana and Maharashtra. In order to counter a united Opposition, it remains crucial that BJP allies remain committed to the party to help it win seats that could go either way. It is here that BJP could find itself in an uncomfortable position since some of its allies have not been so forthcoming in its support for the party.
A tough contest is on the cards in Andhra where TDP supremo Chandrababu Naidu is unlikely to help BJP in winning any new seats. In the previous biennial elections held in 2016, Naidu had given Union minister Suresh Prabhu a seat from his kitty which is unlikely to happen considering how the Andhra chief minister has raised the banner of revolt against the central government over providing special status to the state. Three members from the state are retiring in April this year.
Similarly, in Maharashtra, it is going to be an intriguing contest since a lot would depend on the Shiv Sena that has been on the warpath with the BJP in upcoming polls. If the Sena chooses to not support the BJP in the Rajya Sabha polls, it should be a cause of concern for party strategists in the run up to the 2019 polls.
Meanwhile, the ruling party is expected to lose two seats in Gujarat where Congress put in a spirited performance in the recently held Assembly elections. The party is also expected to lose one seat in Bihar but that won't be such a shock considering its alliance partner JD(U) could win the remaining seats.
Despite these gains, BJP is still away from securing a majority in the Upper House where it has faced resistance by a united Opposition that has been successful in stopping the passage of several bills. It is for this reason that the ruling dispensation has chosen to introduce many Bills as Money Bills which do not necessarily need the approval of the Upper House.
What has made these elections even more intriguing is the fact that eight ministers in the Modi cabinet will also have to seek re-election in order to continue working in the government. While none of them are likely to be dropped, they will have to contest from other states in order to continue as ministers.
In fact, Union Finance Minister Arun Jaitley, who was elected from Gujarat, will have to face re-election and it is not yet certain whether he would seek re-election from the prime minister's home state. Except for Jaitley, the term of two more ministers of state – Parshottam Rupala and Mansukh Mandaviya – ends this April. Considering the fact that the saffron party is expected to win only two seats from Gujarat, speculations are rife that the two ministers of state could be re-elected from the state with Jaitley choosing another state to re-enter Rajya Sabha.
Similarly, term of Union ministers Dharmendra Pradhan, Thawar Chand Gehlot, Prakash Javadekar, Ravi Shankar Prasad and JP Nadda too will retire in April. While Gehlot is expected to be renominated from MP, Javadekar could be shifted to Maharashtra. The remaining ministers could be sent to another states where BJP is sure shot of securing seats for them.
The upcoming biennial elections will certainly help the BJP in improving his tally in the Rajya Sabha but it needs support of regional partners to secure more seats to take on the Opposition. However, even with the support of its regional allies, NDA will not cross the majority mark and the Opposition will continue its tirade against the government which should concern the BJP. Despite the gains in these elections, BJP would continue to remain vulnerable to attacks from a united Opposition.