Rajiv Gandhi did a Sushma in 1985 - for a convicted felon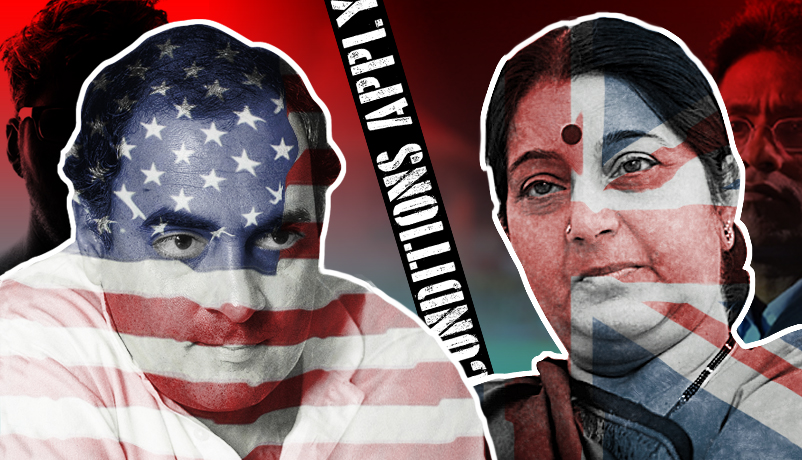 Indian politicians like to adopt a high moral tone while attacking their adversaries. That is precisely what the Congress party is doing in asking for the resignation of External Affairs Minister Sushma Swaraj for helping a fugitive, Lalit Modi. However, the party itself has feet of clay.
Congress leaders will be well-advised not to celebrate too early when they ask for Swaraj's head. A much more serious allegation on this count exists in the annals of Congress' own history. The allegation is against none other than former Prime Minister Rajiv Gandhi.
If Sushma Swaraj helped a fugitive on 'humanitarian' grounds, then Rajiv Gandhi as Prime Minister in 1985 helped a childhood friend, convicted and sentenced in the US to a long jail term, get a presidential pardon.
On 11 June, 1985, US president Ronald Reagan signed a clemency petition granting presidential pardon to a convicted felon - one Adil Shahryar - the day prime minister Rajiv Gandhi arrived in Washington on a State-visit to the country.
Adil Shahryar was a prisoner in a US jail serving a 35-year federal sentence for attempting to blow up a ship and for four other related offenses, having being arrested on charges of importing an illegal substance.
Adil was the son of Muhammad Yunus, India's ambassador to several countries, special envoy to Indira Gandhi and a long-time friend of the Nehru-Gandhi family. As news of Adil's pardon broke, the White House press office confirmed it.
Rajiv Gandhi's guilt was double. At stake was justice for thousands who died in the Union Carbide tragedy
It has often been alleged that this release was the result of a quid pro quo between Ronald Reagan and Rajiv Gandhi. Adil was pardoned, in return for India not pushing for the extradition of Warren Anderson, the fugitive CEO of Union Carbide who escaped accountability for the Bhopal gas tragedy in 1984.
Rajiv Gandhi was already the prime minister when the Bhopal gas tragedy took place. He allegedly helped Anderson in securing a release from an arrest on a personal bond of Rs 25,000, fly to New Delhi on a state government plane, and eventually escape from the Indian judicial system to the US.
India did not put in a request with American agencies for Anderson's extradition till 2003.
It is believed that Reagan owed Rajiv a favour for helping Anderson escape. Rajiv did yet another favour to the US president by not pushing for Anderson's extradition once he pardoned his friend Adil.
So Rajiv's guilt was actually double. At stake, was justice for the thousands who died in the Union Carbide tragedy and all those who continue to suffer long-term damage from the gas leak at Bhopal.
Even if Sushma Swaraj is guilty of helping Lalit Modi travel on British travel documents, what is at stake is only a case of foreign exchange violation. There is no culpability for mass death due to negligence as in the case of the Union Carbide tragedy.
She, however, needs to answer whether it would not have been prudent to consult the Enforcement Directorate before assisting the man who was the agency's fugitive.
She and all those backing her also need to ask themselves why they think that there is no illegality involved in assisting a fugitive for anything other than helping his arrest.
But the Congress, with the albatross of such a stark criminal collaboration hanging around its neck, cannot occupy the high moral ground to ask these questions.