Rahul set to take over as Cong President: can he revive the party before 2019?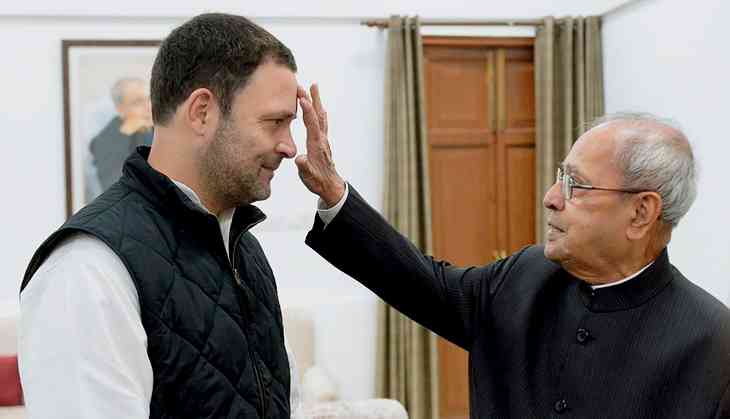 A galaxy of senior Congress leaders Monday converged at the party headquarters in New Delhi to sign papers proposing Rahul Gandhi's name for the post of party president.
Among those present were former Prime Minister Manmohan Singh, former President Pranab Mukherjee, Ahmed Patel, Motilal Vohra, Ghulam Nabi Azad. As of now, Rahul's whose elevation remains a mere formality.
The entire nomination process on Monday witnessed no unexpected drama which did surprise some senior leaders who spoke about previous such elections where "heated arguments" had broken out, some of which resulted in "broken chairs".
Members of the party's election committee said that the outcome of the nomination process would be announced on 11 December – the last day of withdrawing nominations.
The big day
Earlier in the day, Rahul started his visit from Raj Ghat and then visited Singh and Mukherjee before reaching headquarters where he was greeted with loud cheers.
After holding the vice-president's post for five years, Rahul is all set to replace his mother Sonia Gandhi, who has been Congress President for 19 years.
In fact, she was the first party leader to nominate Rahul and did it from the confines of her home next door. Before filing the nomination at the party headquarters, Rahul was seen hugging former Delhi chief minister Sheila Dikshit and veteran leader Mohsina Kidwai.
Thereafter, senior leaders made a beeline to endorse Rahul's candidature in an detailed process which party leaders claimed highlighted the party's democratic process, particularly in light of the allegations of dynastic politics levelled by BJP and Prime Minister Narendra Modi.
Calling it a historic day for the party, senior leaders heaped praises on the Gandhi scion repeatedly emphasising on how he has managed to make the PM nervous in his home turf - Gujarat - which goes to polls on 9 and 14 December.
Once the nomination process was over, the party's central election authority announced that a total of 89 nominations. Party sources claim that Rahul's nomination remains unopposed.
A historic day
Later, speaking to the media, former PM Manmohan Singh showered praises on Gandhi and said, "Rahul Gandhi has been the darling of the Congress party and this will add yet another chapter in his quest of serving the people for the Congress party. Rahul Gandhi will carry forward the great traditions of the party."
Meanwhile, senior Congress leader Anand Sharma called it a historic day and said, "It is a historic day for Congress. It's a big day today that Rahul Gandhi is taking this responsibility at a time when there is big challenge before the party. The Congress party will always stand by him to support him in his success."
It is not clear whether Sharma was referring to the upcoming Gujarat assembly elections but it is clear that Rahul faces an uphill task of reviving the 131-year-old party that has been facing a string of electoral defeats ever since BJP came to power in 2014. Many senior leaders believe that his elevation would lead to a generational shift in the party while striking a balance between experience and youth.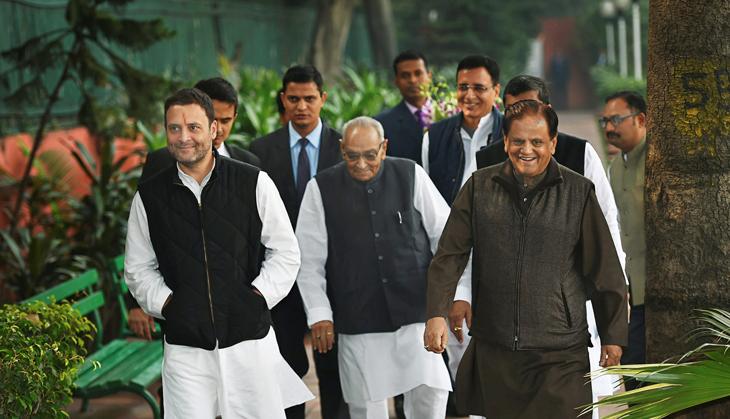 PTI
A spirited campaign
In fact, the presence of so many veteran leaders at the party headquarters on Monday to endorse his candidature dispelled all rumours of Rahul sidelining those who have served the party for decades. Meanwhile, Rahul's first challenge lies in Gujarat where he has launched a spirited campaign which has hit a chord with Gujaratis who are thronging his rallies.
In Modi's home state, he has been successful in building a rainbow coalition of separate caste groups which has made Congress look like a formidable opponent in the state after a gap of nearly two decades. His campaign and alliances have silenced his detractors within the party who had been raising doubts about his leadership skills.
2019 would be no different for the Gandhi scion as the party faces assembly elections in Karnataka, Madhya Pradesh, Chhattisgarh and Rajasthan. It remains to be seen whether Congress under his leadership can retain Karnataka while dislodging BJP from the other poll bound states. These elections would be crucial for Rahul and can be called as semi final before the final battle in 2019.
It remains to be seen whether Rahul can rejuvenate the party in states like Uttar Pradesh, Bihar, West Bengal, Odisha, Tamil Nadu, among others, where the state units are in complete disarray largely because of infighting within the ranks. Moreover, how effective would he be in stitching up alliances with like-minded parties would also determine whether the grand old party is in position to counter Modi's popularity.
'Aurangzeb Raj'
Meanwhile, as the news of Rahul's nomination made headlines, Modi, at a rally in Gujarat, took digs at Congress and said, "I congratulate the Congress on their 'Aurangzeb Raj.' For us, the wellbeing of the people matters and 125 crore Indians are our high command."
Referring to Congress worker Shehzad Poonawalla, who had called the election to Congress president as rigged, Prime Minister in his rally said, "A youngster Shehzad has exposed the rigging that is taking place in the Congress President Poll. And Shehzad is a senior Congress leader in Maharashtra. Congress has tried to muzzle his voice and wants to even remove him from their social media groups. What tolerance is this?"
Responding to Modi's allegations, Congress' chief spokesperson took pot shots at the Prime Minister and spoke about senior BJP leaders who have been sidelined by the Modi-Shah duo. "Dear PM,your love for 'Shahzad', 'Shah-Zada'& 'Shaurya' is now well known, but 'Nation wants to know' when will you reply to the qns raised by Sr BJP leaders,'Shourie'(Arun), Sinha(Yashwant)& Sinha(Shatrughan) Blinded by rage & enmity,what unimaginable depths would you fall to?" Surjewala asked.
He further went on to add, "Modiji,Do tell Gujarat & Country about the victims of yours & Amit Shah's 'internal democracy' in BJP,namely- Sh.Lal Krishan Advani, Keshubhai Patel, Hiren Pandya, Kanshiram Rana, Anandiben Patel, Murli Manohar Joshi, Sanjay Joshi,who were compulsorily lost in pages of history."