Rahul Gandhi 2.0: Pappu can dance! With a little help from Prashant Kishor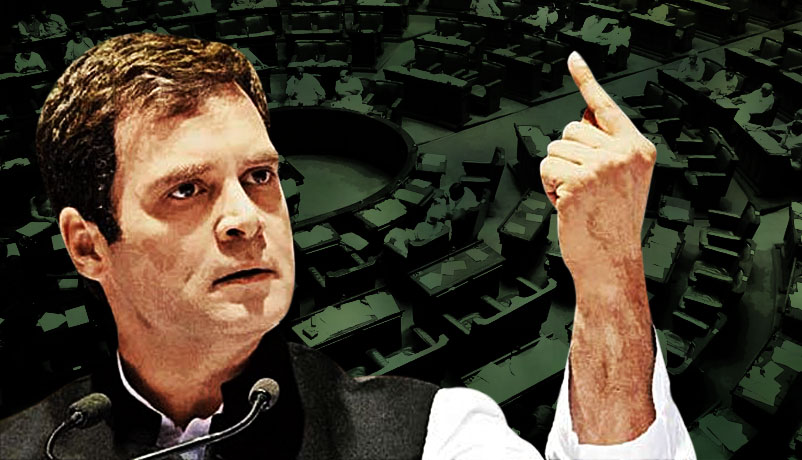 The speech
Rahul Gandhi gave a combative speech in the Lok Sabha
He said Arun Jaitley has come up with a \"fair and lovely\" scheme to turn black money into white
The strategist
Congress has hired the services of political strategist Prashant Kishor
He has been given full charge of the party\'s UP campaign
More in the story
Highlights from Rahul\'s speech
What is Kishor\'s mandate?
How much power will he wield?
Congress vice-president Rahul Gandhi seems to be getting his act together, finally. Speaking in the Lok Sabha on Wednesday, Gandhi put the government on the mat, attacking the Prime Minister, finance minister and the RSS in one go.
Gandhi also has got on board the most high profile election manager in the country - Prashant Kishor. The agreement with Kishor is keeping in mind the crucial state elections next year, especially Uttar Pradesh, as well as the 2019 elections.
Whether it is the Prashant Kishor factor or his own efforts, it was a completely different Rahul Gandhi in Parliament. He appeared a more mature politician and a confident speaker.
But the highlight on Wednesday wasn't just his performance in Parliament, Gandhi also met top party leaders from Uttar Pradesh to discuss the strategy for the 2017 Assembly elections. Kishor was also present at the meeting.
The speech
In a 30 minute-long speech, Gandhi criticised the Budget, attacked the Prime Minister and the government. He also spoke about nationalism, patriotism and the idea of India.
Immediately after his speech, the BJP MP Prahlad Joshi said that instead of addressing the house, Rahul Gandhi was addressing a public meeting. Joshi is right. Rahul's speech was an address to the people from the floor of the House. Here are the major highlights:
"The budget speech of Finance Minister Arun Jaitley surprised me when I heard about a fair and lovely scheme under which allows any thief to pay tax and get his black money converted into white."

Last year, he called the Modi government a 'suit boot ki sarkaar'. This fair and lovely comment comes from a popular line of the ad world and is a well conceived and politically loaded attack.
I was surprised to hear Jaitley's fair & lovely scheme to convert black money into white, said Rahul
There were some errors in his speech. Some seemed deliberate. When BJP MPs pointed them out, he said, "I am not from RSS. I do make mistakes".

He later added, "you think that you (the BJP and RSS) know everything and you can't make mistakes. It's the other way around in my case. I make mistakes. I don't claim that I know everything. I learn from my mistakes and from the people".

At a time the government is showcasing its "pro-poor" Budget, Gandhi reminded how PM Modi defamed MGNREGA in Parliament.

"It is Mahatma Gandhi scheme and not Savarkar scheme. We talk about Gandhi, you speak about (VD) Savarkar. (the treasury benches react)... is it wrong (that you are followers of Savarkar). Or have you thrown him out? It is good if you have done so."

While putting forward his position on the JNU sedition row, Rahul said, "Respecting the flag means respecting the opinion of every Indian. When I went to JNU, ABVP workers waved black flags in my face. They taunted and abused me. I felt no anger. In fact, I felt proud that I still lived in a India where it was possible for me to be confronted by people who held a different opinion. I don't agree with their views. I protected our Indian flag when I let your people wave those black flags in my face. I protected the Indian flag when I allowed them to taunt me."
His speech does seem to have rattled the BJP as can be seen from the fact that Arun Jaitley issued a detailed response to it.
"As one evolves from a young to a middle-aged one, we certainly expect a certain level of maturity. The more I hear Shri Rahul Gandhi, the more I start wondering "how much does he know - when will he know," Jaitley wrote on his official Facebook page.
The Prashant Kishor Factor
Credited for bringing electoral laurels for Prime Minister Narendra Modi and Bihar Chief Minister Nitish Kumar, Kishor is the new poster boy of backroom strategies.
The 38-year-old former UN officer, Kishor shot into limelight after Narendra Modi led BJP secured a landslide victory in 2014 Lok Sabha elections. However, he did a political U-turn and embraced Nitish Kumar for the 2015 Bihar elections. Operating from Nitish Kumar's bungalow in Patna, Kishor was back to doing what he does best.
And he lived up to the hype when the results of the Bihar elections were announced. The BJP suffered an embarrassing defeat despite Modi's aggressive campaigning. Nitish returned the favour and gave him the rank of a Cabinet minister. But those who know Kishor claim that he loves challenges and would not have been happy biding time in the confines of the CM office in Patna.
Kishor moved on to his next mission which can easily be dubbed as his toughest. He has joined hands with the Congress. Of course, Nitish Kumar did have a say in bringing the Congress and Kishor together.
On 3 March, Kishor had his first major rendezvous with the Congress and its ways. He was asked to sit through a meeting where top leaders brainstormed on what all needs to be done to revive the party in Uttar Pradesh. Those present in the meeting included Rahul Gandhi, Madhusudan Mistry, Digvijaya Singh, RPN Singh, Sheila Dikshit, and Nirmal Khatri among others.
With an eye on 2017 UP elections, Kishor has suggested a bigger role for Priyanka Gandhi
Soon after the 5 hour long meeting got over, the leaders emerged with a new found vigour. Khatri, the UP Congress president, said, "We would not have any alliance with the "3 Ms" (Modi, Maya and Mulayam) because they are sitting on RSS' lap. We will go it alone and win the elections." When asked about Kishor's role, he said, "He specialises in certain things and we would seek his help for that." His track record seems to have given the party a hope for achieving the unachievable.
Such has been his influence on Rahul Gandhi that he has been asked to directly report to the Congress vice president. Even Congress President Sonia Gandhi has given him a go ahead to identify a new general secretary in-charge for UP.
The party has also allowed him to hire a team of professionals to manage the campaign. His sudden rise can be gauged from the fact that general secretaries and office bearers of UP Congress will now report to him.
Party insiders claim that Kishor has also pitched for a bigger role for Priyanka Gandhi in the UP elections, which they believe can be a masterstroke. "He has certainly made some bold decisions and has not minced any words while criticising the present party setup in the state," said a Congress leader on the question of anonymity.
According to those present in the meeting, Kishor just sat quietly listening to all the suggestions made by senior party leaders. It is said that he will soon submit a report after which the next course of action will be decided. "His rise may unnerve some senior state leaders but we need to take some drastic steps if we have to stop the Modi juggernaut," said a Congress leader.
It's too early to predict whether Kishor will deliver or not. But his record does offer hope to the Congress.
More in Catch - Is a BSP-Congress-RLD Grand Alliance emerging in UP?
5 reasons why the Congress is in a shambles in Uttar Pradesh