Raghopur: will Yadav consolidation help Tejaswi avenge Rabri's defeat?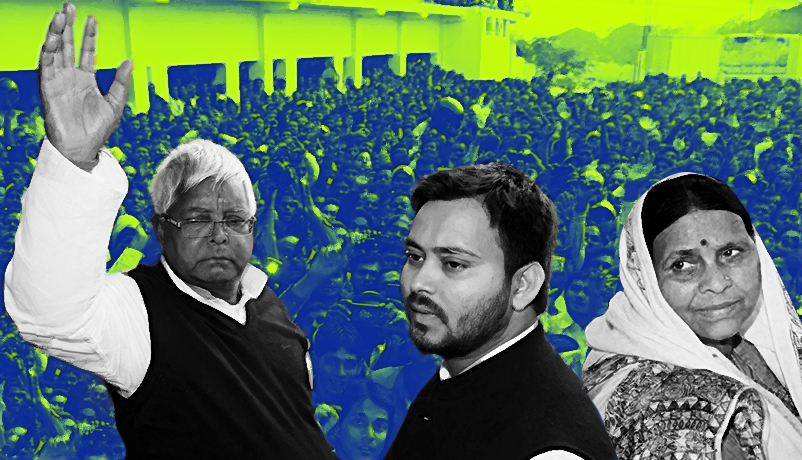 The scion
Lalu Prasad\'s son Tejaswi is contesting from Raghopur in Vaishali district
Lalu is working hard to ensure his victory
The seat
Satish Rai of the JD(U) had defeated Rabri Devi here last time
He is now contesting on a BJP ticket
More in the story
What are Tejaswi\'s prospects?
Are Yadavs consolidating behind the RJD?
Lalu Prasad's convoy of over 20 vehicles is unable to pick up speed while passing through Vaishali district. It isn't because of the condition of the roads. He is greeted by people at every settlement.
Despite his popularity, Lalu is sparing no effort. The reason is that his son Tejaswi is the RJD candidate from the Raghopur seat in Vaishali district.
As the convoy stops, people run towards the Lalu and his family. "Ekdum nischint rahiye, bhaiya jitenge," a supporter tells Lalu, assuring him of his son's victory.
The cries of Lalu Yadav Zindabad and Rabri Devi Zindabad slogans are followed by Tejaswi Bhaiya Zindabad. Tejaswi smiles and waves at the crowd. He is more outgoing than than his elder brother, Tej Pratap, who is contesting from a neighbouring assembly seat, Mahua.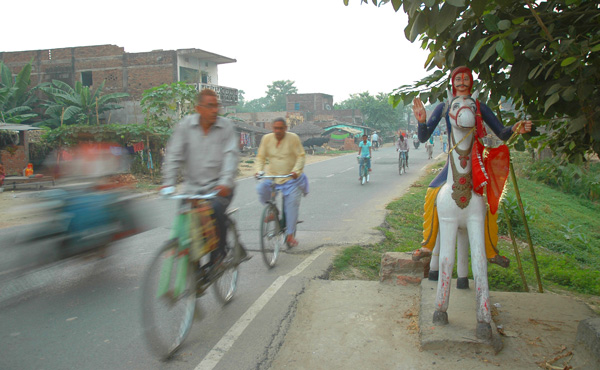 Family turf
Raghopur is an easier seat for the RJD compared to Mahua. The RJD has been winning the seat since 1995 (it was Janata Dal back then, as Lalu hadn't split from the parent party), until they lost in the Nitish Kumar wave of 2010. Satish Rai of the JD(U) won the seat, defeating Lalu's wife and former CM Rabri Devi. He is contesting on a BJP ticket this time as he was denied a ticket by the JD(U). Rai, also a Yadav, hails from Rampur village in the constituency.
It is upto Tejaswi to avenge his mother's defeat.
Raghopur has been a Yadav family of sorts as both Lalu and Rabri have represented it in the past. However, the poor infrastructure in the area isn't quite what you would expect in such a high-profile constituency.
The voters in Raghopur have a sense of ownership over Lalu and his family.
"Who made Lalu Yadav what he is? Raghopur. The people here gave him his political base. The RJD is sure to win," says Mithun Yadav, a local contractor.
Even Lalu's beef remark hasn't affected Raghopur's Yadavs. They're firmly behind his son Tejaswi
On being asked why Rabri Devi lost from here last time, he says, "teaching someone a lesson once doesn't amount to throwing them out of home".
"Satish Rai did nothing here. And now he has joined hands with the BJP against Lalu ji. We will show him his place," he adds and many others in crowd echo these words.
Tejwasi is in the Lalu mould. In fact he actively tries to copy his father using earthy witticisms. If the Grand Alliance wins, he could become a minister in Nitish Kumar's Cabinet.
This is a big reason that Lalu is leaving no stone unturned to ensure the victory of both his sons. The RJD has been out of power in Bihar since 2005 and from the Centre since 2009. Winning in 2015 is critical for the political survival of his party as well as his family.
In his speech, Lalu raises local development issues and at the same time attacks Prime Minister Narendra Modi for cheating youths and farmers. He tells people about how two young Dalit boys were burnt alive in BJP-ruled Haryana. Like Nitish, he also stresses on the Bihari versus Bahari divide.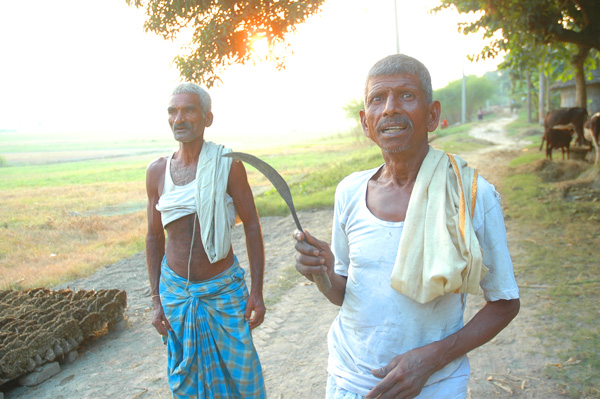 What the voters feel
There is a sense of determination among the Yadavs of Raghopur that they have to ensure RJD's victory.
"Satish Rai is a Yadav but he didn't do anything here. Nitish and Lalu can bring development to Raghopur and Bihar as a whole," says Mantu Rai of Rajasan village.
This is one of the biggest villages in Raghopur. It has more than 500 Yadav households and almost 200 Rajput households, who are leaning towards the RJD. "Unlike other areas, Rajputs here have voted for the RJD. This will happen again," says Chandresh Singh.
Tejwasi copies Lalu by using earthy witticisms. He may become a minister if Grand Alliance wins
Even Lalu's remark that Hindus eat beef hasn't made the Yadavs in Raghopur change their mind.
"I don't like my father as well. But who else will perform his last rites," says Rajnandan Rai, a Yadav voter says.
Going further, we find statues of Chuharmal, a deity of Dushadhs (Paswans) at many places. Paswans do have some presence in the area and most of them swear by LJP chief Ram Vilas Paswan, who is with the NDA. Most Paswans seem firm on voting against RJD.
The caste divide that exists across Bihar can be seen in Raghopur as well. But a near complete consolidation of Yadavs might just see Tejaswi through.