RaGa's meet with Chinese envoy: Congress goes from political force to farce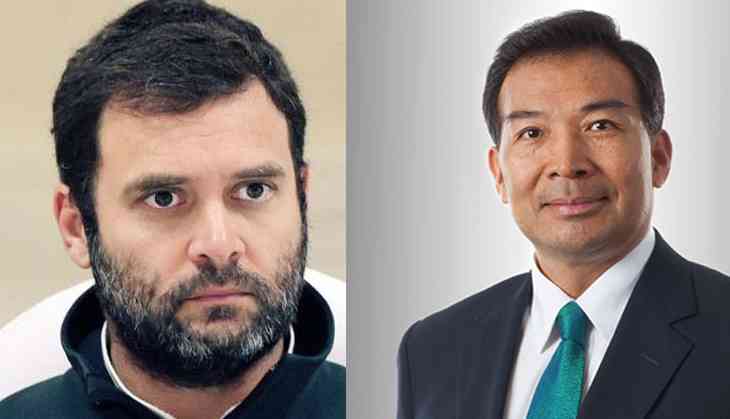 Is the Congress really serious about being seen one of India's major political forces? Or is it bent on becoming a political farce?
How else can one explain the day-long flip-flop over party vice-president Rahul Gandhi's meeting with Chinese ambassador Luo Zhaohui?
Throughout Monday, the party's mismanagement turned a routine meeting into a controversy, giving free fodder to its detractors and making itself a laughing stock among the public.
And this wasn't even the first time Rahul met the Chinese envoy. But the brouhaha and the cover-up made it sound like it was some secret mission discovered by the media.
The Congress even made Chinese officials look foolish by not letting them own up to the meeting. The party even reportedly coerced the Chinese into deleting the note on the meet, which further fueled speculation.
The Chinese Embassy's website had displayed news of the meeting prominently on the 'embassy news' section of the Mandarin version of the website. But after TV channels played up the story, it disappeared, not just from the website, but also from the embassy's official account on WeChat, a popular platform in China.
How the drama unfolded
Congress's chief spokesperson, Randeep Singh Surjewala, first called news reports of the meeting 'fake', only to confess later that the meeting did happen, and that too, with two envoys – the Chinese and the Bhutanese.
Here's the way the drama unfolded on Twitter:
A wanting to be 'Bhakt' channel will not question 3 Union Ministers visiting China or PM's bonhomie & praise at G20 yet run fake news!

— Randeep S Surjewala (@rssurjewala) July 10, 2017
Before MEA & IB sources plant news with 'Bhakts', they should reverify that we still have diplomatic relations with all our neighbours.2/n

— Randeep S Surjewala (@rssurjewala) July 10, 2017
Will 'Bhakts' look at this news too? Or do they promise, based on plants, that 'conversation is dead'? 3/n https://t.co/pU320sC1Oc

— Randeep S Surjewala (@rssurjewala) July 10, 2017
Will the plants & sources of 'Bhakts' falsify this news too?Oh! It's wrong to speak about BJP Govt & Ministers!4/n https://t.co/QB2B1OCoL9

— Randeep S Surjewala (@rssurjewala) July 10, 2017
Ohh! And 'Bhakts' are precluded from questioning this doublespeak too.
We forget-two BJP mouthpieces & sundry wannabe's get a script! pic.twitter.com/KfrofnNh6Z

— Randeep S Surjewala (@rssurjewala) July 10, 2017
It is my job to be informed on critical issues. I met the Chinese Ambassador, Ex-NSA, Congress leaders from NE & the Bhutanese Ambassador

— Office of RG (@OfficeOfRG) July 10, 2017
If Govt is so concerned abt me meeting an Amb,they shld explain why 3Ministers are availing Chinese hospitality while the border issue is on pic.twitter.com/4FCuu9SiAe

— Office of RG (@OfficeOfRG) July 10, 2017
And for the record I am not the guy sitting on the swing while a thousand Chinese troops had physically entered India pic.twitter.com/THG4sULJJC

— Office of RG (@OfficeOfRG) July 10, 2017
Envoys met Rahul Gandhi ji, not only Chinese envoy but also Bhutanese envoy and ex NSA Shiv Shankar Menon: RS Surjewala

— ANI (@ANI_news) July 10, 2017
This led BJP leaders to take digs at the Congress. ANI quoted Union minister Venkaiah Naidu as saying: "If a Congress leader has met with the Chinese Ambassador, what is secret about it? Why should they try to hide it and later give explanations?"
Just like Surjewala, journalists covering the Congress too were caught up in the farce.
Before Surjewala's acceptance, most trashed reports of Rahul meeting the envoy. There was a lot of "did he, did he not", while some even went to the extent of calling it a fake, photoshopped note, and a 'conspiracy'.
Soon, with Surjewala accepting that the meetings had taken place, even staunch supporters didn't have a leg to stand on. "In Congress, the right hand doesn't know, what the left hand does," quipped one.
Tewari's non-defence
Former Union Manish Tewari was the one chosen to defend the indefensible in front of the media.
However, Tewari went straight on the offensive. He had clearly been instructed on what to say and what not.
Soon after he accepted that Gandhi scion did meet the envoy, Tewari faced a volley of questions asking why the party did what it did.
"I am not entertaining any more questions on this," he said.
Instead of replying to why Congress dismissed the reports only to accept them later, Tewari said that the party never denied it. When questioned about Surjewala's earlier tweets, Tewari said that there was no denial.
When asked about the 'fake news' part, he reiterated what he said earlier.
One must feel for Tewari and wonder why Surjewala didn't appear to defend his tweets that led to this controversy.
However, instead of offering any credible answers, a livid Tewari indulged in a blame-game exercise, and questioned why media doesn't ask these questions to Prime Minister Narendra Modi, who went on to meet the Chinese President in Hamburg, despite the escalating tensions at the Indo-China border in Sikkim.
What he said made sense – that the Prime Minister should also answer why he met the Chinese President. But, little did Tewari realise that it was his party's own doing, and the BJP had no role in it.