Rafale Deal: Cong accuses Modi of promoting crony capitalism by helping Anil Ambani
Catch Team
| Updated on: 14 November 2017, 20:03 IST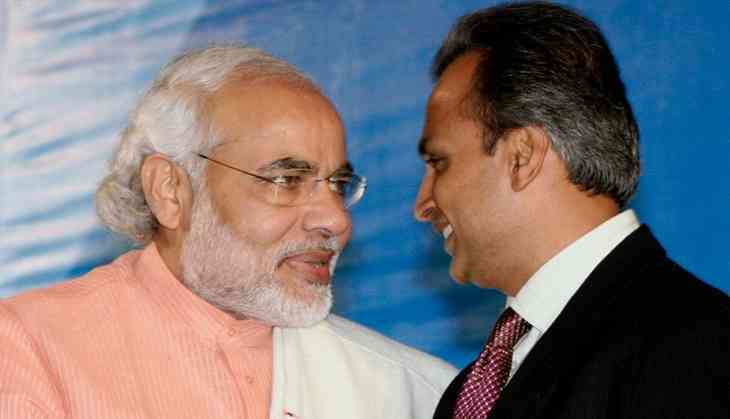 Levelling serious allegations of crony capitalism against the Prime Minister Narendra Modi-led government, Congress on Tuesday accused the ruling dispensation of indulging in an unforgivable game of compromising "national interest" and "national security".
More so, it accused the Modi government of maintaining a "conspiratorial silence". The leading Opposition party hinted that the previous deal inked by the UPA government to buy 126 aircrafts was junked by the BJP government to favour business tycoon Anil Ambani while bypassing the interests of government-owned Hindustan Aeronautics Limited (HAL).
A fraudulent deal
Speaking to reporters, Congress' chief spokesperson Randeep Surjewala claimed that a huge scam is brewing in the procurement of fighter aircrafts for Indian Air Force. This, according to him, is leading to insurmountable losses to the public exchequer.
"Complete non-transparency, flagrant violation of the mandatory provisions of 'Defence Procurement Procedure', sacrificing the national interest on 'Transfer of Technology' to a government PSU i.e. Hindustan Aeronautics Limited (HAL) and blatant promotion of financial interests of 'crony capitalist friends' of the Prime Minister have marred the purchase of 36 Rafale Fighter Aircrafts by the Modi government from Dassault Aviation of France," said Surjewala.
The main Opposition party alleged that the Modi government is buying the 36 Rafales at a highly-inflated price compared to the originally negotiated base price by UPA-Congress government.
According to Surjewala, the UPA government negotiated 126 Rafales at a base price of $10.2 billion with Transfer of Technology (ToT). So why is the Modi government buying 36 of them without ToT for $ 8.7 billion?
"Does it not mean that 126 Rafale Aircrafts would have cost $30.45 billion (without ToT) at the price arrived at by Modi government? Is it not then correct that per aircraft pricing of Rafale as per UPA negotiation comes to $80.95 million (Rs 526.1 crore) as against Modi government's per aircraft negotiated price of $241.66 million (Rs1,570.8 crore) as per current exchange rate? Who is responsible for the loss to the exchequer?" Surjewala asked.
The Ambani angle
Questioning the Prime Minister's unilateral decision of buying 36 Rafales, Congress also sought clarifications on the government's decision to bypass the mandatory Defence Procurement Procedure and go ahead with it in the absence of an inter-governmental agreement with France.
"This was done unilaterally without following the Defence Procurement Procedure, without inter-governmental agreement and in absence of India's Defence Minister. However, Shri Anil Ambani, owner of Reliance Defence Limited was present in France with PM Modi," said Surjewala. Later in 2015, the government cancelled the earlier RFP of procuring 126 Rafales.
According to the main Opposition party, the government signed the deal for purchase of 36 Rafales for $8.7 billion on 23 October 2016. Within days, Anil Ambani's Reliance Defence Limited tied up with Dassault Aviation for a joint venture for defence production in India.
"Reliance Defence Limited, through its subsidiary Reliance Defence and Aerospace Limited, inks a joint venture with Dassault Aviation for defence production. Company's website R.Infra reflects that they are undertaking offset obligations of 30,000 crore with Dassault Aviation for 36 Rafale aircrafts. This means that the total cost of 36 Rafale Aircrafts being purchased by Modi government is Rs 60,000 crore," said Surjewala.
The grand old party also objected to Modi's decision to bypass the interests of a public sector undertaking – HAL – while promoting the interests of Anil Ambani owned Reliance Defence Limited, which entered into a joint venture with Dassault Aviation worth Rs 30,000 crore. According to a report by news portal Janta Ka Reporter, of the Rs 30,000 crore, Rs 21,000 crore went to Ambani.
"This came as nothing less than a windfall gain for the junior Ambani, whose business had run into serious financial crisis by then. Remember, this joint venture was formed on the 10th day after India formally signed the purchase contract! Anil Ambani, a close friend of the prime minister, has been reportedly applying pressure on Dassault to put more money in his joint venture, which is 49% owned by the French company and 51% by him. Dassault is reportedly losing patience and has told Anil to also put money into the company, which he has not done till date," read the Janta Ka Reporter report.
More questions
Further, the party questioned why this "biggest-ever" joint venture in defence sector did not go through the proper procedure of approval by the Union Cabinet, Cabinet Committee on Security and Foreign Investment Promotion Board?
In 2007, the UPA government floated a tender for purchase of 126 'Medium Multi Role Combat Aircrafts' (MMRCA) and after negotiations zeroed down on two aircrafts – Rafale and Eurofighter Typhoon. Of the six players in the fray, these two were shortlisted because they had twin engines. Later in 2012, Rafale emerged as L-1 vendor with base price of US$ 10.2 billion (Rs.54,000 crore as per 2012 conversion rate). Dassault bid the lowest and won. Moreover, Air Force was enticed by the fact that Dassault - who also manufactures Mirage 2000H - could extend help in its upgradation.
Further negotiations led to the agreement that out of 126, 18 Aircrafts would come in fly away condition with remaining 108 being manufactured in India by HAL with transfer of technology. In addition, there was a 50% offset clause requiring the Dassault Aviation to invest 50% of the sale price by way of investment in India.
In March 2014, a work share agreement was signed between HAL and Dassault wherein 70% work of 108 aircrafts to be made in India was to be done by HAL and 30% by Dassault. However, in 2015, a year after coming to power, Modi visited France and unilaterally announced purchase of 36 Rafales in flyaway condition.