Punjabis snub Modi and Captain by giving Justin Trudeau a grand welcome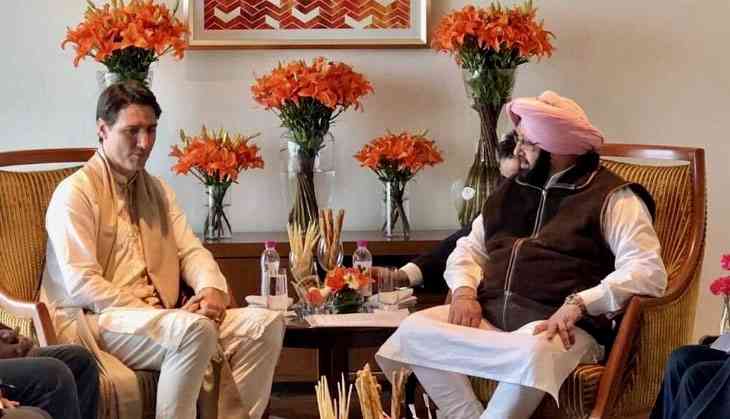 Visiting Canadian Prime Minister Justin Trudeau was reportedly accorded a cold reception by the Centre and authorities in Gujarat and Uttar Pradesh but Punjabis made up for that by giving him a red carpet welcome at Amritsar on Wednesday. The manner in which ordinary Punjabis welcomed him is actually a slap on the face of those who tried to spread fear by raising the bogey of Khalistan on the eve of his arrival. This includes sections of the media who have been known to play mischief on different occasions.
Trudeau and the Canadian authorities have consistently been saying that they do not support the idea of Khalistan. Moreover, the issue itself is a dead horse. On Tuesday he had reportedly said that Canada is strongly committed to 'one united India' and is serious about cracking down on extremism. "Canada has been unequivocal - myself, all my ministers and our government - on a policy of one united India. We have, we have been very strong on that and we'll continue to be," he said.
He reportedly said that Canada will never support any separatist movement in India or anywhere else in the world.
The warm reception given by Punjabis is also a strong political statement to Prime Minister Narendra Modi, who seems to have consciously given cold treatment to Trudeau by not receiving him at the airport or accompanying him to Gujarat. This is in sharp contrast to the manner in which Modi sat on the swing with Xi Jinping of China and took Japan's Shinzo Abe for a roadshow in Gujarat.
The welcome by the people of Punjab is also a message for Punjab Chief Minister Captain Amarinder Singh who is seen to be making a complete 'U' turn with regards to the present ruling dispensation in Canada. It needs to be recalled that he had refused to meet Canadian defence minister Harjit Singh Sajjan last year and had gone to the extent of calling him a 'Khalistan sympathiser'. This time a meeting between him and Trudeau was finalised at the eleventh hour as there were doubts that Trudeau may not opt for a tit for tat approach and not meet him which would have caused a lot of embarrassment. As a result, Captain ended up meeting not just Trudeau but also Sajjan, whom he had refused to meet last year.
Observers say that it is a fact that there are elements in Canada and elsewhere who have been supporting the cause of Khalistan and some Canadian politicians do attend events organized by them. But the question being raised is that why the bogey of Khalistan is raised only in connection with Trudeau and his party who are liberal, and not the others. Observers also feel that by including visits to prominent places of different faiths in his itinerary, Trudeau has himself sent across a strong message on secularism to India and its politicians. In fact people are also comparing how democracy functions and how minorities are treated in India and Canada.
Wednesday had seen Punjabis taking to the social media in a big way posting messages welcoming Trudeau. There were even advertisements in the local publications by various individuals welcoming him and his family who are on a week-long visit to India. In common Punjabi parlance, the people these days talk of three Punjabs in the world –the Punjab in Pakistan, the Punjab in India and the Punjab that has come up in Canada. These Punjabs may be divided by political boundaries but there is still much common in terms of ethos.
Trudeau and his family offered prayers at Harmandir Sahib in Amritsar on Wednesday. Clad in Punjabi outfits, Trudeau, his wife Sophie Gregoire Trudeau and two of their three children also performed Sewa. Earlier they were received at the Amritsar airport by Punjab's culture and tourism minister Navjot Sidhu and union minister of state for housing and urban affairs Hardeep Singh Puri, who is also a former diplomat. He was also welcomed by Shiromani Akali Dal (SAD) president Sukhbir Badal and Shiromani Gurudwara Prabandhak Committee (SGPC) president Gobind Singh Longowal.
After the Harmandir Sahib visit, Amarinder met Trudeau and six other members of his team including Sajjan.
The manner in which attempts were made to cold shoulder the Canadian leader's visit came in for criticism from various corners. The most vocal has been the hardline Dal Khalsa whose spokesperson Kanwar Pal Singh said that by cold-shouldering Trudeau, India is undermining its image in the eyes of the world community. He said diplomacy is a two way street and the Ministry of External Affairs has managed to convince Trudeau to meet Amarinder to save the latter's face as he has been toeing the line of the Modi dispensation.
Expressing the apprehension of Sikhs, he said they are worried about the under-currents as Trudeau's visit has been used by the Modi govt to pit majority community against minority.
Another party leader H S Dhami said that Sikhs as a people have political aspirations of nationhood based on their distinct identity, history and legacy. Exercising their rights in a forceful way does not make it similar to extremism or as some would even label it terrorism. "We expect that Canadian government would continue to honour this distinction," he remarked.
The Aam Aadmi Party also criticised the Centre for how it has treated Trudeau. Leader of Opposition in the Punjab Assembly Sukhpal Singh Khaira said that Punjabis and Sikhs feel deeply hurt at the lack of respect shown by Modi towards Trudeau.
Unfortunate to see lack of respect to Canadian Pm Trudeau by @narendramodi,we Punjabi's n Sikhs feel deeply hurt as Canada has done us proud by giving wings to our social,political n religious aspirations besides freedom as human beings-khaira @News18Punjab @AAPPunjab @ZeePunjab

— Sukhpal Singh Khaira (@SukhpalKhaira) February 21, 2018