Punjab polls: Will 'silent voters' of Majitha defeat Bikram Majithia?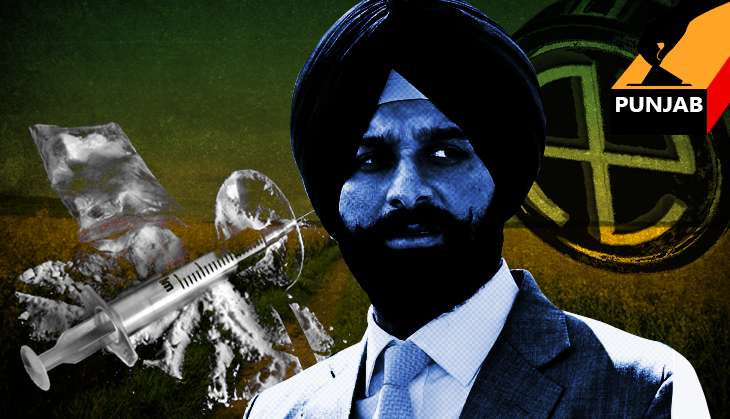 Bikram Singh Majithia is one of the three Akali leaders along with chief minister Parkash Singh Badal and his deputy Sukhbir Badal whom the rival Congress and the Aam Aadmi Party (AAP) have been portraying as the main villains of Punjab in the run up to the poll battle. A two time MLA and the revenue minister in the outgoing government, Majithia is eying a third term from his home turf of Majitha.
But it won't be an easy battle for him. In 2012, he had won by a margin of more than 47,000 votes over his nearest independent rival Sukhjinder Singh Lalli Majithia. This time Lalli is the official Congress candidate and is putting up a stiff fight against Bikram whose supporters refer to him as 'Majhe da Jarnail' (General of Majha). Also in fray is Himmat Singh Shergill of AAP who was asked by his party to shift to Majitha from Mohali.
Majitha has a distinguished place in Punjab's history. It is known to have provided several generals to the army of Maharaja Ranjit Singh. One of the most celebrated generals in Sikh history is Hari Singh Nalwa who finds a lot of reference in Punjabi folklore. His family is believed to have migrated to Gujranwala, now in Pakistan, from Majitha.
Another name of prominence in the last one century is that of Sardar Dyal Singh Majithia who set up the prominent daily The Tribune and was also one of the pioneers to have established the Punjab National Bank. More recently in the decades of 70s, 80s and 90s it was Sardar Parkash Singh Majitha who stood as one of the most prominent of the Akali leaders.
But presently Bikram is a name that has polarised the electorate that either loves him to the extreme or hates him. "Politics should always be on issues. Not going to someone's place on a social occasion just because he is an Akali or a Congressman is not good. Unfortunately this has happened here in the last one decade," rues Avtar Singh, a local shopkeeper.
In this constituency, it is the issue of drugs and registration of false cases by the police that dominate the political narrative. Even the locals discuss these issues but are scared to talk about them on a public platform. The people claim that they have been 'forcibly converted into Akalis' in the political sense. The locals point out that while drugs are available easily, they rue that there is no drug de-addiction centre close by. They also point to there not being proper education facilities.
The people are clear on one thing that the key issues in these elections for them are drugs, prevailing goondaism and registration of false cases. They list villages like Bhagvaan, Matarikalan, Nagalan, Tanel, Kaithu Nangal, Soiyan and Nangal as the hub of drug menace and centres where illegal liquor is distilled.
A local shopkeeper Navdeep Singh says, "You just go to any of the slums. You can come across both drug addicts and alcoholics. Same is the case in several villages around."
But Akali leadership is dismissive about these issues. While denying any misuse of police, Tarun Abrol who is the president of the local municipality says, "This is a bogey created by the Opposition to defame Majithia because no one can match the development that he has done in the area. Look at the bus stand that has been built or the paving of the alleys, installation of street lights or the roads that have come up".
People are also pointing that the claims made by the Akali leadership regarding development are misleading as several works have been done under the central schemes.
The Congress workers claim that they have been at the receiving end in the episode of registration of false cases. "There is simply no end of such cases being registered by the police. I was myself booked twice under charges of trafficking liquor but the magistrate just asked me to go home when I was produced before him. He understood that it was a false case," says Jaskaran Singh who is a key worker in Lalli's campaign team.
Lalli has been attacking Bikram for the last seven years. He had contested unsuccessfully against Bikram last time and had polled four times the votes polled by the Congress candidate. The Congress workers point out that this is one of he seats that has emerged as the most prestigious.
The importance of the this seat can be gauged from the fact that the Congress vice-president Rahul Gandhi, AAP's national convener Arvind Kejriwal and even its top leader Bhagwant Mann launched their campaigns from here.
The entry of AAP in the fray has given a new dimension to the electoral battle. While he is being termed as an outsider with a slim chance, Shergill has made his presence felt in the constituency. He is campaigning hard, especially on the drug issue. And working for him are teams of AAP volunteers who have come from all over the country. They can be seen moving in small groups across the villages with their election symbol - broom - in their hands.
"It is the toughest constituency. People are scared to talk. We have come across hostile groups who would not even react or respond to our appeal but just look the other way. But there are many who are silently with us. The response to our campaign is good in the villages," says Vivek Chauhan who has come from Lucknow to campaign for Shergill.
Jeevan Jyot, a functionary of AAP's women's wing pointed out, "There are several women specific issues here. They are the most hit indirectly by the drug menace. They are not very educated in the villages and have never been provided an atmosphere where they can develop mentally. When you talk of false cases, you can come across an instance in every second household in the villages."
In this politically polarised constituency, Majithia is fighting hard to defend his fortress. His sister and Union minister Harsimrat Kaur Badal is supporting him. In the outgoing government he was perhaps the most powerful minister who had an iron grip over the bureaucracy. For now he is humbly seeking votes.